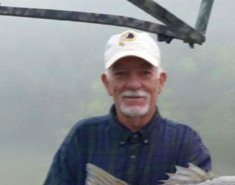 Mr. Jerry Lynn Saylor, age 72, Bean Station, peacefully went home with Jesus Thursday morning, June 3, 2021 at his residence.
Mr. Saylor was from Boones Creek community and graduated from Boones Creek High School in 1967. He married the love of his life, Donna Nolen Saylor July 17, 1972. In their 35 years of marriage they lived in multiple states. Jerry lived life to the fullest with many occupations but Farm Management was his favorite. Hunting and fishing were his favorite things to do in life. But most importantly he leaves behind his comedic personality and his testimony of salvation.
Jerry was the son of the late James D. & Hazel Keys Saylor. He was also preceded in death by his wife, Donna Nolen Saylor, sisters-in-law, Jane Delbridge, Cathy Collins, and Virginia Nolen.
Survivors include a son and daughter-in-law, Jim & Amy Saylor; step-grandchildren, Garrett Brown, Jessica Hughes, and Beverly Smart; brother, Bennie Saylor (Connie); brothers-in-law, Teddy (Donna), Bruce (Neva) and Johnny (Wilma) Nolen; sisters-in-law, Doris (Bo) Wilcox, Annette (Mike) Caulkins and Wanda Nolen; aunts, Dorothy Saylor and Patsy Keys; very special cousin, Kenny (Kathy) Keys; special nieces, nephews and a host of amazing friends including John Buchanan, Roy Dye, Larry (Redeye) Whitt and Fred Rice. He also leaves behind, Brandon (Hopper) and Missie Taylor, Ed York and Chandler Grigsby that he called his other son's and daughter.
The family would like to extend a special thank you to UT Hospice and Nurse, Crystal Maloney, Joe Reid, II, PA, and Jeff Schoondyke MD, for their wonderful care they provided.
Funeral services will be conducted 7:00 pm Saturday, June 5, 2021 at Bashert Baptist Church, 928 Richland Rd., Blaine, TN 37709, with Rev. Jim Saylor and Pastor Darrall Walker officiating. The family will receive friends from 5:00-7:00 pm Saturday prior to the service.
Interment services will be conducted 10:00 am Monday, June 7, 2021 at Washington County Memory Gardens.
Pallbearers will be Garrett Brown, Chandler Grigsby, John Buchanan, Bennie Saylor, Johnny Nolen, Bruce Nolen, Kenny Keys and Fred Rice. Honorary pallbearers Roy Dye, Brandon Taylor, Larry Whitt, Ed York and Mike Allen.