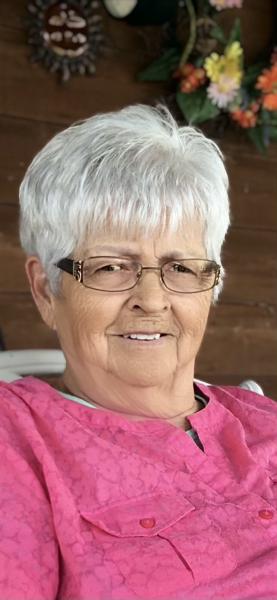 Mrs. Alma Ruth Cloyd Jarrett, age 81, Jonesborough, passed away Sunday, May 23, 2021 at the home of her daughter Sandra Clouse with her loving family by her side after a long hard battle with Alzheimer's disease.
Mrs. Jarrett was born May 24, 1939 and was the daughter of the late Samuel C. "Dude" Cloyd and Katie Duncan Cloyd. She was also preceded in death by her loving husband, Evert Jarrett and a brother, Cyrus "Tuffy" Cloyd, special nephews, Ronnie Jarrett and Ricky Cloyd.
She was a member of Mt. Wesley United Methodist Church.
Mrs. Jarrett retired from Washington County Circuit Court Clerk's Office as a night Clerk. She was a loving mother, grandmother, and sister to her family. She lived life to the fullest and she loved everyone, she truly never met a stranger.
She is survived by her children, Sandra Clouse (Ricky), Kathy Dillow (Brian), Karen Collins (Rod), Penny Hensley (Jackie), Allen Jarrett (Debbie), and Johnny Jarrett; grandchildren, Chasity Hendrix (Scott), Dusty Clouse, Candice Garvin (Scotty), Megan Williams (Mark), Katie Britton (Scott), Kaci Mango, Trey Hensley (Amber), and Dillon Jarrett (Brittney); great grandchildren, Gabe, Connor and Brady Hendrix, Zaydee Clouse, Dalton & Easton Garvin, Landon Williams, Mason, Seth & Laney Britton, Lily & Liam Mango, Emmalyn Hensley, Colton & Holland Jarrett; sister and special niece, Louise Jarrett & Jackie Thompson; sister-in-law and special nephew, Nagatha Cloyd & David Cloyd (Peggy); aunt, Betty Ann Story; brother-in-law, Paul Jarrett (Edna Ruth); sisters-in-law, Janice Shipley, Barbara Thompson (Ted), Betty Jarrett; and many cousins, nieces and nephews.
We would like to thank Chasity & Scott Hendrix, Megan Long (State of Franklin Healthcare), Amedisys Hospice for all the love and care they showed to our momma and granny these last few days.
Graveside services will be conducted 4:00 pm Monday, May 24, 2021 at Mt. Wesley Cemetery with Rev. Jeremy Dykes, and great-grandson, Connor Hendrix officiating. Music will be provided by her grandson, Trey Hensley.
Pallbearers will be grandsons.
In lieu of flowers, memorial donations may be made to Mt. Wesley United Methodist Church 586 Mt. Wesley Rd. Telford, TN 37690.
06/03/2021
David and Sandra Holt
We are so sorry for your family's loss. You all have a beautiful family to carry on all the trails that both Everett and Alma Ruth blazed before you. They would be proud of each one of you. 'Looking forward to the day when there will be no more sorrow, no more pain and no more death! You all are in our thoughts and prayers.
05/29/2021
Sandra Crawford
So sorry to hear of your loss. May God Bless you all. She is healed now.
Sorry for your loss. She was a very special lady. She was always nice to everyone she saw my thoughts an prayers are with all of the family
05/24/2021
John and Brenda Shelton
Sending our deepest condolences. Love and prayers for you all.
05/24/2021
Regina Shipley Hill
I am so sorry for this family's loss. Please accept my deepest condolences. Sincerely,Gina
Sorry for your loss. Praying for the family...
05/24/2021
James Edward Laws
Alma Ruth was one of a kind! We always looked forward to the nights she was on duty to sign off on warrants for us here at the Sheriff's Office. Her and Evert would come up to the jail and usually wound up staying with most of the night visiting with us! I'm saddened to hear she has passed, but have peace in knowing she was ready to go home! My thoughts and prayers are with all of her family and loved ones left here to mourn her passing.
I am so sorry for your loss. Your family will be in my prayers
05/23/2021
James&Tina&TJ McCracken
So sorry for your loss . She was a nice person and a great lady !! She will be truly missed !! Praying for the family and everybody . Just remember the good times you all had together !!
Sandra and family, I am so sorry to hear a out Ms. Alma. She has suffered a long time but she us now at peace!! Praying for the family!!
05/23/2021
Scarlett and Randy Coapstick
My aunt Alma Ruth was one hard fighter! She was a great lady. She and her sister, married my Dad's brothers so it was one big, happy family! Alma Ruth worked hard all her life. She farmed, raised six beautiful children, took care of many of her grandchildren, helped her husband in sales, and held a job. She could keep her whole Jarrett family in line and found time to enjoy things like going to the beach or a few races! As her memory started to decline, her loving family stood by her and took care of her, especially when her husband passed away. Alma Ruth loved people and always made you feel welcome in her home. I remember some good meals at her house which was always bustling with family and friends. Once in a while, she would find a quiet place to settle her nerves from all the activity. She was a dear, kind soul. RIP Alma Ruth.
05/23/2021
tammy greene surcey
sorry for your loss shes now at peace and no longer suffering she was a sweet soul my thoughts and prayers are with you all in the coming days ahead love to all