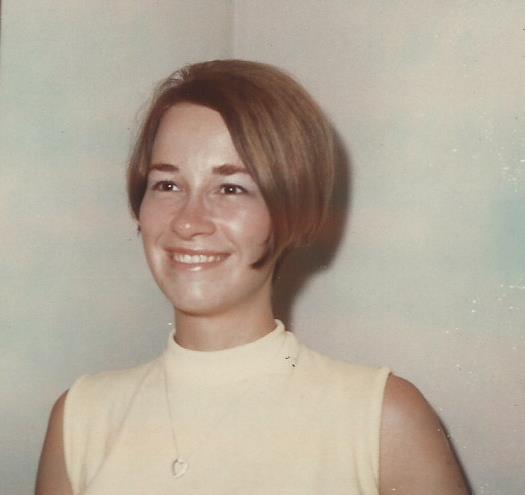 Born October 19, 1950
Died May 11, 2021
Cathy Butler, age 70, entered into eternal peace to join her parents, Paul and Helen Arnold, who proceeded her in death.
A Kingsport native, Cathy was an honor's graduate of Dobyns Bennett High School class of 1968. Cathy married her high school sweetheart, David, in 1969, becoming an Air Force wife, and travelled the country at his side. Cathy always spoke of this time with great fondness and was proud of her husband's Air Force service.
Professionally, Cathy worked at Bennett & Edwards Insurance, Eastman and the Department of Veteran Affairs for many years before she landed her dream job at James H. Quillen Forensics Center. She was exceptionally smart and excelled at her work. She took extra care to speak with families and help them through very difficult times. She was well respected amongst her peers and made a lasting impact on her co-workers.
She had a passion for reading and was particularly fond of true crime and detective novels. She enjoyed spending time with her husband of 52 years, gardening, watching movies and eating-as anyone who knew her could attest! She had a wicked sense of humor and loved to laugh with you until she cried. She will be greatly missed by all who knew her.
She is survived by her husband, David Butler of Jonesborough;
Daughter, Carey Deyton and husband, Micah Deyton of Jonesborough;
Sister, Paula Arnold of Kingsport;
Brother, Richard Arnold of Rogersville and wife, Mary O'Dell Arnold;
Adored grandchildren Wyatt and Sydney Deyton;
Niece, Chauncey Arnold of Los Angeles, CA and Nephew, JP Arnold of Irvine, CA
Many cousins, and friends, including her very special friend, Nancy Snyder;
As well as many fur buddies.
It was Cathy's wish to be cremated and laid to rest above her beloved horse, Al. The family will have a private service at a later date.
The family wishes to give thanks to Amedysis Hospice of Elizabethton for their invaluable help and support during this challenging time.
In lieu of flowers, donations can be made in Cathy's name to the National Multiple Sclerosis Society.
Condolences may be sent the Butler family online at www.dillow-taylor.com
Dillow-Taylor Funeral Home & Cremation Services, Jonesborough, TN. 753-3821
I want to think everyone for the kind thoughts. They do giver me comfort. This has knocked me down. Cathy was such a huge part of my life. I will love her until I die.
David, this is Ken Roberts as we played football & basketball at John Sevier. I remember someone talking to you when you first began dating Cathy. You told them you will continue dating her & you did as you were married for 52 yrs. Very sorry for your loss and may God be with you & your family during this time. BTW, Cathy's brother, Richard, was a big time basketball player. All the best, your old friend Ken.
05/15/2021
Joseph Strickler - Capt. (Retired)
I am so sorry to hear of Cathy's passing. I spent many hours at the Forensic Center attending autopsies throughout my career with the Sullivan County Sheriff's Office. She was always so professional, helpful and a joy to talk with. God Bless the family and God Bless Cathy!
Fly high Cathy. Rest in peace my friend. Deepest sympathy to your family. I feel very fortunate to have known you.
05/14/2021
Lynn & Chris Price
Clem, Carey and Family, we are so very sorry for your loss. Words cannot alone express enough our saddness to you, nor express enough comfort we wish above all for you at this most difficult time in your lives. While a light on earth grows dim, a star above in heaven now shines bright. Cathy will always be with you in your hearts, your mind, and in all the special ways she made this world a better place to be in. May Peace be with you.
Love you, Mom!
05/13/2021
Nanci Noel Smith
Paula and Richard...I am so saddened to hear of Cathy's passing...she was a dear friend in high school and always in my thoughts thru the many years since..David I am so so sorry...you and family are in my thoughts and prayers..