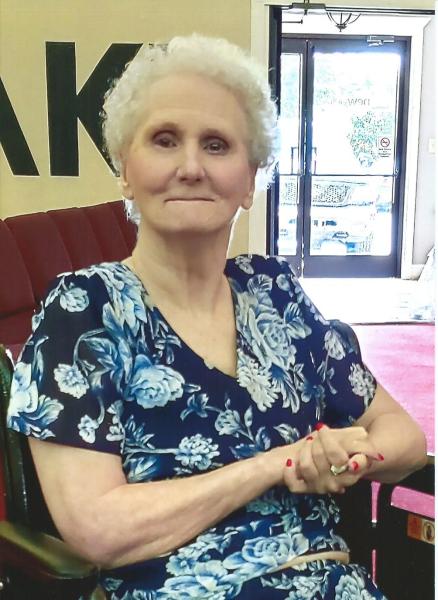 Mrs. Lana Patricia (Prissy) Slagle, age 77, Telford, went home to be with Jesus on Friday, May 7, 2021 at Lakebridge Healthcare Center.
Mrs. Slagle was born to Hugh & Ada Kyker on April 21, 1944 in Telford, TN. She grew up on a farm. She was Captain of the Lamar Cheerleading Team. She completed 12 years of school at Lamar School where she was Salutatorian of her graduation class. She went to Steed College, completed a degree in Medical Transcription and worked as a Transcriptionist for 25 years, retiring from Watauga Orthopedics. She was a dedicated and loving mother.
Patricia married Darrell Wayne Slagle, Sr. on September 4, 1963. They have three children, Darrell Wayne Slagle, Jr. (Stephanie Arthur), Terena Michele Slagle Burkey (Kevin), Angela Leigh Slagle Tilson (Richard); grandchildren, Erica Slagle Loyd (Jordan), Kourtney Slagle Daniels (Jerrad), Brittney Slagle Greer (Josh), Brandon Burkey, Nathan Burkey, Caleb Tilson (Chelsie Murray), Benjamin Tilson and Rachel Tilson; great grandchildren, Cloey Loyd, Braxton Loyd, Harper Loyd, Craig Patchell, Isaiah Daniels, River Daniels, Paisley Greer and Macy Greer; sibling, Letha Kyker Grogg (Sam); and several nephews and nieces.
Family preceding her in death, Darrell Wayne Slagle, Sr. (September 13, 2014) Eva Kyker O'brien (1979), J.B. Kyker (1977), Allen Kyker (1961), Wanda Kyker Kahn (1997), Ruth Kyker (1932), Landon "Bud" Kyker (1967), Betty Kyker Little (2019) and Bobby Kyker (1934);
She grew up going to New Victory Baptist Church. She attended Mt. Zion Baptist Church many years after her marriage. She was a pastor's wife for 20 years at King Springs Baptist Church. Throughout her entire life, she held an unwavering faith in God, which she shared with those who surrounded her. She sang soprano for the Singing Glori-aires and The Slagle Family. She taught women's Sunday School Class, was the church pianist, youth and adult choir leader, Bible School Director and pianist, direct of Christmas and Easter plays for years. She loved visiting the sick at the hospital and working in the church.
She played slow pitch softball for the King Springs Softball Team and one season struck out 33 batters.
Funeral services will be conducted at 7:00 pm on Monday, May 10, 2021, at Dillow-Taylor Funeral Home with Dr. Lester Morelock officiating. The Slagle Family will sing and granddaughter, Kourtney will sing a special song. The family will receive friends from 5:00-7:00 pm Monday prior to the service.
Interment services will be conducted 11 am, Tuesday, May 11, 2021 at Mt. Zion Cemetery.
Pallbearers will be Kevin Burkey, Richard Tilson, Brandon Burkey, Caleb Tilson, Nathan Burkey, Benjamin Tilson, Jordan Loyd, and Jerrad Daniels. Honorary pallbearer, Josh Greer
05/11/2021
Lisa Payne Morley
So very sorry for your loss. Lifting all of the family up in prayer.
My family and I are so sorry for your loss. Prissy will always have a special place in my heart!
05/10/2021
Mark and Kay Sirois
Darrell Wayne, Terena, and Angie, We were saddened to read of your wonderful mother's passing. She was a blessing to so many people in her life, including us, as we remember times at Mt. Zion and King Springs. May our Lord hold you in His hand and comfort you with His peace at this time, and in the days to come, as we extend our sympathy to you and your families.
05/10/2021
Randall & Linda Slagle
We are saddened by her passing. We know she is in Heaven. We always loved to hear her sing and play the Piano. Prayers going up for all of you as you say your goodbyes. Love you all.
05/10/2021
Jason & Cathy Slagle
So sorry for your loss. We will be praying for the family.
05/08/2021
Paul and Debbie Masters
Dear Family, We are so sorry for your loss. May God Bless You and give you strength for the days ahead. It was a joy to have been a Treadway cousin with Pat. Love and prayers
05/08/2021
Loretta Thompson
So sorry for your loss praying for family
05/08/2021
Stella mae coffey turnmire-lewis
darrell and the girls am sorry of your mom your mom special lady her patient were special toher just remember her with special day may God bless everyone love u stella mae