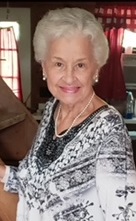 Mrs. Shirley Fay Wilhoit, age 85, Limestone, passed away Tuesday, May 4, 2021 at Johnson City Medical Center.
Mrs. Wilhoit was born in Limestone and was the daughter of the late Eugene & Lena Rustin Tweed. She was also preceded in death by her husband, C.L. Wilhoit, siblings, Wanda Tweed, Iris Patterson, Ina Henry, Dennis Tweed, Raymond (R.L.) Tweed, Pearl Nichols, Thelma Waddle and Verta Lee Mongold.
She was a member of Lighthouse Baptist Church where she loved singing in the choir.
Mrs. Wilhoit was a homemaker and had worked at Chuckey Elementary in the cafeteria and a substitute teacher in Greene County.
Survivors include three children, Pam Wilhoit, Eddie Wilhoit (Vickie) and Jeff Wilhoit; two sisters, Betty Head and Patsy Davis; and her beloved grandchildren and great-grandchildren.
Funeral services will be conducted 3:00 PM, Saturday, May 8, 2021 at Dillow-Taylor Funeral Home with Pastor Perry Cleek officiating. The family will receive friends from 1:00-3:00 PM Saturday prior to the service. Graveside services will follow at Herman United Methodist Cemetery.
Pallbearers will be Robby Waddle, Toby Waddle, Tristan Matthews, Braydon Wilhoit, Shane Lester and Daniel Matthews.