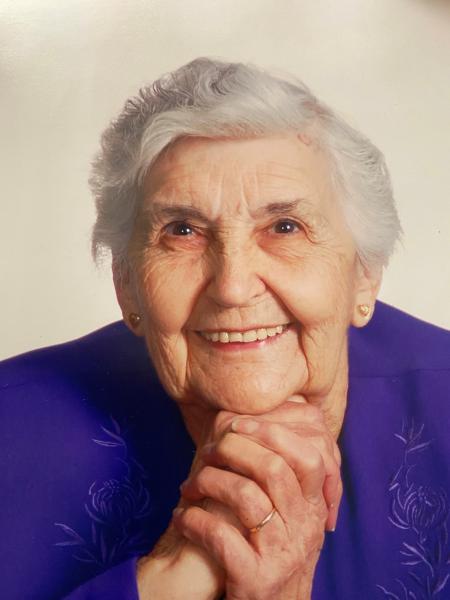 Proverbs 31:10 Who can find a virtuous woman? for her price is far above rubies.
Mrs. Kathleen B. McCurry, age 98, Jonesborough, TN, passed away peacefully Sunday, May 2, 2021 at her residence.
Mrs. McCurry was born in Washington County and the daughter of the late Ross and Chloie Broyles. She was also preceded in death by her husband of 48 years, J.C. McCurry. Brothers, Edwin "Buck" and Eugene Broyles, and sister Martha Broyles Edwards.
Those left to cherish her memory include three sons Larry Dale and wife Ruby, Roger Wade and wife Drema, Howard, daughters Wilma Blankenship and husband Kyle, Janice Nelms and husband Greg; six grandsons Jeff (Mandy) McCurry, Tom (Jen) McCurry, Steve (Wendy) McCurry, Neil (Heather) McCurry, Dusty (Richelle) McCurry, Timothy (Melanie) Blankenship, granddaughters Missy (Jesse) Ford, Chastity (Scott) Stanton, and Danielle (Ben) Miller, Elaina (Izzy) Childress, Jerri Johnson, Sherri Smith, Adam Shaffer. Forty-two great children, and five great-great children. Several nieces and nephews.
She was a devoted wife, mother, grandmother, great grandmother, great-great grandmother, sister, aunt, and friend to many. She was well known for her sewing talent and sewed for many in the area.
A special thanks to Amedisys Hospice services who helped to make her days more comfortable thru the compassion they offered her and her family.
Graveside services will be conducted 2:00 pm, Tuesday, May 4, 2021 at Maple Lawn Cemetery with Pastor Timothy Blankenship, grandson, officiating .
Pallbearers will be grandsons.
In lieu of flowers feel free to donate to a charity of choice.
05/06/2021
Jennifer Marks
So sorry to hear about the passing of your dear, sweet mother. She was a precious soul. I know you will miss her tremendously.
05/06/2021
David and Sandra Holt
Dear Wilma and Family, We are so sorry for your loss. KJ at Ingles, checked me out, and asked me if I knew about your Mom today. I did not and so we want to let you know that we are lifting you all up in our prayers. Praying for your peace and comfort during this time. Sending big hugs to you all.
05/05/2021
Phyllis (Bailey) Brummitt
Just saw the announcement of your sweet mother. She was a sweetheart and good to me and I was around. Hung on to your precious memories, they will help you through the coming days. God let her see what JC and she created... with all the grandchildren...what a blessing. God bless and give you peace. God's blessings Phyllis
I have fond memories of Mrs. McCurry. She was always smiling. Prayers for all families.
05/04/2021
Chet Zinnanti, the Zinnanti Family
Prayers for the McCurry family, we have such good memories of Mrs. McCurry from when we moved to Jonesborough several years ago, lived few houses up from them. We remember the chocolate cakes Mrs. McCurry baked around Christmas and still talk about it each year. We are so thankful for knowing Mrs. McCurry and having such great neighbors.
I called her "Mom". I'm so lucky to have been a part of this sweet families circle of life. Our dinners and lunches, our gardening together, and our time just sitting outside . We will miss you dearly, sweet Kathleen.
05/03/2021
David and Barbara Lively
Jan we are so sorry. I know you will miss your Mom. Thinking of you and your family. We love you.
Kate most caring woman and friend always thinking of others. Sure miss our trading garden stuff when we got where we could not do it. Love all you family so much always thought of all of you as family. But you are free of pain now and with JC and your mom and family I know there was a celebration in heaven when you enter that gate. Love you Kate I will see you soon
05/03/2021
Linda Archer Peters
Your Mom was one of the sweetest ladies that there will ever be. Hold on to the good memories and find comfort in knowing she is rejoicing in heaven.