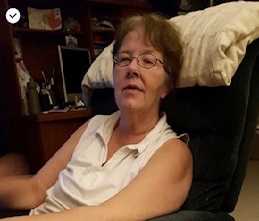 Mrs. Teresa Cable, age 63, Jonesborough, passed away Friday, April 30, 2021 at her residence.
Mrs. Cable was born in Washington County and the daughter of the late Junior & Arlola Simpson Cable. She was also preceded in death by a brother, Doyle Cable.
Survivors include son, Matt Hardin (Wendy); daughters, Katrina Wilson (Jason) and Kellie Hardin; grandchildren, Michael Hardin, Damian Locklear, Anakin Hardin, Halee Hardin, Jalyn Wilson, Exavier Locklear, Tristian Locklear and Emerleigh Locklear; a brother, Charles Cable; special friend, Brenda Crawford; and several aunts, uncles and cousins.
Private memorial services will be held at a later date.
05/04/2021
Bobby and Debbie
God recieved another angle! Matt and family we love you all,sending prayer and hugs to each
05/03/2021
Katrina Wilson
Rest in sweet peace momma and Lala. We miss you dearly already. It doesn't seem real but I know you'll always be with us. Love you.