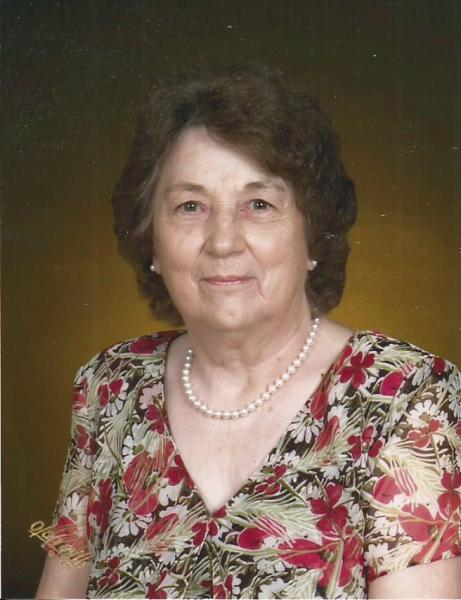 Mrs. Myrtle Bennett Whitehead Rhudy, 89, of Jonesborough, passed away at her home on Wednesday, April 21, 2021. The daughter of the late Malley and Lillie Arnett Bennett, Myrtle was born on February 15, 1932.
Myrtle was a dedicated, strong mother, wife, grandmother and friend. She was a member of Sulphur Springs Baptist Church. She loved to read, cook, do jigsaw puzzles, and travel when she was able. She loved her family and welcomed anyone to her home to enjoy her amazing cooking.
She is preceded in death by her parents; first husband, Don Whitehead in 1980 and second husband, John Rhudy in 2012, brothers, Barney, Darius, Johnnie Claude, Grant, Martin and Clinton Bennett, sister, Jane Ward, sisters-in-law, Helen, Mary and Jane Bennett, brother-in-law, Glen Ward, and daughter-in-law, Jolene Whitehead.
Myrtle is survived by her children, Joyce Powers (Charlie) of Piney Flats, Tennessee, Joel Whitehead of Jonesborough, Tennessee, Debbie Platz (Greg) of Batavia, Ohio, Rick Whitehead of Jonesborough, Tennessee, and Gayle Rhudy (Margaret) of Jonesborough, Tennessee, Grandchildren, Elizabeth Powers, Chuck Whitehead, Chris Whitehead (Melissa), Eric Whitehead, Jennifer Wagner (Tom), Ben Hughes (Christy), Ryan Hughes (Karylanne), great-grandchildren, Mason and Sadie Whitehead; Tommy, Sarah and Jacob Wagner; Cameron Hughes; Brennan and Alayna Hughes, sister in laws, Ruby and Wanda Bennett, several nieces and nephews, and special friends, Kathy Johnson, Margaret Rhudy, Linda Church, Lula Gray, Mary Nell Webb, Eckie Platz, Brenda Hubbard, and mom's fur-baby, her cat, T.J.
The family would like to thank Mom's neighbors for all their care and support through the years; Brian and Joy Horton, Nancy Tester, Joann Ford, and Jim Rogers. We would especially want to thank Caris Healthcare for all their loving care for our Mom. Ketcha, Amanda, Michael, Amy, Justin, Hannah, Nate, Diana, and Kamela, you are all Angels.
Visitation for Myrtle will be held at Dillow-Taylor Funeral Home on Saturday, April 24, 2021, from 1:00 to 2:00 PM, with the funeral service beginning at 2:00 PM. The graveside service will follow at 3:30 PM at East Tennessee Cemetery in Blountville, TN. Pallbearers will be grandsons.
Pastor Charles "Toonie" Cash will be officiating.
04/24/2021
Janice Olinger
Myrtle was a special lady. My prayers and thoughts are with the family.
Myrtle used to have our dad, Russell Payne, for lunch every Sunday after Louise died. She would have things that he liked and would send some home with him for later. Dad was very picky about where he would eat but he loved Myrtle's cooking. Dad and John became great friends. When dad died, in 2012, there some containers in his truck that he was going to take back to her. We have fond memories and deep appreciation for Myrtle. God bless you all, Janice, Connie and Russell, Jr.
I enjoyed teaching Sunday School with Myrtle for several years. She had such a good attitude and sense of humor. She is remembered fondly, and my prayers are with her family during this time.
04/22/2021
Ray & Shirley Dearstone
Joyce and family sorry to hear of your moma's passing. Will be thinking of you and hope everything is well with you and Charlie.