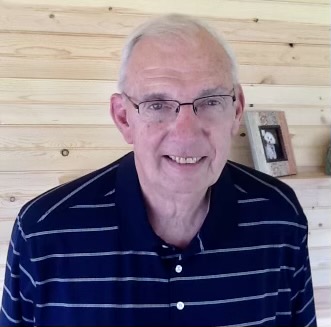 On April 18, 2021, Howard (Howie) F. Nourse, completed his work here on earth and went to join his parents (Howard & Katherine Nourse) and eldest grandson (Fred Greene) in heaven. Howie was a loving husband and father, devoted brother, uncle, grandpa, coach and friend. He loved the Lord, spending a lifetime serving others, sharing life and influencing the lives of many as a mentor and coach. After meeting his future wife and graduating from Springfield High School, Springfield, OH, he attended The Ohio State University on an academic/athletic scholarship, where he earned his Bachelor's degree in Higher Education, high-jumped as a member of the track team and was a member of the 1960 NCAA men's basketball championship team. He continued his education with a Master's degree from St. Francis College, Ft. Wayne, IN. He went on to coach basketball and direct athletics at John Wesley College, Owosso, MI and Gordon College, Wenham, MA. After retiring from coaching, Howie returned to Ohio State and earned his Ph.D. He then changed careers serving as the Vice President for Institutional Advancement at Milligan College, Milligan College, TN for several years before joining a great friend as a partner with The Timothy Group, Grand Rapids, MI, working with church and parachurch organizations. Upon retiring to Jonesborough, TN, Howie enjoyed golfing, working around the house and yard, attending local cultural events, and worshipping with family and friends at Grace Fellowship Church.
He proudly served as a Board member at Crossroads School, Longmont, CO, a school for at-risk middle and high school students which was co-founded by his daughter Connie.
Left to cherish his memory are his wife of 62 years, Judy Nourse, Jonesborough, TN; daughter and son-in-law, Cathy and Michael Bevilacqua, Boulder, CO; daughter, Connie Nourse, Longmont, CO; son and daughter-in-law Rob and Karen Nourse, Johnson City, TN; grandchildren Mary Bevilacqua, Emilia Bevilacqua, and Seth Nourse; brother and sister-in-law Joe and Marlene Nourse, Springfield, OH; sister and brother-in-law, Barbara and Wendell Johns, Wichita, KS; sister and brother-in-law, Mary and Chuck Wiggins, Ft. Wayne, IN as well as numerous nieces, nephews, grand-nieces, grand-nephews and many dear friends.
A celebration of Howie's life will be held at a future date, yet to be determined.
In lieu of flowers, the family requests donations to Crossroads School, Longmont, CO at www.crossroadslongmont.org
Judy, I can't believe this. Out of the clear blue, Howie's name jumped into my mind this morning. I can't imagine why. I Googled him and discovered that I missed him by a couple weeks. I am so sorry for your loss. But also I hold such wonderful memories with you and him and your kids. We had wonderful times at John Wesley and then stayed in touch for a while after. Too bad I didn't do a better job staying connected to you all. If you get a chance, send me an email: ken@kenarmstrong.biz. We will catch up. No rush. Obviously this is a difficult time for you and the family. Sending love your way. Ken
05/09/2021
Stephanie Walters Miller
I remember Howard"Howie" Nourse, he was assistant coach to my father, Paul "Bucky" Walter. I was saddened to hear that Mr Nourse had passed. Did not find out until today, May 8th. I know he will be remembered through family and friends. Sounds as if "Howie" had a full life. Sympathy to his family.
JUDY, I hope the image of Springfield high,where it started for you two I THINK comes through.i happen to be there in Springfield today which made me think of you 2...when looking where to send image to I discovered Howie's recent passing. it is a stretch you even remember me as been over 55 years... I amthe son of Pat Durst of Sebastian.Fais and Durst which you worked with around 1960.About 5 years ago I got a chance to thank him.I am not sure he remembered me but on the phone I appreciated you and him growing up.You got signatures for me of all the then 1960 Buckeye to be( I likely slept with for a week.)You two had me over to your apartment for sleep overs where the 1st baby I ever held was your daughter.Howie helped my dad hang the backgoard on our garage.He took me golfing. When you moved to Springfield and he coached at what I believe was North you had me there.I used to go downtown to Lazarus sporting goods and just hang there to be a kid around my role model can and would share more stories with you The point is you were both caring and impacting in my young life.I told Howie this but mow I needed to tell you.Please feel free to contact me at any time at614 800 6149 or jcdurst@owu.edu...God speed to HOWIE...God bless YOU.kwsy tTOLD oHje
04/25/2021
Kim and Brian Greenwell
Judy. We are so sorry for your loss. Prayers for you and your family.
04/24/2021
Gary and Kay Gearhart
Kay and I want send our deepest sympathies to you and your family.So glad we go to spend time together at our 60th NCAA reunion.
04/23/2021
Jack and Nancy Austhof
Howie and me first met when he became involved with International Steward. He gave his time and expertise when we needed it most. He surely will be missed here on earth but is received as a treasure in Heaven .
Wherever a beautiful soul has been, there is a trail of beautiful memories. You and your family are in my thoughts and prayers.
04/21/2021
Mike & Karen Osborn
Our deepest sympathizes to Judy and the Norse family in Howard's graduation to heaven. He was a gentle warrior, mentor. colleague and friend.
04/21/2021
Joe and Jean Caito
Judy, so sorry for you and your families loss. We are so glad we got to see you and Howie at The Kitchen on April 7. May the Lord richly bless you and your family and keep you under His wings. GO BUCKS!!!