Jerry David "Papaw" Shelton
04/18/2021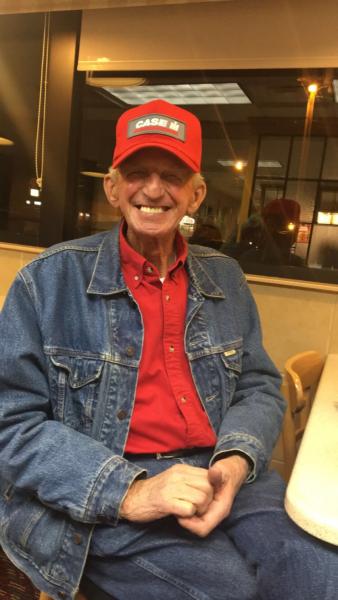 Mr. Jerry David "Papaw" Shelton, age 80, Limestone, went to be with the Lord Sunday, April 18, 2021 at Johnson City Medical Center.
Mr. Shelton was born May 19, 1940 in Washington County and the son of the late John I. & Mildred Hylton Shelton. He was also preceded in death by a sister Ruthie Treadway.
He was a member of Morning Star Baptist Church.
David was employed by West Hills Tractor for 46 years. During his off time, he enjoyed working on his farm and pulling his antique tractor.
Survivors include his loving wife of 57 years, Ruth Treadway Shelton; sons, Jeffrey David Shelton and Michael Shelton; granddaughter, as papaw call her "his sidekick" Alesha Lorraine Shelton; brothers, Bill Shelton and wife Irene and John Shelton and wife Brenda; sisters, Judy White and Rena Cutshall and husband Steve; and many beloved nephews and nieces.
The family would like to extend a special thank you to David's nurses, Brook Rice, Lisa Mobley, Emily Johnson and Bekah Hensley for their loving care and compassion.
The family will receive friends from 2:00-4:00 and 6:00-8:00 pm Tuesday, April 20, 2021 at Dillow-Taylor Funeral Home.
Funeral services will be conducted 2:00 pm Wednesday, April 21, 2021 at Morning Star Baptist Church with Pastor Tony Darnell and nephew John David Shelton officiating. Graveside services will follow at Morning Star Cemetery. There will be a meal served following the graveside services in the fellowship hall.
Pallbearers will be Keith Cutshall, Rex Darnell, Jonah White, John David Shelton, Randall Treadway and Michael Shelton. Honorary pallbearers will be nephews, and beloved co-workers from West Hill Tractor.
Leave an Eulogy or Condolence for Jerry David "Papaw" Shelton
EULOGIES & CONDOLENCES
I am so sorry to hear of the loss of Dave. I have been and will continue to pray for the family during this difficult time. Cherish the memories and rejoice in knowing you will see him again one day in heaven.
04/21/2021
Erlenestrickland@yahoo.com
I'm so sorry for your loss. I'm praying for God's comfort and peace during this difficult time.
04/21/2021
Jayme Pressley
I'm so sorry for your loss. Jerry was such a kind soul. My thoughts and prayers go out to Mrs. Ruth, Alesha, Mike and the rest of the Shelton family. <3
I am sorry for the loss of Papaw. Our sincere condolences from all of New Holland and myself. Prayers for the Shelton Family and West Hills family. He will be missed and celebrated for being the man he was. Rest in peace.
04/20/2021
Wassan Broyles
So sorry to hear about Jerry's passing. I didn't know Jerry very well but if you lived around our area you certainly knew who he was. With a big smile on his face and a " how ya doen " comment. I always would look when the West Hills rollback would go by and it was usually Jerry just trucking right along. Our condolences go out to the family and friends of Jerry Shelton and he will truly be missed in our community, Wassan and Vickie Broyles.
04/20/2021
Cathy and Steve Cox
We are so sorry for your loss. Our thoughts and prayers are with you all.
04/19/2021
Susie Gillis Bennet
Dear Family, so sorry, sending love and prayers! Love, Susie Gillis Bennett
04/19/2021
Sandra Deakins Cooper
We are so very sorry. Our prayers and love are with all of you. May God give you strength and peace as the time forward will be difficult. Sandie and Carl
Uncle Dave will surely be missed. I will always remember him with his smile on his face every time I would see him at church. Praying for Ruth and the family.
04/19/2021
David and Sandra Holt
Mr. Dave had the most contagious smile. We always appreciated his expertise about tractors and machinery and his friendship. May the Lord bless each one of the family members with peace and comfort in the days ahead. You are in our thoughts and prayers.
04/19/2021
Paul and Debbie Masters
Dear Precious Family, We are so sorry for your loss. You are in our thoughts and prayers. May God Bless You and give you strength for the days ahead. Uncle Dave was very precious and we loved him very much. Paul and Debbie and Family
We are so sorry for your loss. Please know our thoughts and prayers are with each one. We considered him a friend. He was a joy to be around. Love, Jim and Adie Hyder