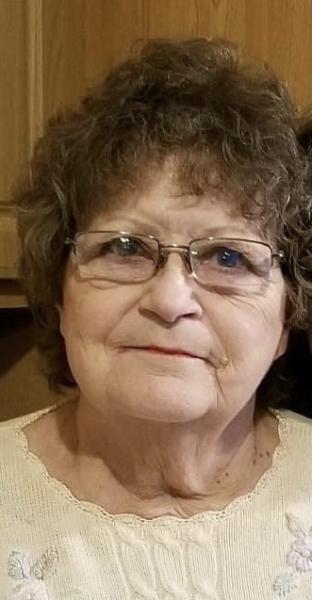 Patricia "Pat" Kay Baines, 80, was embraced in the arms of her Savior Jesus Christ, April 13th, 2021 with her family by her side.
Although she had battled health issues since 2009, she showed by example to all those who were blessed to know her what it meant to have courage, determination, strong faith, and an unconditional love for her family & friends.
Once she set her mind to something there was no stopping her. She especially loved working on her lathe. With her self-taught wood crafting skills, she created many amazing wood pieces that we will cherish forever. Her love for her Lord & Savior Jesus Christ and her family was her life! More than anything we will miss & cherish our talks and seeing your sweet, precious smile.
Pat is survived by her husband "soulmate", Jimmy R. Baines; two daughters, Terri McLemore & son-in-law Ed and Kim Beaver & son-in-law Joe; one son, Jamie Baines & daughter-in-law Amy; four grandchildren, Austin McLemore, Brooke Beaver, Jessica Beaver, & Kayla Beaver; four step-grandchildren, Eddie McLemore, Taylor Davenport, Grant Davenport, & McKenzie Hughes; three sisters, Karen Collins (Jerry), Fran Glass, & Jan Hall (Henry); one sister-in-law, Peggy Ward; and several loved nieces & nephews.
She was preceded in death by her parents Dean & Lena Hunt, two sisters, Sandra Hensley and Dyan McDaniel, and four brothers-in-law, Doyle Ward, Jack Hensley, Kenneth Glass, & Ed McDaniel.
Funeral services will be conducted 2:00 pm Saturday, April 17, 2021 at Dillow-Taylor Funeral Home with Bro. Joe Beaver officiating. The family will receive friends from 12:00-2:00 pm Saturday prior to the service. Graveside services will follow at Hunt Cemetery.
Pallbearers will be Austin McLemore, Chris Hensley, Rocky Collins, Jason Hall, Kenny Glass, & Eddie McLemore. Honorary Pallbearers will be Jimmy Doyle Ward, Grant Davenport, Jeff Stamper, Tom Davis, Rusty Sells and Keith Ellis.
Mama, there are not enough words to describe the amazing women you were. You were not only amazingly beautiful on the outside, but also on the inside. No matter what you were going through you carried yourself with such humbleness & dignity. In a day when modesty & godliness is becoming a thing of the past you were able to contain yours even through all the things you had to physically endure. Proverbs 31 describes you to a "T". You never claimed to be perfect and were the first to admit your faults, but you were who you were with no pretending. You taught me so much about what it meant to be a wife & a mother. Your never ceasing endurance, strength, determination, faith, and unconditional love for your family was out matched to anyone I have ever known. We have all hurt and been hurt by those we love, but you never held grudges and were always ready to forgive and ask forgiveness. You taught me that no matter what the devil throws in your path that knocks you down, you have to get right back up, fix your eyes on Jesus, press forward, and cherish the things that are precious and everlasting. Thank you mama for loving me, loving all of us, and allowing God to use you through it all to encourage, strengthen, and lead the way for not only me, but everyone who knew you. I love you and miss you so much, but I wouldn't bring you back to your worn, battered, and tired body. Thank you for fighting so hard with everything in you to stay as long as you could with us. Now you are enjoying a long deserved rest, comfort, and a heavenly body in the presence of Jesus Christ Our Lord! I cherish and love you mama!!!!!
04/17/2021
Teresa Milhorn
I am so sorry for the loss of your sweet mom and grandmother of the grandkids of there grandmother too .you all are in my through and prayers
As I sit here and think about you my sweet sister I remember just how strong you always was. I looked up to you as my big sister. Whatever you set your mind to do you did it. I have so many good memories when I stayed with you and Jimmy after Kenneth passed away that I will cherish forever. We talked way up in the morning sitting on your front porch and eating our midnight snacks. I love the way you would always talk about your love for God and the faith you had in Him. I will miss these talks and treasure the love and memories I have of you. My sweet precious sister I hope and pray you knew how much you were loved. To Jimmy, Terri, Kim, Jamie, Austin, Brooke, Jessica, & Kayla may God's loving and comforting arms embrace you and bring peace to each of you. Always know how much each of you are loved.
04/15/2021
Terri Mclemore
It's so hard losing you mama. We tried so hard to bring you home and you fought hard as well. But God thought it was time to bring you home with him. I am content to know you are now safely home never more to feel pain or heartache. You are and will always be loved and loved. We will miss you we are blessed Betty, thank you so much for the care you gave my mama ! She was blessed to have you care for her. She had some awesome nurses that really cared for her. You were great! We love you and thank you so much for all you did. She had some great nurses! I mhave to also mention Jon who came and visited her even when he wasn't her nurse. He came on his breaks and at the changing of shifts just to visit with her. We love and appreciate you all so much! You're the best.
04/14/2021
Betty Hinkle, LPN
I am so sorry for the loss of your wife and mother. She was such a lovely woman. Always greeted me with a sweet smile on her face and sweet words. I pray for your sweet family as I have interacted with you at her bedside. All of you were always as kind and sweet as Mrs. Baines was. She is safely in the arms of Jesus now and no longer has any suffering of any kind. May God Bless You And Give You Comfort Only He Can Provide. Love Betty
My beautiful and precious sister is now in the arms of her Lord and Savior Jesus Christ. She is surrounded by Daddy, Mama, Sandra, Dyan, Jack and Kenneth and other loved ones who have gone on. I can't even begin to imagine what her eyes are beholding. Pat, I am so proud to call you sister and so thankful for the love we shared. You are missed already and have left an emptiness that can't be filled here but one day I know we will be together again. I love you dear sister and will always cherish the memories we have made together in my heart.