06-20-2019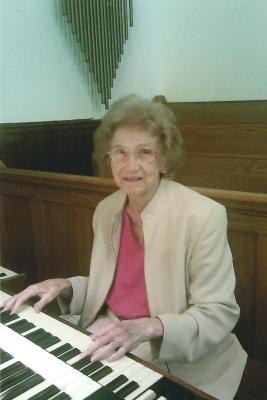 SERVICE SCHEDULE

Mrs. Caroline May, age 98, Jonesborough, passed away Thursday, June 20, 2019 at Four Oaks Health Care Center.
Mrs. May was born October 18, 1920 in Greeneville and was the daughter of the late Paul Tallman & Carrie Culver Smith Metzger. She was also preceded in death by her husband, Robert Mahoney May in 1985 and one sister, Miriam Bundy.
She was a member of Salem Presbyterian Church. Mrs. May was the organist at Jonesborough Presbyterian Church, Jonesborough United Methodist Church and Salem Presbyterian Church.
Mrs. May attended East Tennessee Teachers College and Sullins Academy. She was a member of Shubert Club and Tennessee Federation of Music Clubs. She taught piano and organ lessons for over 45 years.
Survivors include two sons and daughters-in-law, Robert & Carol May, Jonesborough and Michael & Kathy May, Limestone; grandchildren, Benjamin May (Kristina), Houston, Rebekah Brasure (Colton), Jonesborough and Bryan Kagarise (Kara), Knoxville; great-grandchildren, Allison Brasure and Ella Brasure, both of Jonesborough and Archer Kagarise, Knoxville.
Funeral services will be conducted 7:00 pm Sunday, June 23, 2019 at Dillow-Taylor Funeral Home. The family will receive friends from 5:00-7:00 pm Sunday prior to the service.
Interment services will be conducted 1:00 pm Monday, June 24, 2019 at Maple Lawn Cemetery.
Pallbearers will be family & friends.



Would you like to leave an eulogy or condolence for Caroline May? If so, simply click HERE
EULOGIES & CONDOLENCES
06-23-2019
Donald Conflenti
Mike and Kathy - I am so sorry about your mother. I saw it in yesterday's paper just before we left for south Carolina where I will be until July 2. I really miss sending and receiving emails from her. My thoughts and prayers are with you.
06-23-2019
Jeanette knight
She was a beautiful person inside and out. Taught piano to my daugher.
06-22-2019
Mike and Alta Barwick
We were very sorry to hear of Miss Caroline's death. She was a lovely and talented person. Our love, thoughts and prayers are with you.
06-22-2019
Georgie Byrd Snapp
So sorry for your loss! Keeping your family in my prayers. Your Mom was such a special lady!
06-22-2019
Jeff Asher
I was so sorry to hear about Caroline. She was a great friend to my mother and like family to me. She will be missed.
06-22-2019
Kay and Sonny Miller
Mike, so sorry to hear of your mothers passing
06-22-2019
Richard (Dick) Depew
Mike and Robert, my sister Darlene sent me the notice about your mother. Very sorry to hear of her passing. As a kid growing up in Jonesboro and being a friend, I think I may have spent as much time at your house as I did my own. So many good memories from the thousand pool games we played to sitting and listening to the ham radio calls being made by Robert. Your train collection was awesome and I remember selling you a locomotive to add to the collection. Caroline was always trying to get me to take piano lessons which I never did. Trying to teach me may have made her give up teaching
06-22-2019
Ellen Carpenter
Bob and Carol, I'm so sorry for your loss. I'll keep you in my prayers ! Ellen
Dillow-Taylor is a third generation family-owned business...established in 1929
---
Dillow-Taylor Funeral Home and Cremation Services
P.O. Box 98, Highway 11-E, Jonesborough, Tennessee 37659
Office: 423.753.3821 Fax: 423.753.7409

Hours of Operation:
Monday - Saturday: 8am - 5pm
Sunday: 12pm - 4pm
---