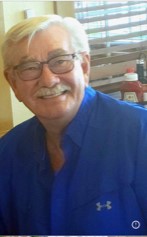 Mr. Billy "Bill" K. Martin, age 72, Fall Branch, passed away Friday, September 15, 2023, at Johnson City Medical Center.
Mr. Martin was born October 23, 1950, in Fall Branch.
He was a member of Kingsport Community Church.
Mr. Martin retired from the former Greene Valley Developmental Center after 39 years of service.
Billy enjoyed hunting, fishing, gardening, and spending time with his family. He enjoyed putting a meal on his table for anyone who stopped by. His family was one of his favorite topics and was his number one priority. His boys and grandchildren were his biggest blessing.
He was preceded in death by his father & stepmother, Roy Beryl & Emma Martin, special cousin, Russell Brown and special friend, Kenny Casteel.
Survivors include his loving wife of 43 years, Joan Hutchinson Martin; sons and daughters-in-law, Brian & Mandi Martin and Travis & April Martin; mother, Madge Jones; grandchildren, Ben & Hayley Martin, Austin Johnson, Staff Sergeant Nathaniel & Mia Martin, Nicolas Martin and fiancé Rylie Britton, Allison Martin, Amelia Martin and Damaris Martin; one very special great-grandson, Grayson Martin; brothers, Rex Martin (Diane), Lyndle Martin (Lisa) and Mark Jones (Missy); sisters, Vicki Martin and Lisa Marcum (Randy); brother-in-law, Allan Hutchinson (Michelle); sister-in-law, Joyce Collins (Kevin); special aunt, Delores Hicks; nieces and nephews, Brad & Madison Hutchinson, Brandon Hutchinson, Stephen & Mandy Collins, Stephanie & Steve Niemoeller, Christine Hux, Natasha & Mike Gray, Daniel & Aundrea Martin and Michael Martin; special friends, Lorianne Casteel, Randy & Jeanette Tweed, Mr. & Mrs. Jeremy Kite, and Roger Conklin; and numerous other great nephews and nieces, and cousins.
Funeral services will be conducted 7:00 PM, Monday, September 18, 2023, at Dillow-Taylor Funeral Home with Rev. Stephen Collins officiating.
The family will receive friends from 5:00-7:00 PM Monday prior to the service.
Graveside services will be conducted 11:00 AM, Tuesday, September 19, 2023, at Oak Hill Cemetery, Fall Branch.
Pallbearers will be Brian Martin, Travis Martin, Ben Martin, Nathaniel Martin, Nicolas Martin, and Austin Johnson. Honorary pallbearers will be Don McAfee, Jeff Feagins, Jeff & Christi Enzinna, Stanley Hutchinson, Alma Hutchinson, Willis & Trixie Bowers, and David Henard.
Memorials may be sent to Kingsport Community Church, 2316 Memorial Blvd, Kingsport, Tn. 37664.
Joan, I'm so sorry to have read of Bill's passing in the paper. I'll always remember the kind man he was and enjoyed working with him in Dogwood. He will be missed by many. I'm thinking of you in prayers… Sherry
So sorry for your loss. You will be in my thoughts and prayers in the days ahead. Asking God to give you the strength you need to get through those difficult days! Hugs and love!
09/18/2023
Vickie J. & Tim Bowens
Joan, we are so very sorry to hear of Bill's passing. Our prayers are with you and your family. May God give you comfort, and peace.
09/18/2023
Ray & Marisa White
Our thoughts and our prayers.
09/18/2023
George and Carolyn Bowers
So sorry for your loss. Enjoyed the time you all lived next door and the time I worked with Bill at GreeneValley. He was a good friend.
09/17/2023
Jeff and Christie Enzinna
We are shocked and so sad that we never made it to visit after you left Texas. Bill was such a good man and a good friend who we should have made a greater effort to keep in touch with over the years. Our love goes out to Joan.
Family: So very sorry for your loss. Its never easy losing someone so very special to you. God Bless you all during this difficult time. My thoughts and prayers are with you.
09/16/2023
Jenny Stonecipher
I was blessed to know Bill through his Sister Vicki Martin. He was a special man who was always caring and taking care of others. He was an inspiration to others around him always. My prayers are with his family and friends for He will be so truly missed and never forgotten.
09/16/2023
Randy and Jeanette
This man we have shared meals and time with. He always made us feel welcome in his home. Our hearts will feel empty without him. We loved him!!!