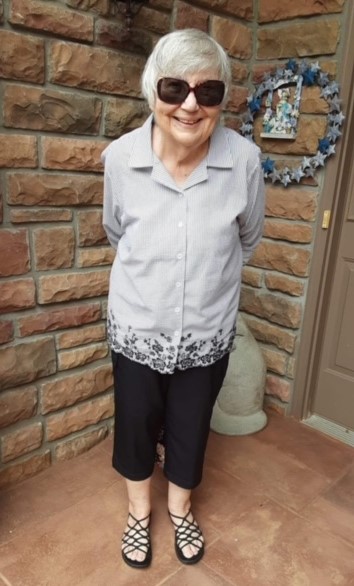 Ms. Hazel Anne (Jennings) Betts, age 76, of Johnson City, passed away on Sunday, September 10, 2023, at the Johnson City Medical Center surrounded by her family and friends.
Hazel was born in Washington, DC, on October 2, 1946.
She loved to travel and really enjoyed traveling to England, where she had been several times.
Hazel was a sweet, kind and loving person who was always very hospitable to anyone in her home. She worked as an Administrative Assistant at Prince George's Community College in Maryland. She loved history and enjoyed discussing her family and how they were descendants of the First Families of Tennessee. Hazel was a proud member of the John Sevier Sarah Hawkins Daughters of the American Revolution Chapter and was a past librarian for the chapter. She also was a member of the Elijah Cross II Chapter US Daughters of 1812.
She was preceded in death by her parents, Ramona Jobe and William L Jennings.
Those left to cherish her memory are her siblings, Candy Jennings, Michael Jennings and Jolean Powell; several nieces and nephews; and her beloved cat, Hobbs.
Donations can be made in Hazel's name to Historic Preservation Fund of the Daughters of the American Revolution, which was one of Hazel's interests. Forms for the donation can be retrieved from helencartermoore@gmail.com
The family will hold a graveside service at a later time.
I worked with Cricket in the Personnel Office at Prince George's Community College. Sometimes she and Laurie Cunningham would go to lunch and ask me to go along with them, which was a great treat for me because I usually ate in the little kitchen in Kent Hall. It was so nice getting to know what a kind and gracious person Cricket was. Our loss is heaven's gain-----Rest in peace, my friend.
09/18/2023
Rita Bradley Muehlman
As I sit here pondering the perfect words to express my sympathy for Cricket's family, memories flood my thoughts. Our mothers, Helen and Ramona were lifelong friends so all of us kids melted into the mix of shared family adventures. I will cherish my memories and hope in time Candy, Michael, and Jolean will smile when they remember sharing life with Cricket. So now, as we all say goodbye to our beloved Cricket I surmise the mystery of what happened to Sandy's record album collection will never be known. You will be missed Cricket, but never forgotten.
I will never forget my Aunt Cricket. Obsessed with England, the Baltimore Orioles, history, and other things that I actually enjoyed too, but never too busy to fail to talk with her nephew. God keep you, Cricket!
09/16/2023
Laura Budd Hodge
I am sad that my friend, Hazel, has died. I miss her & will every day until I die. We met when she & her mother were patients at a medical office I managed. We became fast friends & when a part-time position opened, she joined the office team. We remained close friends after we both left that office. During that time, she was a true friend to me. I cherish that loyalty & her conviction of character to stand for the truth. We may have made for an unusual pair because of our age difference, but I believe it actually made us each a stronger, wiser, & much better woman. We shared a love of baseball (she the Orioles and I the Reds), Longaberger baskets (we both dabbled as consultants), NASCAR (she the era of Cale Yarborough and I Martin Truex, Jr.), good music blaring on road trips, sitting on the sand as the waves washed over us, good food (she liked my husband's corn bread a lot), movies, historical roadside markers, Waffle House after Christmas Eve church service, good hugs, saying "love ya'" before hanging up the phone or parting ways, & we enjoyed getting to know each other's friends & family. She knew my story & I knew hers & I am so honored to have been present when Hazel turned her earthly final page. I will never forget that her last words to me were "I love you"........what a gift those final three words are.
09/15/2023
Kathleen Betts
I first met Cricket (Hazel) in 1963. She became like a sister to me. I will miss her more than words can say. I thank God for the time we had and will look forward to meeting her again when I cross that bridge. To all who knew and loved her, my most sincere condolences.
I met Hazel (better known as "Cricket" to everyone outside of her family, after the Connie Stevens character on the TV program "77 Sunset Strip") while we were in school at DuVal Senior High School in Glenn Dale, MD. After we graduated in 1964, I went into the Marine Corps, and she worked several secretarial jobs. We dated occasionally when I came home for weekends from Camp Lejeune, NC and my feelings for her grew stronger. However, wanting to be "where the action is", I jumped on a transfer opportunity to South Vietnam in 1966, putting us far apart. While I was there, the letters from her gradually stopped coming after a few months and I thought it was over between us. In 1969 a friend and I went to a huge party in East Riverdale and in the hundreds of people there, I encountered Cricket in the kitchen and we talked some over the tumult of the party. Then I heard a lot of sirens and went outside to see what was going on. We were unaware that a county police officer had come to the house in response to a "loud party" complaint and ended up being thrown through a living room window in the front of the house. In response to his "officer in trouble" call every police officer who was even remotely near came charging in with "fire in his eyes". I told the officer who told me this that my friend and I (and unknown to me, another attendee at the party) had applied for the next police academy class, and he told me that we'd better get out of there. I went back in and warned the people in the kitchen to vamoose if they didn't want to be arrested. Upon graduation from the police academy (where one of the instructors was the officer who had been thrown through the window (about which the 3 of us had enough common sense not to mention to him our attendance at the party), my relationship with a girl I had been dating for a couple of years soured and my thoughts returned to Cricket and I tracked her down to where she was living, which turned out to be within spitting distance of the basement apartment of where I was living. My old feelings about her returned, and on New Year's Eve of 1970, I took her into the kitchen of the house where we were attending a party and asked her to marry me. She said she'd have to think about it! It took four days of my being on tenterhooks before she consented to marry me. We were married on 12 September, 1970. The 20 years of our being together in matrimony are now a blur of highs and lows, the highs being the trips we took together to England and Scotland, the lows being when she was afflicted with cervical cancer requiring a hysterectomy, the tragic death of her father in a tractor accident, and my being severely injured several times as a police officer, finally culminating with my having a heart attack on duty and being medically retired in 1984. Not long after we were married, she went to her eventual career employment at Prince George's Community College. Throughout my police career, she was immensely supportive, joining the Ladies Auxiliary of our Fraternal Order of Police lodge and nursing me through my various injuries. After four years rehabilitating me heart and taking quite a few trips to Morristown to help her brother Michael and then brother-in-law Roger build her parents' log cabin, I became employed as an insurance investigator and adjuster while she continued with her career at the community college. The neighborhood where we had bought a townhouse in 1973 was deteriorating and with my added income from the police disability pension we decided to "get out of Dodge" and we bought a home in Waldorf, MD in 1988. Unfortunately, at about the same time, her burgeoning weight became a serious issue between us and no amount of my pleading and cajoling could convince her to do something about it, not only because of how she looked but also because it was a health hazard. I finally decided that my leaving her would convince her that she needed to lose the weight or lose me. That was a forlorn hope and we were divorced in 1995. I took the mortgage payment book with me and paid the mortgage while we were separated, then agreed to give up my interest in the house and to pay alimony until she could retire and move to Tennessee as part of the divorce because I didn't want her to become "house poor" or even lose the house. We both stayed in contact with each other and the families over the years. The last time I saw her was at Roger's funeral about a year ago and she had finally lost all of that weight. I don't know if it happened because of her numerous health issues or not, but I made it a point to tell her how terrific she looked, just as she is in the obituary photo. She was a wonderful, sweet, caring person, and I will always love her. I don't if she cried on the day I left her - but I know I did.
I met Hazel, though I called her Cricket, over the phone while working at Prince George's Community College in Maryland. She worked in the office on Andrews AFB, and I worked in the Math Department. Whenever classes were cancelled, instructors changed, etc., we would work with each other, and became fast phone friends. I didn't know her age at the time, so I thought her parents were hippies who named her "Cricket". She then took a job on the main campus in personnel, and we finally met in person. This was when I found out her name was really Hazel, and her parents weren't hippies. Cricket and I spent the next 35 years laughing, sharing, and going to our beloved Orioles baseball games. Our tradition was to spend the last home series of the season together in Baltimore, as it usually fell very close to our birthdays -- Oct. 1 for me, and Oct. 2 for her. We even traveled to Florida one year to see the O's in Tampa over our birthdays. I will miss her wicked sense of humor, her incredible stories, the mischievous gleam in her eye, and our many visits where we would just be in each other's company.
So sorry to lose such a sweet friend!
09/14/2023
Nina Shandloff
RIP Hazel (Cricket), whom I've been glad to know since she was 14 years old, lived next door and babysat for my mother. It was always lovely to see her when she visited us on her many trips to England. Love and condolences to her family and many friends.