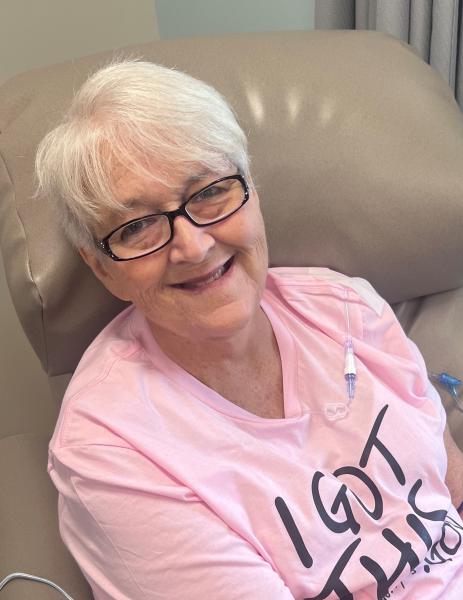 It is with heavy hearts that we announce the passing of our beloved mother, grandmother, sister, aunt and friend, Connie Cochran.
Connie went to be with the Lord on Monday, September 11th, 2023, at 6:00 PM, at Franklin Woods Hospital. Connie was surrounded by a room overflowing with her loved ones when she took her final breath after a heroic battle with lung cancer.
Connie fought cancer like a warrior, never losing hope and always trusting in the Lord. Connie did in fact beat cancer itself. Her doctors were amazed by how she responded to her treatments and how rapidly her cancer was disappearing. Connie won her victory over cancer and was looking forward to the next stage in her life.
Sadly, after her cancer treatments were completed, she developed serious complications just before she passed. Connie's last moments were filled with overwhelming peace, tenderness, and serenity, and for that we are forever grateful.
Connie was a friend to many and she knew no stranger. Everyone who knew Connie loved Connie. Her home was open to all, and no one ever left her home hungry. Connie's greatest joys in life were Jesus, her family, friends, and her church, Nolichuckey Baptist. Let's not forget her furry friends Missy and Otis.
The memory of Connie will forever be present in our hearts and the family and friends she leaves behind. Connie Cochran, you were the best, irreplaceable and unforgettable. Thank You for the love and kindness you have shown to everyone you knew and loved. Until we meet again.
Connie was preceded in death by her parents, Lena and Delmer Williford and her husband, Terry Cochran.
Those left to cherish her memory are her children, Penny Skipper, Jason Poff (Lisa), Landon Trivette (Caroline) and John Broyles; grandchildren, JJ Poff, Marcus Poff and Jaxsen Broyles; one great granddaughter on the way; siblings, Patty Rice (Scottie), Neda Jordan (Steve) and Ruth Nickels; special aunt, Susie Miller; several nieces, nephews, and cousins.
A very special thank you to the staff of Franklin Woods 3rd Floor, ICU, and the TN Cancer Center for their wonderful care of Connie.
Funeral Services will be held at Dillow-Taylor Funeral Home at 11:30 AM, Friday, September 15, 2023, with Pastor Joey and Caleb Murdock officiating. The family will receive friends from 10:00 AM to 11:30 AM, prior to the services. A graveside service will be held at 1:00 PM, Friday, September 15, 2023, at Mountain Home National Cemetery.
09/14/2023
Chesnee Slagle
Love you lots Connie! You were one of the best! I hope you were able to give Terry and Missy some big hugs!
09/14/2023
Debra Weeks Lyons and Sharon Weeks
We are deeply sorry for your loss. Words are hard to come by at this time, but please know that our heart goes out to you. Connie was such a special friend to our family and we loved her dearly. Connie was such a special lady, with a smile that could light up a room and we feel so blessed to have her as our dear friend. Our thoughts and prayers are with the family during this difficult time. With sympathy and love, Debra and Sharon
Prayers for you all I know she will be missed that smile made everyone feel better. I know she is home with her family and loved ones God needed another angel. God Bless
09/14/2023
Valerie Bradley
Such a wonderful lady, always so sweet to me. Will be keeping the family in my prayers.
Connie there was a special one between us only you and I know what it was I consider you one of my dearest friends plus a cousin I Will always Love you I will miss you until we meet again love you Ruth
09/13/2023
Trina Phillips Jessie
So sorry to hear of your passing you were a wonderful person and friend sending prayers to the family
Penny and family so sorry for your loss. Connie was a great friend and coworker. You all are in my thoughts and prayers.
09/13/2023
Sharon Robinson
My family has known Connie for many years our families lived across the river from Each other and we're all friends. We love you miss Connie and you and your smile will be truly misses. Prayers for the family that God comfort you during this sad time.