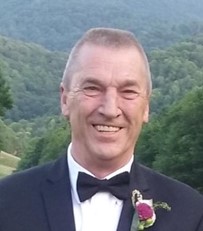 Charles Franklin Miller, age 69, of Johnson City, passed away on September 8, 2023, peacefully at his home surrounded by family.
A native of Washington County, Charles was born on February 21, 1954, to the late John A. and Cinderella (Henley) Miller. He grew up in Jonesborough, TN, graduated from David Crockett High School, and received his BS degree in Industrial Technology at ETSU.
For the last 40 years he worked along side his father and son at Colonial Machinery Sales, Inc. as Vice President and President of the family business, buying, refurbishing and selling industrial woodworking machinery. He was regarded as one of the industry experts, and has provided guidance and information to many furniture and woodworking businesses worldwide.
Charles was an avid fisherman and never missed the opportunity to be out on the water with his son Jonathan and brother-in-law Kent! He loved wading the Nolichucky River, and bass fishing on various lakes. He was also an excellent billiards player, winning several tournaments. However, the thing that brought him the most joy was seeing and playing with his grandchildren, Mason and McCoy.
Survivors include his son, Jonathan Charles Miller and wife, Lauran; grandson, Mason Charles and granddaughter, McCoy Rose Miller all of Jonesborough, TN; sister, Susan Miller Thompson and husband Kent of Piney Flats, TN; step-daughter, Liza Christine Gibbs and husband, Chris; step-granddaughter, Tia Laws all of Fletcher, NC, several aunts, uncles and cousins. He also leaves behind his long time companion and girlfriend, Elena Coelho of Gray.
Visitation will be held at Dillow-Taylor Funeral Home on Saturday, September 16th from 5-8 pm. A graveside service will be held on Sunday, September 17th, at Telford United Methodist Church Cemetery at 2 pm.
In lieu of flowers, memorials may be given to St. Jude's Children's Hospital.
I am very saddened to hear of Charlie's passing. While we have not seen each other in years, I fondly remember times together in the mid/late 70's post high school. He was such a gentle soul with that heart warming smile and that infectious laugh. While I have not met the family, I send my sincerest condolences in your loss. I regret that due to a planned weekend trip that I cannot be present for a final farewell. Rest in peace my brother.
I went to school with Charlie. He was a super nice guy. Prayers for his family. Jonathan I am very sorry for your loss.
We met Miller every Wednesday after work for 15 years. A gentle giant with a deep voice that sounded like it belonged to a Greek god. I am sad.