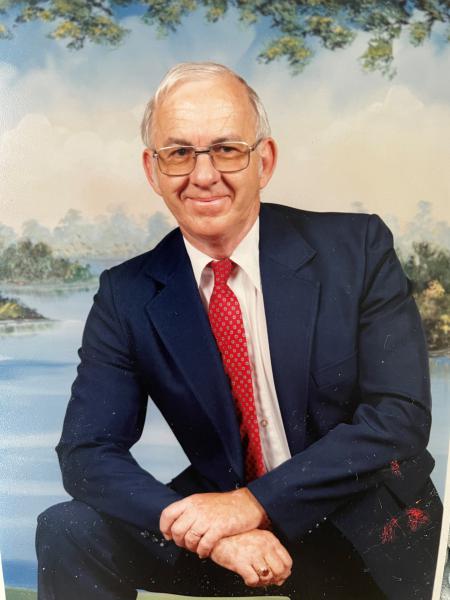 Dr. William Edgar "Bill" Allen, age 93, Scottsboro, AL, formerly of Jonesborough, TN, passed away Friday, September 1, 2023, at his home surrounded by his family.
Dr. Allen was born October 30, 1929, in Blue Springs, MS to the late William David & Estelle Parlee Allen.
He was a Presbyterian Minister for over 40 years, spending much of his career at Jonesborough Presbyterian Church.
Survivors include his wife, Charlene Bridges Allen; two daughters, Judy Stiles (Larry) and Patricia Beigay; grandchildren, Brent Stiles, Brad Stiles (Summer), Adam Stiles (Susie), Brandi Harrison and Brandon Beigay (Kelli); great-grandchildren, Lyla Stiles, Judah Stiles, Cooper Stiles, Jayden Gilbert and Arianna Gilbert.
Graveside services will be conducted at 2:00 PM, Sunday, September 3, 2023, at Maple Lawn Cemetery with Mr. Kelly Wolfe and Mr. Bob Browning officiating.
The pallbearers will be Larry Stiles, Brent Stiles, Brad Stiles, and Adam Stiles.
09/03/2023
Lisa Pritchard
Charlene Allen, our family will always be grateful for the beautiful memory of our wedding day. Our lives were off to a strong beginning with Rev. Allen conducting our marriage ceremony and you directing our wedding. We joyfully celebrated our fiftieth anniversary this year! During this challenging time of loss, please remember how much you both are loved. It is with our deepest sympathy, heartfelt condolences, and sincere hope that this and many other precious moments will provide comforting blessings to you and your dear ones. Our caring thoughts and prayers, Rod and Lisa (Lindsley) Pritchard
Charlene. So sorry to hear of the passing of Dr. Allen. I'll never forget all the good times Mom and Ned enjoyed with you guys. Thankful for the relationship you had with them. Our sincere condolences. Laura, Angie, and Frank.
09/02/2023
Jeff and Ginnie Sterne
Our condolences go out to your family. We were former members of Bill's congregation. We have very fond memories of both Bill and the church. His leadership was a big part of those thoughts. God bless you all.
09/02/2023
Steve and Pam Ritter
Charlene, we are so sorry to hear about the passing of Bill. You were his "Angel" on how well you took care of him. The good "Lord" will take care of him now. We send our love and hugs to you along with our condolences. Our hearts go out to you.
I will always remember such friendly conversations years ago with Bill and Charlene. I will never forget when I was a struggling college student around 1970 that Bill gave me $20 to help with my expenses. that was a lot of money back then, and have thought about him and his thoughtfulness over the years. David Stiles
09/02/2023
Connie Constable
Dear,Dear Charlene, please accept my deepest sympathy in the loss of your beloved Bill. Jim and I always held you and Bill in the highest esteem and in our hearts. May you find comfort and peace in your loss from the sweet memories you shared over the years. Love, Connie