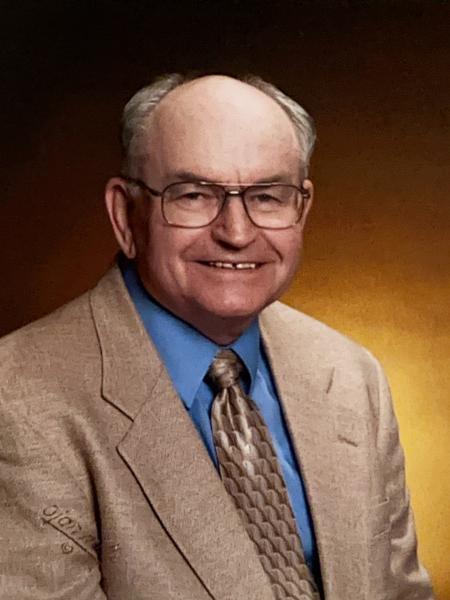 Lt. Col. James Michael Pahris, USA, Retired; Minister of Education; train enthusiast, and longtime resident of Jonesborough, passed away on August 29, 2023, just shy of the age 84, surrounded by family.
Jim, as he was known to many, was born on September 13, 1939, to H.H. & Margie Morris Pahris. He earned his B.A. from Mercer University and was Commissioned a Regular Army Officer upon graduation. He served two tours of duty in the Republic of Vietnam and was awarded the Combat Infantryman's Badge, Bronze Star with Oak Leaf Cluster, and the Vietnamese Cross of Gallantry with Silver Star. He was recognized in Who's Who In America 2020-2021.
After numerous assignments, Jim left active duty and entered Midwestern Baptist Theological Seminary, earning his Master of Religious Education, and served in several Baptist churches in Missouri and Virginia.
Jim returned to active duty as a staff officer in the Office of Secretary of Defense for Reserve Affairs, Mobilization, Plans and Policy; retiring in 1988, he was subsequently selected as a Program Manager for the Military Personnel Exchange Program and Schools of Other Nations. He became the Department of Defense's foremost authority on service exchange and international education programs.
Post-retirement he and his wife spent time in their beloved Jonesborough and traveled the U.S. and abroad, including many trips to attend National Railroad Historical Society related events. As a member of the George L Carter Railway Museum, he actively participated with their efforts to promote the historical importance of the railway in Johnson City and surrounding areas. He collected an extensive library of railroad history. Plus, a large model train layout that will be donated to George L. Carter Museum.
Jim is survived by his wife, Charlotte, of 60 years; daughters, Martie, Regina (Brent), and Michelle; grandchildren, Faith (Brandon), Aaron (Kalyn), and Melissa (Jeromy); Jake, his great-grandfur buddy; great-grandchildren, Caleb, Trinity, Olivia, Cooper, Claire, and Elliot; sisters, Pat and Gail (Rick).
Funeral services will be conducted at 2:00 PM, Saturday, September 2, 2023, at Dillow-Taylor Funeral Home with Rev. Allen Huff officiating. The family will receive friends from 1:00-2:00 PM Saturday prior to the service.
Graveside services will be conducted at 9:00 AM, Monday, September 4, 2023, at Mountain Home National Cemetery.
In lieu of flowers, please send donations in memory of Jim to the Association of Frontotemporal Degeneration, ETSU's George L. Carter Railroad Museum (attention Dr. Fred Alsop), or Jonesborough Presbyterian Church
I had the honor of serving with Jim twice during tours in the Strategic Leadership Division on the Army Staff. Jim's status as the subject matter expert on the Personnel Exchange and Schols of Other Nations programs was well known among all of the Services. He managed the programs with dedication and professionalism - hallmarks of anything Jim did in life. I often sought out Jim's advice and guidance, especially during times of duress. He was calm, organized and focused as is reflected by the awards he received during his tours in Vietnam. And I would be totally remiss if I failed to mention his sense of humor. Jim's laugh was infectious and his smile, the one reflected in the obituary's picture, lit up the room. Both he and Charlotte were gracious hosts, stead-fast friends and an example to us all. I know Jim's faith made his passing just another event on his journey to Heaven where he'll continue to smile on us...and, perhaps, even laugh a bit at some of us, too. Salute to you, my friend. Mission complete. Rest Easy.
09/05/2023
Edward and Beth Krause
We are very sorry to hear of Jims passing. As members of the MEMMR railroad community, his loss will be felt for many years to come. Please accept our deepest condolences and prayers.
Avalyn and I offer our deepest condolences to Charlotte, Martie, Regina, Michelle and family in the passing of Jim. I have known Jim since serving with him in the 1st Brigade, 101st Airborne Division, both at Fort Campbell and in the Central Highlands of Vietnam. Jim and Charlotte attended our wedding on May 9, 1965, prior to our shipping out to Vietnam. Jim was a true friend, an always straight-shooter and fearless individual in all ways. Jim will be deeply missed, but he left a legacy that will live on. Tim & Avalyn Swain Peoria Illinois and Franklin Tennessee Tim Swain September 1, 2023
09/01/2023
Daniel and Charlene McLeod
Dear Charlotte, It was a pleasure to get to know you and Jim byway of the Train Clubs and the Dinner Group. We know that Jim will be greatly missed by all his family - personal and train related. Many people have learned a lot from Jim's knowledge about the Railroad and the NRHS. We will keep you and your family in our thoughts and prayers. May God give you strength and comfort during this difficult time. And continue to watch over you as you start a new phase of your life. Love, Dan and Charlene
Martie and family, you are in my prayers for God's comfort as you both grieve the loss of your dad and celebrate his eternal life in Christ.
08/31/2023
Marilyn & Lawrence Muelver
So sorry to hear about your dad Martie sympathy to you and your family. Glad you got to be with your family in his last days. We miss you. Sending you Hugs