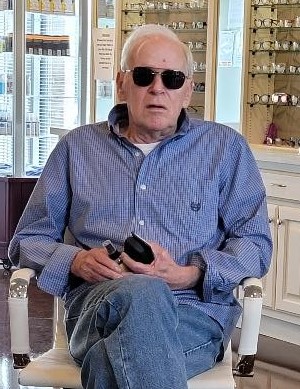 Mr. Gary Thomas "Tom" Scott, age 79, of Greeneville, passed away at the Johnson City Medical Center on Sunday, August 27, 2023.
He was born in Johnson City on September 12, 1943, to the late Paul and Roslyn Scott.
Tom proudly served his country in the United States Army and was a man of great courage. He made a living as a truck driver and had many friends across the country. A talented guitarist, Tom played in many churches around the area over the years. He was a Christian who loved God and was loved by many. His kind heart was evident in all he did but it was especially seen with his love and devotion he gave to Colby, DJ, Morgan and Alexander after the loss of their father David. He was a sweet and gentle man and will be missed by so many.
In addition to his parents, he was preceded in death by his step-son, David James Randolph.
Those left to cherish his memory are his wife of 32 years, Renda Scott; children, Pam Scott (Raymond), Byron Scott (Lisa), Ryan Scott (Roxanne); step-son, Jason Randolph (Sarah); step daughter-in-law, Susie Randolph; several grandchildren and step grandchildren, several great-grandchildren; many friends and extended family.
A Celebration of Life will be held at a later time.
Renda, I am so sorry for your loss. I remember the day you and Tom were married. I think of you often and pray God is wrapping His arms around you and holding you close during this time.
Oh - Oh - Oh...... This man was an angel....Always kind and caring. Our friendship thru a mutual friend, he and I were going thru some really tough times.... could say "just a friend" but Tom cared deeply. After all these years, his memory remains untarnished and shining bright.... Tom, Rest in Our Lord's arms and enjoy your freedom from stress, etc. Til we meet again.....Will love you forever, Sweet Friend....
09/02/2023
Rev. Bobby & Gina Ricker
Renda we are so sorry to hear about Tom. You and your family are in our thoughts and prayers ?
09/01/2023
Kelley Scott Walli
Pam, Byron, and Ryan, my heart is breaking for you. Love and miss all of you. Renda, I know how much you loved Tom and he was blessed to have you in his life.
Renda, I am so sorry to hear about your "sweet Tom". You shared a beautiful love story together. You and your family are in my thoughts and prayers. Love you lady!