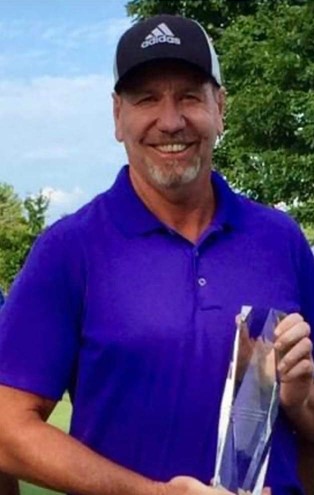 Mr. James Fender, age 59, of Greeneville, Tennessee passed away on Wednesday, March 8, 2023, in his Fife, Washington home, surrounded by his family.
James was born on April 16, 1963, to Maynard Fender and Texie "Jane" Peterson Booth in Burnsville, North Carolina.
Mr. Fender was a general manager for Leonard Associates. He enjoyed golf, basketball and being outdoors. His kids and grandkids were his pride and joy.
He is preceded in death by his step-father, Jerry Booth; brothers, Tommy and Jerry Fender; sister, Alisa Fender; former in-laws, Jimmy and Jane Hopson.
Those left to cherish his memory are mother, Jane Booth; father, Maynard Fender; son, Whitney Fender; daughter and son-in-law, Samantha and Kyle Robinson; grandchildren, Kade Robinson, Jensen Robinson and Ariana Robinson; sisters, Sirena Duckworth, Linda Gouge, Dana Keith, Susan Smith Sharon Fender and Letecia Fender.
Funeral Services for James will be at 2:00 PM, Thursday, March 16, 2023, at Dillow-Taylor Funeral Home with Pastor Dylan Bailey and Mr. John Verble officiating. Visitation will be from 12:00 Noon to 2:00 PM, prior to the service. Graveside Services will follow at Cherokee Baptist Cemetery.
James was a great guy, I always enjoyed playing golf with him. I'm sorry to here of his passing.
03/16/2023
Marshall Brown
Thoughts and prayers goes out to the Fender Family. Always enjoyed our conversations on the golf course. He was always so appreciative of the course upkeep that my crew always preformed. He also had a God given talent as an athlete.
So sorry for your loss. James was a great neighbor to everyone in Russell Acres in Tusculum, TN. He had a smile for everyone. We missed when he moved away. He kept his home and yard immaculate. Rest In Peace James.
My condolences to the family. James was a friend and will be missed. God bless!
03/16/2023
Scott & Connie Peterson Pitman
⚘️Dear Aunt Jane and family....so sorry to hear of James passing. He was always so much fun to be around when we were little~~always laughing and joking and cutting up~~been too many years since I lasr saw him and you all too. I know he will be missed. Praying God surrounds the whole family with Love and Peace in the coming weeks and months...keeping you all in our prayers....our Love ❤️
James and my daddy played golf together since I can remember, and their friendship was so genuine. James was always the sweetest and most caring man. Keep teeing off up there til we meet again. Love and condolences from the Wilhoit family.
03/15/2023
Salaw Hummingbird
While James was visiting in Clewiston Fl i had the privilege to meet him and play golf with him a few times. Very polite and nice man to talk to. I knew had gotten sick but praise God he's not sick anymore. Prayers for his family.
I'm so sorry for your loss Fender Family. What a wonderful Son, Daddy, Brother, and Brother in Christ. I hate he suffered here in this old world. He's not suffering now, he is in Paradise, no tears, no pain.
I can only try to imagine what Heaven is like, but when I get there and see a mansion with a putting green and basketball court I will know where to find James. Every time I have ever mentioned James's name to a mutual friend the first thing they say is he is such a great guy and that was and is true. In the last couple of years every conversation we had ,he was always positive when at times I knew he was hiding the pain. He always took time to talk about his kids and grandkids. He loved you all and was so proud of you all . Prayers to family for peace and comfort.
Susan and family. You are in my thoughts and prayers. Cherish the precious memories you have of your brother. God Bless you and your family.
03/14/2023
The James Family
Mr. James Fender is one of the kindest people our family has ever known. From the very first moment we met and interacted we knew we were family. Kelly, Grant, Gavin, Averi, and especially Nate Dawg will miss you forever. Rest in peace knowing you leave behind a legacy of an amazing family you helped create. We love you James.
Condolences to the Fender family from a school mate and basketball teammate, although he was a couple of years older. James was a hooper:)
I'm sorry I can't make it tomorrow as I have to work. However, I grew up going to school and playing ball with James. He was a fine man and good friend. God bless you buddy.