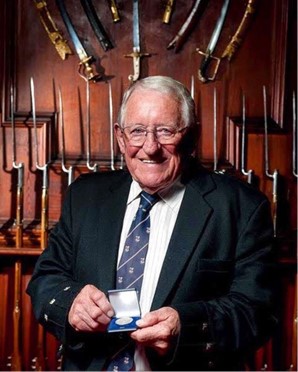 Norval Bruce "Sandy" Jones passed away surrounded by loved ones on Sunday, March 5, 2023, at the age of 84.
Born in the hospital in Wallace, ID on July 17, 1938, he lived a truly incredible life. Raised in and around Kellogg, ID and Spokane, WA, he was an occasionally bawdy young lad, with plenty of hilarious stories to boot. He caught the attention of one particularly beautiful and diligent cross walk guard, Dorcas, and went ahead and married her a few years later. In his youth he began learning the great highland bagpipe, spurred on by his doting Scottish grandfather. His studies paid off, and he joined the United States Air Force to become a member of their Pipe Band, serving as an airman and musical ambassador.
Sandy and Dorcas moved to Washington, DC in 1958 to begin his career, which took him across the country and the world. Sandy's experience led him to being invited to the Kennedy White House on multiple occasions, including being commissioned to write a new composition and perform for the United States welcome to the Irish Prime Minister Seán Lemass. It was Sandy's and the USAF Pipe Band's great relationship with President Kennedy that led to them being requested by First Lady Jackie Kennedy to play at President Kennedy's funeral. This critical moment in American history cemented Sandy's commitment to servant leadership and furthering the reputation of the great highland bagpipe.
Sandy was an incredible teacher. His role as the pipe major of multiple pipe bands positioned him as mentor to many. When Sandy finished his time in the Air Force in 1978, he joined the faculty at The Citadel, the military college of South Carolina. For 25 years he mentored many young musicians and cultivated an amazing pipe band program, leveraging his relationships overseas and taking The Citadel's Regimental Pipe Band to the prestigious Edinburgh Military Tattoo in Scotland. While in Charleston, he also wrote and published one of foremost tutor books for new bagpipe learners, "Beginning the Bagpipe."
Part of Sandy's role as a figurehead in the piping and drumming world saw him judging and leading Highland Games across the country, including as the President of the Grandfather Mountain Highland Games. This allowed Sandy to work with many Scottish musicians, teaching large numbers of students and coaching other bands. He recognized a need for a hub of learning for Scottish music and worked in partnership with his colleague John MacFadyen to open the North American Academy of Piping and Drumming in 1970. For over 50 years, the academy has engaged thousands of students, many of whom remain involved for decades. Shepherded by Sandy's incredible leadership, his deep relationships with the some of the most talented pipers and drummers in the world, and his enthusiastic commitment to the academy's amazing students, the NAAPD is the premier institution of its kind in the country.
After a 59-year career, Sandy traveled to Scotland in 2017 where he was presented with the Balvenie Medal, the highest honor in the community for lifetime services to piping. He was the first American-born piper to receive this prestigious award. It was especially meaningful that his family was able to be with him when he received this award. His wife has been by his side in all his endeavors and his children and grandchildren are following in his footsteps as pipers and musicians and are committed to furthering Scottish culture through excellent music education.
We are in awe when we consider Sandy's amazing, six-decade long career, and how he has engaged with tens of thousands of pipers and drummers across the world. He showed up for everyone in an authentic, present way, had a knack for ensuring you felt valued and heard, and inspired us all to try and live up to the magnificent standard he set. He will be remembered for his stellar and innovative musicianship by his former bandmates, for his quick wit and indelible support by his cadets, for his softness and integrity by his family, and for his kindness and humor by every single person who crossed his path. Our Grandfather of American Piping, he was beloved.
He is predeceased by his mother and father, Dorothy and Norval, his brother John, and his son John Cameron. He is survived by Dorcas, his cherished wife of 65 years, daughters Colleen (John), Cathleen (Mike), and Keri (Matt), along with 8 grandchildren and many great-grandchildren.
We look forward to holding a memorial service this Summer and anticipate the huge community he has helped to build joining us in this great celebration.
The family, colleagues and loved ones will be setting up a memorial fund to further Sandy's legacy in the coming days. In the meantime, any tax-deductible donations made to the Ed Neigh Scholarship Fund [501(c)3] will be held in reserve for this future endowment. Please specify that these funds should be used for the Sandy Jones Memorial. Checks may be sent to Jack Mahoney 2274 Sunset Court, Lizella, GA 31052 (EIN: 80-0787325). Sandy was also a committed partner of the Valle Crucis Conference Center and was a steadfast steward of their mission. Donations to the VCCC may be made here: https://vcconferences.org/giving or send checks to Valle Crucis Conference Center, PO Box 64 Valle Crucis, NC 28691
05/04/2023
Maryel Ramsay Battin
My thoughts and prayers are with you all. Sandy and my father, Neil Ramsy, spent many years together at the piping school at Valle Crucis and judging at numerous highland games. He also taught my son, Ramsay Battin, there. Please let Dorcas know how much he will be missed by us all.
03/31/2023
Rev. Ron Watson
I am so grateful to Sandy not only for teaching me the bagpipes but sharing his faith with me while I was a cadet at The Citadel. He was one of those people in your life that you never forget or the time you spent with him. Blessed are the Dead who die in the Lord, yea says the Spirit, that they may rest from their labors. And their works do follow them.
Sandy was a giant amongst men a soft spoken man with a clear vision and loving heart. I always looked forward to putting a smile or frown, on his face every year. Life won't be the same without him.
Sandy was my next door neighbor when I was in high school. For my senior project, Sandy taught me how to play the bag pipes in only a few months to the point I could play Amazing Grace. I'm thankful Sandy took the time to help me succeed and I almost went to The Citadel because of him! Dorcas, thank you for your kindness in letting me come to your home to learn from Sandy! Praying for comfort during this time of loss.
03/10/2023
David D Gravermoen
I'll never forget being asked if I wanted to learn a new instrument my first day at the Citadel and the next thing I knew I was learning to play the Pipes. RIP CJ, you will be deeply missed.
03/08/2023
John Recknagel
My condolences to Sandy's family on the passing of such a gentleman and teacher. Especially to Dorcas, his wife who was always there with Sandy when he was on duty judging somewhere. Sandy's legacy will endure for many years to come as all of the work he did to encourage piping and drumming, was monumental. Rest well Sandy.
Major Jones was The Citadel Pipe Band Director when I attended The Citadel from '87-'91. Although I was in the regular band, he left an indelible impression on all of us. I have always treasured the time I got to spend with him and will truly miss him. Many blessings to Dorcas and the family.
I met Sandy when I came to Valle Crucis for 'band camp'. I had heard about him from bandmates and read some stories of all he had done for piping. He was charming, welcoming, and humble. Hard to grasp this giant in the piping world was so approachable. I feel lucky to have met him and heard a few of his tales. He was a gift to the piping community. His work here is over and the legacy of students he left behind is hard to comprehend. Sandy Jones RIP. Thanks for all you shared.
03/06/2023
Jeff Forrester
Sandy was my piping mentor, instructor, and true friend. He was a gentleman always and his talent was only exceeded by his kindness. He will be sorely missed. Toodles! Sandy, I will see you in the counter march!
I always enjoyed learning from Sandy be it at the Academy or through messages. He will be profoundly missed. The bagpiping world was better for having him in it.
My deepest sympathies are with the Jones family and I will keep you in my prayers. As I mourn his loss, I reflect on the incredible impact Sandy had on me...through piping, The Citadel, his mentorship, leadership example, and friendship, he opened countless opportunities for me and enriched my life. I am so grateful for Sandy and the family that allowed him to give so much of his time and talents to thousands. What a legacy he has given us all. With deepest respect and sympathy, Tom & Lara
03/06/2023
Gregory Sikosek
I was doubly blessed to be a student of Sandy, or CJ as we referred to him then, both at The Citadel and at North American Academy of Piping. The impact he had on Piping in this country alone is incalculable and will endure for generations. We will all miss him greatly. G. Sikosek Citadel Pipe Band Piper and Drum Major. Class of 1988
We have never met but I wanted to send my condolences. What a life well lived. I love hearing the pipes as it stirs my heart of my heritage in Western North Carolina. My grandmother was born and raised in the valley of Foscoe. I spent many good times on Grandfather Mountain including attending the Highland Games. Thank you sir for bringing such Joy to this world. Peace of Christ
I knew Sandy for over 40 years and studied with him at the North American Academy of Piping for 17 years. He was a "first-class" gentleman and a friend. He had a huge impact on my life, both as a piper and as a person. I admired him for his ability as a player and as a teacher and mentor. He touched almost every piper in the U.S. either directly or indirectly. When he was awarded the Balvenie Medal, I was so proud to know him personally...and...few have deserved that honor so much as Sandy. I will miss him greatly - but - he will live on in my memories.
03/06/2023
Alan Armstrong
Sandy was my piping instructor, judge, mentor, but above all, a wonderful friend. Many a summer my room at VCCC was directly above his. He was also loads of fun and could tell yarns about bagpiping that would entertain for hours and hours. The legacy he leaves is beyond comprehension-astronomical. Like thousands of others there is a hole in my heart today. Go with God, Sandy.