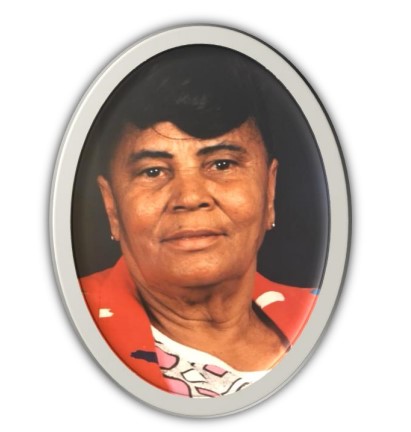 Annie Wortman Bennah, passed away on February 28th at her home at 2068 Buttercup Lane in Limestone, TN at the age of 93 after a weekend being surrounded by four generations of her offspring.
Affectionally known as "Grandmother" by all, Annie was born on April 14, 1929, to parents Otto Wortman and Nancy Yeah in the town of Rivercess, Liberia, West Africa. She spent her earliest years in Rivercess and Monrovia in Liberia. During her adolescence, she relocated to Kingsville Township in Liberia where she attained her secondary-level education.
Annie met and married her late husband, Henry B. Bennah, Sr. in Kingsville around 1947 and thereafter started a family of 11 children. Although from very humble beginnings, she dedicated her life to providing care and educational opportunities for her children well beyond her meager means. Annie served as President of the Women's Missionary Society at Morning Start African Methodist Episcopal Church in Kingsville for one term during the 1980s. In the US, she was a member of Buffalo Ridge Baptist Church in Gray, TN.
She was preceded in death by her parents Otto and Nancy, her sister Comfort Wayne, four of her children, Albert, Rose, Davenport, and Joshua Bennah, and her husband Henry Sr. Throughout her long life, Annie was the anchor for her family and a strong member of her community. She is survived by seven children and two stepchildren:
• Henry B. Bennah, Jr (Kolu), of Johnson City, TN
• Handerson W. Bennah, Sr, of Johnson City, TN
• Janet Bennah Johnson (Edmund) of Trenton, NJ
• Priscilla Bennah, of Johnson City, TN
• Morma Bennah of Johnson City, TN
• Dechontee Bennah (Emilio) of Charlotte, NC
• Kamah Bennah of Limestone, TN
• Sundamar Bennah of Kingsville, Liberia, and
• Davenport Bennah of Kingsville Liberia
She was blessed with 29 grandchildren and 33 great-grandchildren, a testament to her long and fruitful life.
Visitation will be held at the Dillow-Taylor Funeral Home at 418 W College St, Jonesborough, TN on Friday, March 10th at 6PM. Funeral Services will be held at Buffalo Ridge Baptist Church at 197 Suncrest St. in Gray, TN on Saturday, March 11th at 10AM, followed by interment at the Washington County Memorial Gardens cemetery in Johnson City, TN. She will be eulogized by her granddaughter, Minister Wynona (Nonie) Bennah.
My condolences to the family
Mrs. Bennah was a wonderful mother and grandmother to her children. She was very dedicated to her family. I am sending my deepest condolences to the family. She was blessed to have family that loved her so much. With love, the Font/Murphy and Price family.
03/05/2023
Esmeralda Salinas
Thoughts and prayers are with the entire family at this time.
Grandmother was the best grandmother I ever had
Bennah, family thank you all for welcome me into your family and special your mom. She help me get through a very dark time in my life I will forever be grateful to her. I will miss our talks, but I know she at peace.
03/04/2023
Rachel Diamondcrest
Kamai and Priscilla my heart and prayers are with you and your family during this time. Love, Rachel