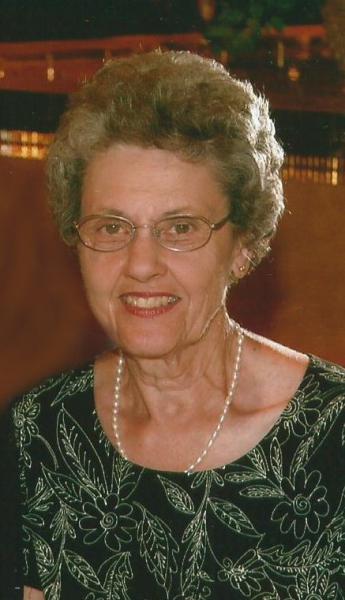 Mrs. Glenna Barkley, age 89, went home to be with the Lord on Monday, February 27, 2023, at Brookdale Assisted Living in Greeneville.
Glenna was born in Bowmantown, Tennessee, to the late John and Grace Ball Slagle.
She was a loving faithful wife, mother, grandmother, and great grandmother who loved her family dearly.
She was a bookkeeper and secretary for Barkley Lumber company. Lifelong active member of Mt. Bethel Christian Church where she was a teacher for children's Sunday School, Bible School & Children's Church. She was a faithful Christian who always wanted children to know the Lord and was always praying for those who were not saved…her mission in life. She was very active with preparing meals for the Limestone Ruritan Club and also active in working at the Washington County Election sites for years.
Preceded in death by her husband, Charles Barkley; parents, John and Grace Slagle; brother, George Slagle.
Those left to cherish her memory are daughters, Nancy Wright (Greg) and Jane Ann Lowe (John); son, Michael Barkley (Tina); 6 grandchildren; 10 great-grandchildren; brothers, Bobby Slagle (Carolyn) and Johnny Slagle
Funeral Services will be at 2:00 PM, Thursday, March 2, 2023, at Mt. Bethel Christian Church with Minister Lamar Garrison officiating. The family will receive friends from 1:00 PM to 2:00 PM, at the church prior to the service. Interment will follow at Mt. Bethel Cemetery.
Pallbearers will be family members.
The family would like to thank Amedysis Hospice Staff, Brookdale Greeneville Assisted Living and all her home caregivers for their loving care.
In lieu of flowers, contributions may be made to Mt. Bethel Christian Church cemetery c/o James Chandley, 828 Clear Springs Road, Limestone, TN 37681 or to Alzheimer's Tennessee, Inc. 5801 Kingston Pike, Knoxville, TN 37919
03/10/2023
Sara Kyker Francis
Jane Ann , I'm so sorry to hear about your mom. You're in our thoughts and prayers.
Precious lady and family, her kindness and Mt. Bethel Church family's kindness will never be forgotten. May God 's Peace and Comfort be with you each as you go forward. Much love, Keeton Family
03/03/2023
SHIRLEY CUTSHALL
NANCY, SO SORRY TO LEARN OF THE PASSING OF YOUR MOTHER. YOU ARE IN MY PRAYERS
03/02/2023
Isabelle Hollenbaugh
I am praying for your family during this time. Glenna was a special friend and I will miss her. She and her husband were dear and precious people who loved the Lord. May God bless each of you as you serve Him in your own lives.
03/02/2023
Janet and Rick Stonecypher
Sorry to hear, she was always a great neighbor and fun to be around. Condolences to Nancy and family!
03/02/2023
Kenneth and Linda Clark
Oh my she will be missed! We had fun times attending Ruritan Conventions with Glenna and Charles. She and I cooked many suppers for the monthly meetings. What a great Christian lady. So sorry for your loss.
03/02/2023
David and Sandra Holt
What a precious lady! Such a beautiful picture to remember. Please know that you all are in our thoughts and prayers at this time and in the days ahead. Love this hymn: "When we all get to heaven. What a day of rejoicing that will be! When we all see Jesus, we will sing and shout the victory!"
03/01/2023
Kathy and Gippy Martin
We are so sorry for your loss. Prayers for all of you. We loved Glenna.
02/28/2023
Karen Routh Peoples
Jane Ann and family...so sorry to hear about the loss of your Mom. Prayers for your family
02/28/2023
Russell Treadway
JaneAnn & Barkley Family. You have our sincerest condolences on the loss of your Mother. Praying for all.
Michael sorry to hear about your Mom. I will miss seeing her shopping in Ingles. Thinking of you all
02/28/2023
Janice Archer Weaver
She was a special lady.
02/28/2023
Lori Kinnick Smith
Praying for the family during the loss of Glenna .
02/28/2023
Connie Williams
Sorry for your loss Michael.
02/28/2023
Wassan Broyles
So sorry to see where Glenna passed away. She was always so fun to be around at the Limestone ruritan fish fry's and what a wonderful cook. My wife Vickie also enjoyed working with her at the fish fry's. Our condolences go out to the family and friends of Glenna. She will be missed by all who knew her, Wassan and Vickie Broyles.