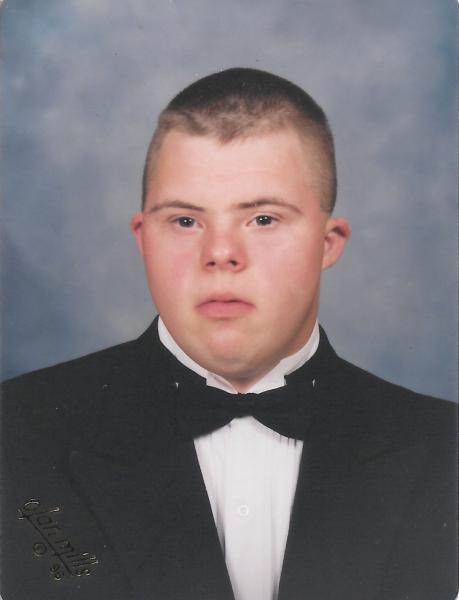 On February 25, 2023, Bradford Presnell, age 45 years old, went into the arms of his heavenly Father to join his family and friends that are already there, especially his older brother.
Born on November 15, 1977, and raised in Washington County, Brad had Down's Syndrome and was one of the first in his community that allowed by his actions to pave the way for the handicapped people that followed him in the future to have advantages not disadvantages.
Brad was a member of Fairview United Methodist Church. Along with his love for God, he loved friends and family, clowning around, fishing, wrestling, hunting, animals and farming.
The institutions that Brad has been affiliated with whether for learning, recreation, work or as a person to show what handicapped people could accomplish. Dawn of Hope, ETSU Child Study Program, Washington County School System, Kids on the Move, A Leg Up, Jonesborough Little League at Shiloh Park, Boy Scouts at Gray, Hunter Safety Course, Challenger League at Gray, Volunteered for Kingsport City Schools and Mountain Empire Animal Hospital. He worked at Super K, McDonalds, and Ingles in Kingsport.
He was able to drive old farm truck, tractors, riding lawn mowers, go cart and Kawasaki Mule. He took guitar and piano lessons for a short period of time then Brad said, "I'm done."
Big "Thank You" to all his people at CORE who were his family for the last few years. I wish there was enough room to list all the people that helped him along this voyage, but if you helped Brad then he showed his appreciation to you already and loved to hug you.
Proceed in death by brother, Thomas Howard Presnell Jr.; Paternal grandparents, Mr. and Mrs. M.N. Presnell; Maternal grandparents Mr. and Mrs. Paul D. Sherfey.
Survived by parents, Tommy and Paulette Presnell.
Funeral services will be conducted 1:00 PM, Wednesday, March 1, 2023, at Dillow-Taylor Funeral Home with Pastor Randal Emmert, Mr. Mark Shelton and Mr. Geeter Lowe officiating. The family will receive friends from 11:00 AM to 1:00 PM, Wednesday prior to the service. Interment services will follow at Washington County Memory Gardens. Services will be live streamed via youtube.
Pallbearers will be Geeter Lowe, Axton Lowe, Brian Kennedy, Allen Selby and Brian Collins.
So heartbroken to learn of Brad's passing. There are many accolades that can be bestowed upon Brad, hard working, funny, spirited, genuine, but the one I like the most is "my friend" I loved Brad. We spent a lot of time working together and even more time playing and goofing off. I know Brad thought of me as his friend, and he was right. But he was by far a better friend to me than I could've ever been to him. He enriched my life so much and I was a better person for just knowing him.
Brad was a pleasure to be around. He had a great sense of humor and was so sweet. He will be missed here. Our world is a much sadder place without him in it. Rest in peace Bradford! I just know you're up there flipping someone's nose and making them laugh!
Dearest Brad you will be greatly missed. You will always have a special place in my heart. I enjoyed so much the Valentine's day dances, picnics. Rest in peace dear friend. Mr.and Mrs. Presnell I am so sorry for your loss. I pray for God's comfort for you. I greatly admire the wonderful life and opportunities you gave your son. God bless you both. Barbara King
02/28/2023
Linnia Painter (Browning)
I worked with you and Tommy at Burlington and I remember the sweet things you said about your little boy when he was born. He is in a wonderful place now. May God bring you both comfort in the days to come.
02/28/2023
Mark and Kathy Shelton
When people call Brad special, that's true but there needs to be an even more powerful word to describe Brad. He was someone we all should aspire to be like in so many ways. His happy positive outlook on life should inspire us all. His expression of love is truly what would make the world a BETTER place if we would take the time to notice. Thanks Brad for showing us a better way. I pray we all pay better attention. We will truly miss you!
I'll never forget the time I came back home with my mom Pauline. Uncle Tommy took us to his farm to show us around. That's when I met my cousin Brad. From that day he caught my heart. Such a big smile and loving heart. Deeply missed but never forgotten. So thankful he is home with Jesus. And thankful God gave him such loving parents. Prayers for you both Uncle Tommy and Auntie Paulette during your time of grieve. I know you know where your peace comes from. ?
Tom, I was sad to read of Brad's passing. I will always cherish the sweet memories I have of him working at RNR after school. He was the happiest worker that we had and everyone loved him. I can't recall a day that he was in an ill mood or wasn't excited to be there. He was a blessing to all and I know that he will be missed by many. May you know that I will be bathing you and your family in prayer. In His Name- Kathy
We just wanted to take this oppurtunity to thank the Good Lord for letting us have the pleasure of having Brad , (The Bambino) (Pedro) ( Big Sexy) and all the other names that he came up with, for the last 45 years and 3 months, and 10 days. Peace be with you Little Man, Love you forever, Tom and Mom
02/28/2023
Carol L Presnell
Tommy and Paulette, we were saddened to hear of Brad's passing and are so sorry we cannot be there to comfort you. We wanted to let you know how proud we are of Brad's life achievements. I will miss my kissin' cousin's infectious smile and bear hugs. As he rode his mule off into the sunset, know that those that have gone before him were waiting to greet him. Love to you both, Carol and Terry.
One of my favorite memories of Brad was when his dad brought him to school and I told him to hang up his coat. Tommy looked at me and said he did not know how. I turned to Brad and told him again to hang up his coat. Brad turned around, took off his coat and hung it up. He was such a joy to have in my class!
There are no words to ease the pain but God be with you. Prayers going up.
Tom and Paulette, I'm so sorry for the loss of your sweet boy. He took a piece of my heart with him in his passing and he will be missed beyond words to many of us. Love you sweet Brad, you're in a far better place, I'm sure.
02/28/2023
Deborah Kay Maidon
So sorry for your loss, he is in the arms of Jesus.... From Ida's daughter...
Paulette and Tommy we are sorry about Brad. He was a such a special son to you both. Many hugs and prayers for you and Tommy. Love you both even though it has been quite awhile since we've seen you all. Sue and Ricky and family
02/27/2023
Dave, Kathy, David and Joanna Torgerson
Tommy and Paulette, we are so sad to hear about Brad. We loved him in Kids On The Move and in Challenger League. We are so proud of all his achievements. We will never forget him. You are in our hearts and prayers.
02/27/2023
Tim Debbie and Joshua Garland
Tom and Paulette I wish I had the words to ease your pain. May God give you the comfort and peace that you both need. Brad will never be forgotten. I have so many memories of him. He loved you both more than anything in this world and was always so excited with his visits with you both. Thank you both for always being so good to Joshua and for letting Brad be so close to him. Brad was such a Huge part of our family. With much love and prayers. We are praying hard for you both. Thank you Brad for your love and friendship. We love you.
Paulette, My deepest condolences to you and Tommy. I sure wish I could have met Brad. It sounds like he was a beautiful soul.
Sorry for your loss. The last time I seen Brad was when Mom and I came down and met them at the K-Mart and Tommy was teasing him that he had a girlfriend working there. In my thoughts and prayers!
02/27/2023
Ernest B. Moore, Jr
My sympathies go out to the family. Brad will truly be missed. He was a joy and delight. A real blessing from God. There are many fond memories that I will cherish.
02/27/2023
Phillips Family
So sorry for your loss..We're Praying for You Both…
Brad was a precious soul. I'm going to miss your beautiful smile that I got every night. I know your smiling like crazy now. Love you and will forever miss you.
I'm a friend of Brad's he had a smile and loved be. Around everyone that he met I will miss seeing him at all of the events that we have at Core Services
02/27/2023
Betty Presnell Boyt
Brad you will be missed. You could always make us laugh with your funny comments and your antics. Fly high dear nephew. We love you
Sorry for your loss. Brad was a special employee for us here at Ingles. We enjoyed all the hugs and little tricks he would try to pull on you. He will be greatly missed.
Will miss you sweet nephew. I bet you and Uncle Curtis will be playing Cowboys and Indians in heaven.