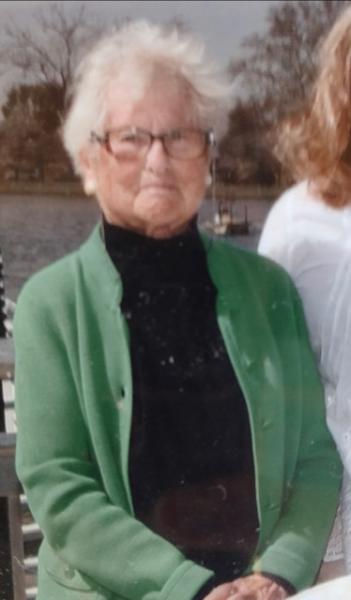 Mrs. Marjorie Doane, age 91, passed away on Monday, November 21, 2022 at her residence.
She was born March 13, 1931, to Benjamin and Margaret Trelease in Binghamton, New York.
She is pre-deceased by her husband of 51 years, David G. Doane, MD; sister, Maxine Bound; sons, 1st Lieutenant Stephen in Vietnam and CWO/RET, Geoffrey, Manhattan, Kansas.
Survivors include, brother, Thomas Thompson, Ft. Worth, TX; cousin, Maedawn Trelease, Simpsonville, CA; two nieces, Constance Bound and Terry Rale, Orange, VT; step-children, Leslie Doane (Mike), Falls Church, VA; Dr. Eric Doane (Sue), Evans, GA; Michael Doane (Nora), Eagle Craig Lake, NY and Aiken, SC; 6 grandchildren and 3 great-grandchildren.
Following her parents divorce, she attended 11 schools, graduating as Salutatorian from Afton Central, Afton, NY; State University of New York at Albany, NY where she was a member of Beta Zeta sorority and Syracuse University, Syracuse, NY.
Professionally she worked as a legal secretary in law firms in Syracuse and Fairfax, VA.
In 1963 she married Dr. David Doane and together they raised the 5 Doane children in Walton, NY where Dr. Doane had a flourishing medical practice. While in Walton she founded the Walton Ski and Walton Booster Clubs; was active in Congregational Church Sunday School and Women's Fellowship; hospital volunteer, 4H leader and active in community affairs. She also attended the many "concerts" of the Beginners, Middle, Jr. and Sr. orchestras where Leslie and Eric were violinists.
Upon the death of their son in Vietnam, Dr. Doane closed his medical practice, entered the Army Medical Corps and moved the family to Fairfax Station, VA, as he was stationed at the Pentagon.
Retiring from the Army they moved to Jonesborough where Marjorie was active in the Presbyterian Church, Tuesday Garden Club and Director and Secretary of the Washington County Humane Society. During this time the Doanes were also involved in breeding Thoroughbred horses, selling them mainly in Saratoga, NY and Lexington, KY. They also bred and exhibited Best in Show, winning Irish Terriers and Dalmatians. Both were AKC judges, judging in all the major cities of the United Sates, Canada, Hawaii, Mexico, Brazil, Australia, New Zealand, Sweden, Ireland and Russia.
In lieu of flowers please contribute to the Washington County Animal Shelter, 3411 N. Roan Street, Johnson City, TN 37601