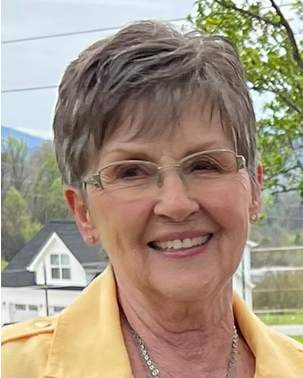 Mrs. Verna Jean Miller, age 83, of Jonesborough, passed away on Thursday, November 10, 2022 at the Johnson City Medical Center.
Verna was born in Campbell, Missouri on September 20, 1939, to the late Vernon and Geneva Adams.
Known as Mimi to her grandchildren, great-grandchildren, and many others she brought into her home, she was always on the lookout for anyone who needed a little extra love. Mimi always had room at the table for anyone who was in need of special attention. She was a faithful member of Southwestern Baptist Church and participated in many ministries with the church.
Survivors include her husband, James R. Miller; children, Mark Douglas Miller (Lisa), James V. Miller (Jan), Kim Campbell (Herbie); nine grandchildren; six great-grandchildren; brothers, Carl Adams (Linda) and Kenneth Adams (Linda K.); sister, Debbie Stevenson (John)
Funeral Services will be at 7:00 PM, Sunday, November 13, 2022, at Southwestern Baptist Church with Pastor Greg Salyer officiating. The family will receive friends prior to the service from 5:00 to 7:00 PM.
In lieu of flowers, donations can be made to the Shepherd's Pasture Preschool Tuition Assistance fund. 1112 Cherokee Road, Johnson City, TN 37604 (423) 928-5162
Jim and Kim so sorry for your loss of Verna. Kim I know how it feels to loss a parent since I just lost my dad Robert Barnett on January 21, 2021. Jim and Karen and Miller family Verna was a special woman. My mom and dad enjoyed her on mission trips that Jim and Verna went on with our church. Also I appeciate all the love she showed me when mom and dad and I moved up here in 2018 and then after my dad passed away. She was a very kind, loving and nice women she will be missed alot. I will keep you Jim and Kim and the Miller family in my prayers daily.
11/12/2022
Pati & Pat Shannon
We have fond memories of Verna when our children were in school together at UH. Our thoughts and prayers go out to the family during this difficult time.
So sorry to read of her passing. Always thought so highly of her. Love to the family.
11/11/2022
Juanita Hughes
We will miss her sweet smile and friendly hello - a special lady!!!
Mrs. Verna Miller was the kindest and dear friend to our family when we lived in Johnson City. She is a beautiful and godly woman whose life exemplified the servant heart of our Lord Jesus Christ. On behalf of Margrett (with whom Verna is rejoicing before the Lord) and our children, Elliot and Madeline, our prayers, love and deepest condolences to Jim and the Miller Family.
Kim, I'm so sorry for your earthly loss. I know you loved your mom very much and was your best friend. She was truly a beautiful lady.
Verna, your impression on my life has been incredible. When I saw you at church, I knew there would be a wonderful conversation and so much love. Your grace will forever be the standard that I long to emulate. I can't wait to see you again!