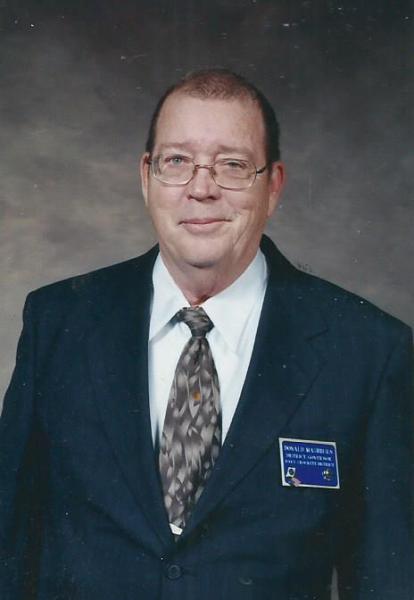 Mr. Donald Mashburn, age 78, Murfreesboro, formerly of Jonesborough, passed away Friday, November 4, 2022, in Murfreesboro.
Mr. Mashburn was born June 10, 1944, in Washington County and the son of the late Harvey & Martha McNeese Mashburn. He was preceded in death by his wife, Mary Juanita Mashburn, son-in-law, Wayman Bailey.
He was a member of Vincent United Methodist Church, serving as superintendent and Sunday school teacher.
Mr. Mashburn retired from the Washington County Virginia School System, having taught at John Battle High School and Wallace Middle School. After retirement, he was a substitute teacher in the Washington County Tennessee School System and taught at Northeast State Community College.
He was President of Conklin Ruritan, District Governor for the Davy Crockett Ruritan District and awarded Lifetime Ruritan Member.
Survivors include a daughter, Donna Bailey, Gallatin; grandson, Zachary Bailey; brother, John "June" Mashburn (Diana); sister, Nancy Barnett; and several nephews and nieces.
The family would like to extend a special thank you to Grace House and Melissa for their wonderful care.
The family will receive friends from 5:00-7:00 PM, Monday, November 7, 2022, at Dillow-Taylor Funeral Home and other times at 214 Mashburn Rd. Telford.
Graveside services will be conducted 11:00 AM Tuesday, November 8, 2022, at Vincent-Mayberry Cemetery with Rev. Keith Malone and Rev. Jeremy Dykes officiating.
The pallbearers will be Andy Barnett, Mike Clark, Greg Harrell, Scott Hill, Johnny Mashburn, Jess Stout, Jess Stout, Jr. and Alan Jackson. Honorary pallbearers will be Chipper White and Harlan Arnold.
11/20/2022
Bill Halstead, Class of 1969
Mr. Mashburn was a great math teacher and a good man.
11/20/2022
Darlene Sharrett Halstead, Class of 1973
Mr. Mashburn was my lunch-study teacher. He was kind to the 8th graders as we gathered in the auditorium before lunch. He was a staple in our lives, always the same passionate person each day. Someone we could count on. Characteristics of a great teacher and person.
11/12/2022
Donna Thomas Ostermeyer
Sorry to learn of Mr. Mashburns passing. I remember him at JSB (class 76). Prayers for his loved ones.
11/08/2022
Bobby Grimsley
So sorry for his passing and my condolences to his family.
11/07/2022
LEE ANN CRUMLEY
SO VERY SORRY TO HEAR OF DAN'S PASSING. MAY HE REST IN PEACE
Never heard a bad word about Don, just a really good an kind man. Same every time you met up with him. Will be missed by many.
11/07/2022
Kenneth Edwards
Please accept my condolences.
11/06/2022
Lisa Benfield Edwards
Prayers and condolences to Mr. Mashburn's family and friends. I remember him from my years at John S. Battle HS. May he rest peacefully and his loved ones find comfort in the memories they share.
11/06/2022
Melba Jean Worley
So sorry to hear of Don's passing. I met him in 1980 at JSB, and we talked for years after that. I believe the last time I spoke to him was around 2013 or so, but not sure. I had his number & address for years. He was so kind to me though high school and beyond - always willing to talk and offer advice or just a listening ear. He was a good one. Prayers lifted for you, Donna & your family.