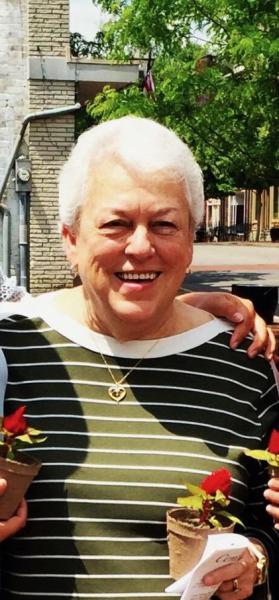 Mrs. Becky S. Pickering, age 81, Jonesborough, passed away Tuesday, September 13, 2022, at Sycamore Springs Assisted Living.
Mrs. Pickering was born May 10, 1941, in Limestone, TN. She was the daughter of the late Lester Shipley & Frances Clark Miller. She was preceded in death by her husband, Mack Pickering and two aunts, Gwendolyn Curtis, and June Erwin.
She was a member of Central Christian Church of Jonesborough.
Mrs. Pickering worked as a bookkeeper at David Crockett High School for many years.
Survivors include son, Jason Pickering (Melissa), Jonesborough; daughter, Ashley Sexton (Keith), Jonesborough; four grandchildren, Meredith Hughes (Spencer), Greeneville, Jacob Good, Joseph Silvers and Emma Hummer, all of Jonesborough; great-grandson, Barrett Hughes; very special cousins, including Kenny Curtis, Cathy Ferguson and Sherrie Baskette; loyal subject, Sandy Edwards. Becky had a tremendous love for her family, but her grandchildren were the light of her life.
The family would like to extend a very special thank you to Sycamore Springs Assisted Living Memory Care Unit for their wonderful care.
The family will receive friends from 4:00-6:00 pm Friday, September 16, 2022, at Dillow-Taylor Funeral Home.
Interment services will be conducted 12, Noon Saturday, September 17, 2022, at Monte Vista Burial Park with Pastor Eddie Fine. Friends are asked to meet at the cemetery by 11:45 am.
Pallbearers will be Jacob Good, Spencer Hughes, Tod Parker, Joseph Silvers, Jeff Edwards, Walker Fuller and Dalton Fuller. Honorary pallbearers will be Kenny Curtis, Orlis Francis, Sam Monk and Eddie Fine.
Memorial donations may be made in memory of Becky S. Pickering to Alzheimer's Northeast Tennessee Chapter 2020 Meadowview Parkway Suite 100 Kingsport, TN 37660.
Jason, Ashley and Family. We're so very sorry to here about sweet Becky. We loved her so much and she truly was a special friend to us. Sending love and prayers to you all. Love, Jason, Lori & Mackenzie Baldwin
Ashley, Jason, and family. So sorry to hear of Becky's passing. Her kindness and warm smile will always be a memory in my mind. The people who worked with Becky at DCHS and interacted with her elsewhere all loved her.
09/16/2022
Estel Williams
Got to know Becky at Sycamore Springs. I work as a chaplain there and Becky was a joy to be around. Her smile was contagious. Our prayers go out to this dear family.
My condolences to ALL the family and friends of Becky's whom loved her very very much. Many thoughts and prayers to you ALL!!! Sincerely, Sherry A. Scott and Family!
09/15/2022
Janice Crawford
Ashley and Jason: So sorry to hear of your momma passing. Just remember the good time. Her and your dad was 2 of the nicest people I every had the pleasure of knowing. Now they are back together hand in hand, strolling on the streets of gold. Prayers for you and your families!
09/15/2022
Geraldine Greenwell
Becky was one of a kind. She and I were neighbors for many years when she and Mack lived in Jonesborough. There was never a dull moment in their presence. They were always laughing and having fun. Many good memories!! Also, she had the best taste in clothing and the outfits she wore were always beautifully coordinated. She always looked so well dressed. Sorry she had to deal with Alzheimer's. Her love and laughter will be missed. My sympathy to you in her passing.
09/14/2022
Stella Mae Coffey turnmire-lewis
Jason and Ashley I am sorry to hear about your mom passing away I am glad that I knew your mom and dad they were awesome people to know. Thank u for sharing them with us. My prayers r with u Jason every day just remember the good times with your mom and dad. Love u Stella Mae!
Becky was a good friend and co-worker while at DCHS, prayers to the family.