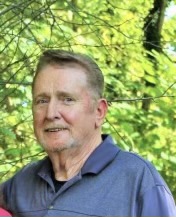 Mr. Daniel G. Hayes, Jr., age 75, Jonesborough, TN, entered his Saviors arms on Tuesday, September 6, 2022, when he lost his battle with cancer.
Dan was a native of Johnson City, TN and lived in Holden, MO for 30 years before residing in Jonesborough, TN with his wife for 16 years.
He was the son of the late Daniel G. Hayes, Sr. and Hattie Hill Sparks.
Dan was a loving husband and father and a dear friend to those who knew him.
He was a retired Diesel Mechanic from Freightliner Trucks in Kansas City, MO and also had a farm.
Dan was a member of the Church of Jesus Christ of Latter-Day Saints.
He loved fishing, gardening and was a big Kansas City Chiefs fan, he loved his two fur babies, Patch and Batman. He belonged to the Tri Cities Miata Club and loved driving the Mountains of East Tennessee. He loved traveling, seeing new places and spending time with his wife.
In addition to his parents, Dan was preceded in death by one son, Danny Joe Hayes, Johnson City, TN, one brother, George Malcolm Hayes, Independence, MO and one sister, Peggy Sue Hayes Self, Blue Springs, MO.
Dan is survived by his loving wife, Janet G. Hayes, Jonesborough; son, Weston Patterson Hayes, Independence, MO; step-son, Melvin Nay and wife Cheryl of Englewood, TN; and one granddaughter, Alexandra Hayes, Rheatown, MO and several nieces.
The family would like to give a special thank you to Clarinda Whitson and the faculty and staff of Jonesborough Middle School for all the meals, calls and visits during Dan's sickness. To the staff of Avalon Hospice for the special care they gave Dan during his final stage of life. To his church family for the meals, visits and the blessings they bestowed upon Dan and for the help in preparation of his service and to his special friends Gary Hotchkiss, Tracy Fleenor and David Egbert for their friendship and many acts of kindness they showed to Dan and Janet during his sickness.
The family respectfully requests the honor of your presence as we offer tribute and remember the life of Daniel G. Hayes in a memorial service to be held at The Church of Jesus Christ of Latter-Day Saints located at 211 Mayflower Road, Johnson City, Tennessee. The family will receive friends on Monday, September 12, 2022 from 5:30 PM to 6:30 PM and the ceremony will begin at 6:30 PM.
In lieu of flowers, contributions may be made to Janet Hayes to help cover funeral expenses.