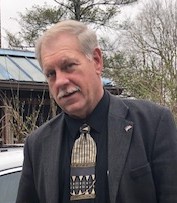 Mr. Bruce Norman Range, age 63, Jonesborough, went to be with the Lord on Friday, September 2, 2022, at UT Medical Center.
Mr. Range was born in Washington County and the son of the late Bill Norman Range and Betty Jean Dulaney Range of Jonesborough. In addition to his father, he was also preceded in death by a brother, Jeff Range, father-in-law, Jerry Booth, mother-in-law, Patsy Booth and brother-in-law, Jimmy Booth.
He was a member of Cherokee Baptist Church and attended Eden Methodist Church.
He was co-captain of the David Crockett High School football team, class of 1977, ran track, loved NASCAR especially Dale Earnhardt. He served in the Air Force and was retired from the United States Postal Service where he was a Regional Director and former Postmaster of the Erwin, Elizabethton, and Kingsport Post Office.
Survivors include his wife, Susan Diane Booth; two sons, Brandon Anthony Range (Kassi Lynn Uptain) of Dolores, Colorado, and Zachary Garrett Range, of Las Vegas, NV; grandchildren, Skylar Lillian Range, Oakley Jaxon Range and Mayzie Alenna Range; brother Rick Range (Angie) of Jonesborough; sister, Tammy Wolfe (Tony) of Seymour, TN; special nephew, Blaine Booth of Jonesborough; several nieces and nephews.
The family would like to thank the 5th floor ICU team at UT Medical Center for their wonderful care.
The family will receive friends from 10:00 AM to 11:00 AM, Saturday, September 10, 2022, at Cherokee Baptist Church. Funeral services will follow at 11:00 AM, with Dr. Dwight Hobbs and Pastor Bryan Orchard officiating. Graveside services will follow at Cherokee Baptist Cemetery.
Pallbearers will be Danny Bacon, David Dulaney of Seymour, TN, John Rambo, Brandon Range, Rick Range and Tony Wolfe. Honorary pallbearers will be friends at Whites Auto Parts and US Postal Service, Men's Group at Eden United Methodist Church and Cherokee Baptist Church, Johnny Clark, Nathan Coggins, Tim Dean, Keith Ervin and Frankie Walters.
Memorial donations may be made to Cherokee Baptist Church Cemetery 299 Taylor Bridge Road Jonesborough, TN 37659 or Eden United Methodist Church Youth Group C/O Aimee Lowe 1620 Mill Springs Rd. Jonesborough, TN 37659.
I will always remember Bruce's friendship. May the peace that passes all understanding keep your hearts and minds in Christ Jesus.
09/14/2022
The Vaughts - Luther, Karen and Jennifer
Dear Betty and family, We were so very shocked and saddened to learn of Bruce's passing. We cannot begin to comprehend your loss. Our hearts are heavy. You are all in our thoughts and prayers.
09/11/2022
Eddie and Brenda Arrowood
Susan I'm so sorry for your loss. Bruce was good friend and a great person . I pray God will give you peace and comfort in the days ahead
09/10/2022
Jenny Booth Miedaner
So very sorry for your loss, Susan. Praying that wonderful memories with your husband bring you peace and comfort during this difficult time. Keeping your whole family in our thoughts.
I am so very sorry for your loss. Bruce will definitely be missed by many. Prayers for your family during this time.
We were so sorry to hear about the passing of your loved one. Praying that God will comfort you and give you peace in this time. Love to all of you.
Gerri Lynn and I are so sorry for your loss. Our thoughts and prayers are with you and your family during this very difficult time.
Prayers for Betty and family from Rusty and Linda Rambo.
09/08/2022
Kristi Hamilton- Postmaster Clinton
My condolences to the family. Bruce was such good friend to all of us and will be missed dearly.
09/08/2022
Jack & Mary Alice Phillips from Bethesda Church
Betty and family...so sorry for your sons passing.
09/08/2022
Adam and Kelly Warren
Susan and family we are saddened by the sudden loss of Bruce he was a big man with a big heart. It seems he left us way to soon and we continue to pray to the Lord for your comfort and peace. May God Bless you.
09/07/2022
Patti White Davis
So sorry for your loss . Bruce has been a great friend to all of us . He will be missed. He leaves a big hole is in our lives that will never heal. He became the big brother I never had . My heart grieves with you and your family.
09/07/2022
Paul and Debbie Masters
Dear Family, We are so sorry for your loss. May God Bless You and give you strength for the days ahead. We will keep you in our prayers.
09/07/2022
Tim and Chris Dean
My sincerest condolences are with you and your family during this time. Your husband was a remarkable individual, and I feel your loss deeply.
09/07/2022
Chris Woodward
Rest in peace my friend. Thanks to the family for all the great memories on the farm. We Lost But Heaven Gained.
09/07/2022
Stella Mae Coffey turnmire-lewis
Betty I am sorry to hear about Bruce passing away Bruce was a wonderful fine young man my prayers r with u every day during this time may God continue be with u every day hope u get better soon soon k love u Stella Mae