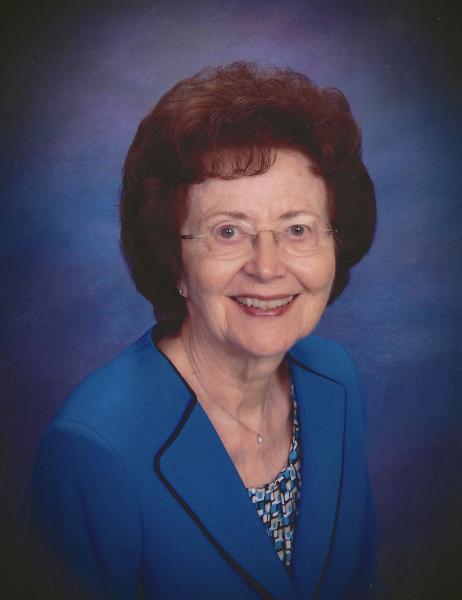 Imogene Walters Browning, 89, of Johnson City, TN departed peacefully Monday, August 8, 2022, at home from her earthly life and entered Eternity with her beloved Lord and Savior, Jesus Christ. Born at home in 1932 to Clyde L. and Kathleen Broyles Walters in Limestone, TN, Imogene enjoyed a very rich childhood on the family farm. She was an only child, so her pets a skunk, numerous cats, a dog named Mickey, and a few bunnies, often played the role of her "siblings." Imogene raised chickens for her spending money and by 9 years of age, she had saved enough to buy a pony named Trixie. When Trixie decided to throw her, resulting in her foot being stuck in the stirrup, she decided to sell Trixie. Imogene also accepted Christ at 9 years of age and was baptized in a river, during a revival she had attended with her parents.
Imogene's father, Clyde L. Walters, was elected for two 4-year terms as Register of Deeds for Washington County; and her mother, Kathleen, worked for him as a clerk. After school, Imogene would join her parents at the Courthouse either for an afternoon nap, or for roller skating fun on those marble floors, leaving a few scratches behind. She also won a contest for naming the "Jackson Theatre" in Jonesboro and won free passes. In 1951, while only 19 years old, she traveled by train to New York City with a friend.
Imogene attended high school at Washington College High School, Telford, TN, where she met the love of her life, Charles G. Browning. They both went on to East Tennessee State College (currently ETSU) together and graduated in 1953. Imogene earned Bachelor of Science Degrees in Home Economics and Education, with a minor in Business Administration. A year before they graduated, Imogene and Charles had already dated for 5 years and couldn't wait any longer to be married. So, in 1952, they committed their lives to each other at Philadelphia Presbyterian Church in Limestone, TN and were married 55 years.
Later in 1953, Imogene began teaching Home Economics at Lamar High School. Soon after she began teaching, Charles was drafted into the Army and they moved to Augusta, GA, where he was stationed. While in Augusta for one year, Imogene taught 7th Grade.
In 1957, Imogene and Charles were thrilled to buy their first house in Kingsport; and only a year later, they welcomed their first daughter, Melodye Lynne in 1958. In 1960, only 22 months later, they welcomed their second daughter, Debra Kathleen. In 1962, Imogene accepted a part-time modeling job with Beeline Fashions for one year.
After moving to Bristol in 1965, Imogene became a member of the Exchangettes Club, while also returning to ETSU to earn her Certificate in Early Childhood Education, which became her passion. She did her student teaching at Haynesfield Elementary, then later accepted positions in kindergarten at First Presbyterian Church, then Highland View Elementary in Bristol, VA. She finally transferred to Anderson Elementary School, where she remained throughout her teaching career. Teaching young children (kindergarten) was something Imogene loved very deeply.
Her hobbies and talents included performing in high school plays, dramatic readings, sewing, cooking, toll painting, crafts, knitting, embroidery, macrame, and ceramics.
After retiring from teaching, Imogene traveled with a small group of ladies, hosted by Reba June Green (local morning radio-host) to Turkey, England, Italy and Greece. She and her husband also traveled together on several cruises and enjoyed an elaborate Alaskan cruise for their 50th anniversary. In their later years together, they ventured West on many trips to Wyoming, Kansas, Colorado, South Dakota, CA, Seattle, Canada, Las Vegas, and Branson, MO.
Despite all her talents, education and successful career, nothing was more important to Imogene Browning than family, children and animals. She was a very devoted wife, mother and grandmother, and always put family (and pets) first in her life.
She was preceded in death by her parents, Clyde L. and Kathleen Broyles Walters, and her husband, Charles G. Browning.
Survivors include her two daughters: Melodye L. Bernier and Debbie B. Taylor, and four grandchildren: Charles Michael Taylor, Chelsey Leigh Taylor, Kathleen Emilia Bernier, and Charles Frederick Bernier; great grandchildren, Joseph Michael Taylor and Cayleigh Elizabeth Hamilton.
The family would like to extend a special appreciation to Janice Simpson and her staff at Loving In Home Care for their wonderful compassionate care.
In lieu of flowers, memorial contributions may be made to Niswonger Children's Hospital Building Fund 400 N. State of Franklin Johnson City, TN 37604 or Mt. Wesley Cemetery fund 266 Roy Green Rd. Telford, TN 37690.
Funeral service will be conducted 6:00 pm Saturday, August 13, 2022, at Dillow-Taylor Funeral Home with Pastor Jeremy Dykes officiating. The family will receive friends from 4:00-6:00 Saturday prior to the service.
Interment services will be conducted 2:00 pm Sunday, August 14, 2022, at Mt. Wesley Cemetery.
Pallbearers will be Sammy Fox, David Walters, Jim Buchanan, Michael Taylor, Charles Bernier and Don Royston.
Debbie and Melodye, Deepest sympathy in the passing of your mother. The obituary you wrote is so interesting and well done. You have captured the richness and diversity of a life well lived and someone who never sat on the sidelines of life. It is amazing to know how such a beautiful, intelligent, creative, resourceful, adventurous and even rebelious woman, one with numerous divergent interests and goals, possessed the determination to accomplish them all. I really enjoyed your sharing her early bonding with pets as siblings, naming each one, her forays in the county courthouse after school to be with her parents, her going to NYC by train at age 19, and how she persevered to become a kindergarten and early childhood educator. She showed great determination to complete a college degree with at least theee majors, in an era when few women attended college at all, because of marriage and children at an early age. I can certainly see a boundless enthusiasm for life in all her varied pursuits right up until her earthly life ended. This explains how each of you and her grandchildren could choose many different paths and still be very much like your mother/grandmother. As I read, I saw not just a loving mother, who put her children first, but a person who was actively and passionately engaged in life at all times, only slowing down to savor the gift of each of you, so different in your aspirations and life choices, but amazingly all like your mother and grandmother in some way. What a gift she was to each of you, to all the children she taught and to all communities in which she was active really, to all of us who knew her or even read her story. I hope that your Higher Power brings you comfort and the peace that passes all understanding as you both grieve and celebrate a life so well lived.
Dear Melodye and Debbie I worked for your mother when she lived on Greentree with your father until they moved to Johnson City I am so sorry for your loss Karla Smith.
08/12/2022
Mary L Finucane
Dear Melodye and Debbie, I am so sorry to learn of your mother's passing. She was one of my favorites and I will miss her. She has earned her reward and is now reunited with your father.