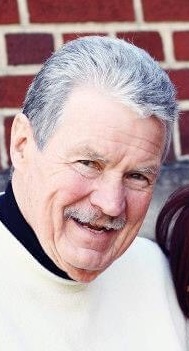 Fred B. Stewart, age 81, passed away at his home on August 1, 2022. He flies with the angels to the arms of God.
Fred is survived by his wife, Sharon Stewart, his daughter Shannon Stewart Horton (Jimmy) of Church Hill, Tn; his son Bart Stewart of Spokane, WA; his sister Elva Freeman of Charlotte, NC and his three granddaughters Alex Stewart, Abby Horton and Emmy Horton, great grandchildren Abby and Timmy, his nephews Buddy and Grant, nieces Sharon, Angie and Suzanne.
Fred is preceded in death by his mother Lois Stewart, his father Dave Stewart, his brother Floyd Stewart and his nephew David Freeman.
Fred retired from AztraZeneca Pharmaceuticals in 2010 at the age of 70. Fred was a leader, a mentor and a friend to so many. Fred's big heart loved his animals very much, even those who didn't have the capacity to return the love (Max) and he never stopped missing his girl Maggie who passed in 2018.
Fred was a good man, a loving husband and proud father. He was a man who believed strongly in his faith and that we would all be together again in a happier place. He began his career as a basketball coach in Cleveland, Tn. His "kids" still call him and check up on him from time to time. His legacy of sportsmanship and diversity lives on in each of them. Fred loved all sports and spent hours watching college football. He earned his degree at Elon University on a football scholarship and had a true love of the game. He played football, baseball and basketball for West Mecklenburg High School and Harding High School in Charlotte, North Carolina.
To all the people who loved Fred and to all the people whom he loved and graced with his love, he will be missed and thought about often.
Graveside Services were held on Sunday, August 6, 2022, at Monte Vista Memorial Park in Johnson City, Tn. His family spoke of Fred's life and legacy and the love they will always have for him. Fred, "Go rest high on that mountain for your work on earth is done!"
If you wish to honor Fred, please donate to the Washington County Animal Shelter, 3411 N. Roan Street, Johnson City, TN 37601.
08/13/2022
Jim and Barbara Potter
Sharon you and Fred were very dear friends. We were at your wedding. Fred was a good man and will be missed dearly.
08/11/2022
Jennifer Wright
Fred will be dearly missed. I had the privilege of working with Fred. Sending prayers to the family. May you fly high my friend!
08/10/2022
Mary Beth Richardson
Sharon: I am sending lots of hugs from afar.
Shannon, I am so sorry to hear of the loss of your Dad. Praying for you my sweet friend!