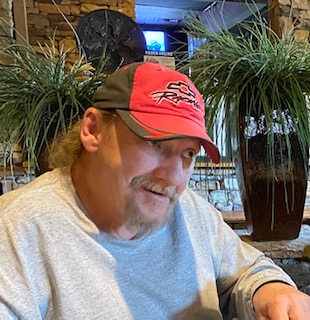 Mr. Eric Shannon Onks, 53, of Church Hill, passed away Wednesday, August 3, 2022, after a courageous battle with cancer.
Eric was born April 26, 1969, in Johnson City. He was preceded in death by his dad, Buddy Onks, grandmother, Naomi Onks, aunt, Cheryl Onks, and grandparents, Grady & Pauline Carpenter and Maude Tittle.
Survivors include parents, Brenda & Butch Carpenter; sister, Kristy and husband, Peter; nieces, Kasey & Tatum; grandmother, Vera Shelton; several aunts, uncles, and cousins; special friends, Dave & Stacy; and his dog, Roscoe.
The family would like to thank Amedisys Hospice, especially Amanda and Rick, for their care and support.
A service to celebrate Eric's life will be conduced 3:00 pm Sunday, August 7, 2022, at Dillow-Taylor Funeral Home with Pastor Harold Jones and Chaplain Rick Dinkins officiating. The family will receive friends from 1:00-3:00 pm Sunday prior to the service.
The family request memorial contributions be made in his honor to American Cancer Society 871 N. Weisgarber Rd. Knoxville, TN 37909.
Brenda and Butch, You have my deepest sympathy. Praying for peace and comfort.
08/06/2022
Ron Satterfield
Brenda, Vera, and other family members: I am so sorry to learn of Eric's passing. Though I did not personally know him, I do know what it feels like to lose members of the family. My heart goes out to you during this difficult time.