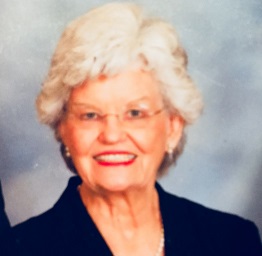 Mrs. Janice L. Shipley, age 90, Jonesborough, passed away Monday, July 25, 2022, at Johnson City Medical Center.
Janice was born in Greene County, TN to the late Sherman & Lucy Jarrett. She was preceded in death by Ralph Shipley, her husband of 64 years, and her siblings, Lawrence Jarrett, Bobby Jarrett, Evert Jarrett (Alma Ruth), Leon Jarrett, infant brother Johnny Jarrett, Vera Rupert Graybeal (Gene) and Leona Farmer (Emery).
She was a member of Limestone Free Will Baptist Church. She was a devoted Christian, mother and friend.
Survivors include son, David Shipley, Jonesborough; two daughters and sons-in-law, Diana & Danny Mitchell, and Donna & Jeff Davis, Johnson City; two grandchildren, Brandon Shipley (Tracey) and Ashley Shipley; two great-grandchildren, Ivan Shipley and River Shipley; sister, Barbara Barnett Thompson (Ted); brother, Paul Jarrett (Edna Ruth); sisters-in-law, Louise Jarrett and Betty Jarrett; and several nephews and nieces.
Funeral services will be conducted 7:00 PM, Thursday, July 28, 2022, at Dillow-Taylor Funeral Home with Pastor Tim Roach officiating. The family will receive friends from 5:00-7:00 PM, Thursday prior to the service.
Interment services will be conducted 11:00 AM, Friday, July 29, 2022, at Mountain Home National Cemetery.
Pallbearers will be family & friends.
08/10/2022
Sandra Crawford
So sorry to hear of your Mom's passing. May God Bless you all.
Peace Be With You.
07/31/2022
David and Sandra Holt
We want to express our heartfelt sympathy to each of you. We have had family connections through the years on both the Shipley and Jarett sides and that makes us a special community of people who have supported each other through the years. Know that you all are in our thoughts and prayers as you go through the days ahead. May God bless.
David, I am so sorry about losing your mom. I just found out. Had I known yesterday, I would have come by. Take care, my old friend!
07/29/2022
Wassan Broyles
So sorry to hear about Janice. Have a lot of fond memories going to church with all you guys and would sometimes go home with David after church. Janice would cook dinner while David and I would seem somehow to get in trouble and Ralph would give us both a good scolding. Janice always had a smile and she will be greatly missed by all. God bless you guys Wassan, Vickie, Benny and Jennifer.
07/28/2022
Jim and Teresa Oler
David and your family are in our thoughts and prayers
07/28/2022
Nancy Louise Murphy
So sorry to hear. A great and beautiful lady. Family friends of the Dan Woods Family for many. many years. My deepest sympathy.
07/28/2022
Tim and Shelby Humphrey
We are so sorry to hear of sweet Janice passing. Her smile was beautiful just as she was. Know our prayers with each of you. She was loved by many.
07/27/2022
Bren Austin Seaton
Another precious mother from my childhood has received her heavenly reward. She was always smiling... always so quiet and lovely. We were blessed to know this precious lady. Family make God comfort you. Our love and prayers are with you .
07/27/2022
Scarlett Coapstick
You were always smiling- you brought joy to everyone. RIP Aunt Janice. We will never forget you.
Many great memories growing up around this family. It is a treasure to be friends and be so close to some one you attend church with. We will always think of this family as part of our extended family. God Bless and be your comfort thru this difficult time.
07/27/2022
Gladys Hankal and Family
We are sorry for the passing of your beloved Mom, Janice, and pray that you may find peace during this time of grieving.
Janice always had a smile and a hug ready for everyone. She was such a sweet, kind woman and always ready to offer a helping hand to anyone. I know you all will find solace in your wonderful memories of her. Much love to you all, Sandy
07/26/2022
Paul/Annette Sampson
David, so sorry for your loss. What a beautiful lady that raised such a great family. She will be welcomed in heaven with open arms but missed here on earth! Our thoughts and prayers are with you during this difficult time. In Christian love, Paul and Annette Sampson