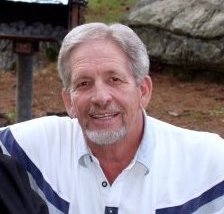 Mr. Samuel J. Bralley, age 79, Johnson City, passed away Tuesday, July 5, 2022, at his residence.
Mr. Bralley was born in Bristol, Virginia, and the son of the late Monroe Franklin & Ruby Leona Leonard Bralley. He was also preceded in death by two brothers, Jackie Monroe Bralley and Jefferson Franklin Bralley and a grandson, Austin Turner.
He was a member of Trinity Baptist Church where he served as a Deacon, Sunday School Teacher, and was the assistant choir director. He also was the lead singer with the Gospel Road Travelers.
Mr. Bralley was a United States Air Force Vietnam Veteran, having served in Guam and Thailand. He retired from the US Postal Service after 34 years of service.
Survivors include his wife, Debra Winters Bralley; daughters, Stephanie Turner, Jackie Bralley, Traci Bralley and Donna Fields (Chris); brother, James Bralley (Juliana); sister, Peggy Ann Stewart; several grandchildren, two great-grandchildren; and several nephews and nieces.
Celebration of life services will be conducted 11:00 am Friday, July 8, 2022, at Trinity Baptist Church with Dr. Mark Harrod officiating.
In lieu of flowers, memorial donations may be made to the charity of your choice in Samuel J. Bralley name.
07/07/2022
Lisa Troutman Meadowcroft
I am so sorry to hear of Sam's passing. Our family, Doris, Howard, Tad, Jeff and Lisa want to send out condolences and Love to the family: Deb and theirfamily, Jim and his family, Peggy and her family, Jack's family, and Stephanie, Jacquie, Tracie and their family's. We love you ALL.
Mrs. Debra, I am so sorry to hear about Sam. He and you were always good to me, and I know for sure, he was ready to go, and the 02 line and tank are gone. We'll see him again !!!
Debra and Donna, I am so very sorry for your loss! Mr. Sam was always so kind to Billy and myself, and I very much enjoyed visiting with him over the years. I know he was so proud to be your husband, Debra, and your dad, Donna! I hope good memories will sustain you in the days ahead.