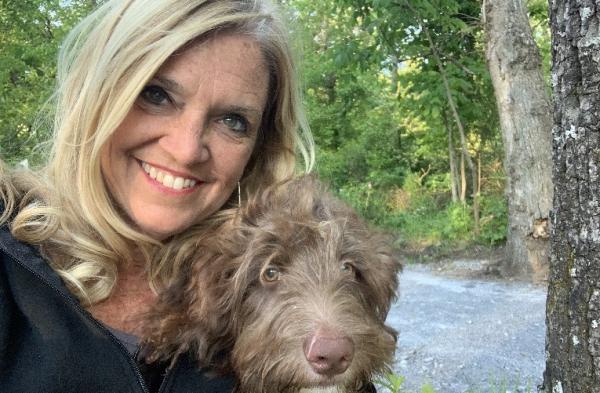 Traci Starr Honeycutt went to be with the Lord on Friday, June 4, 2022. A native of Johnson City, Traci was born on November 10, 1965. She was a devoted Christian and placed her faith in God throughout her life. She took great pride and pleasure in being part of the Johnson City community.
Traci was a 1984 graduate of Science Hill High School, received a Bachelor's degree in social work from ETSU in 1988, and a Master of Arts in Counseling in 2000, also from ETSU. She began her career with Comprehensive Community Services (CCS) as a juvenile probation officer. She later became the director of a school mentoring program with Big Brothers Big Sisters. Following that, Traci spent 22 years working as a school guidance counselor in Washington County, Sullivan County, Kingsport City and Johnson City school systems. She most recently worked as a counselor at Liberty Bell Middle School where she treasured her special "work family". Traci's dedication to counseling students made a positive impact on the lives of countless young people over the years, each of whom she carried deep in her heart.
Throughout her life, Traci had a great passion and love for ballet. Not only was she a talented dancer herself, Traci went on to choreograph and teach as the Associate Director of City Youth Ballet with Ms. Susan Pace White. Traci taught classes locally for 36 years, most recently with The Dance Company, where she shaped the talents of many young dancers in our area. We know Traci is enjoying dancing in heaven alongside Ms. Susan. Traci was also an avid outdoorswoman who loved both the mountains and the beach. She could regularly be found hiking local trails with her dog, Hunter, or collecting shells on the beach at her favorite Fripp Island.
Traci was a devoted daughter and mother and a true friend to many. An only child, Traci is survived by her dear parents, Jim and Norma Starr, and her beloved children, Keaton Starr Honeycutt and Kaden Foster Honeycutt, in whom she took great pride and cherished deeply. Traci had many special friends throughout her life and made a lasting impact on each of them with her spirited and loving nature. She was an inspirational woman who will be greatly missed.
In lieu of flowers, Keith Jennings is organizing donations for a bench in Traci's memory at Bays Mountain, one of her favorite places to hike. Keith Jennings, 4234 Ivanhoe Street, Kingsport, Tennessee 37660 wkjennings@gmail.com or jenningsk@jcschools.org
Or donate to Appalachian Christian Camp (Camp ACC) where Traci, Keaton and Kaden spent many special summers. https://campacc.com
A Celebration of Life service will be held for Traci at Liberty Bell Middle School in the Little Theatre on Saturday, June 11, 2022 at 2:00.
06/12/2022
Tara Belknap Willingham
I danced at Holloway for many years and remember Traci very well. She was an incredible person and dancer. Very sad to hear of the news of her passing. My deepest condolences to her family.
I sent Traci a "Welcome Home" message last year on June 3, 2021, and she messaged me back on June 4, 2021, saying she loved it ❤️❤️. So today I want to say to her… Welcome Home Sweetie, I know you danced through those pearly gates. She loved her family like no other… keeping you all in my thoughts and prayers.
06/11/2022
Carol Cole Woodard
Praying for Keaton, Kaden, and Traci's parents on this day and that they find peace and comfort knowing how many people loved and cherished her. That smile, that beautiful, beautiful smile will be remembered and missed.
06/11/2022
Bette Creech Lucas
Sympathy , and condolences to the family of this smart, talented, beautiful woman. Prayers that your wonderful memories and God's love will help sustain you forever. May she Rest In Peace secure in the love of family and friends.
06/11/2022
Bette Creech Lucas
Sympathy and. Condolences
Mr & Mrs Starr, My sisters & I used to babysit for Covenant Presbyterian Church when Traci was a small girl. I remember what a sweetheart she was and how she was perfectly dressed and mannerly, which showed your love and care. Later, we reconnected at the dance school where my daughter took lessons. She was obviously beloved as a dance teacher/ counselor/friend to many. Her passing leaves a big hole but I know you realize the immense good she did on this earth. Your goodness was instilled in her and she passed it to her twins. I'm praying for all of you. Joy Fields Miller
06/09/2022
Benny Franklin
Traci was well liked by many people, and I knew her for several years from our working relationship. She was totally dedicated to the needs of young people in our area. May the Holy Spirit of Christ be with her family members. She will be missed.
Traci was a very patient counselor who never got upset with kids she counseled. She would just listen patiently as kids described problems to her and then she would recommend some action be iniated if it was necessary. If not, she would have further talks with the student. She was goo. She will be misses by her great number friends and of course her family.In talking to her, anyone could tell that she loved her parents and children so much.
My thoughts and prayers are with each of you. I worked at SHHS in the Counseling office with Traci. She will be fondly remembered by many students and people. May God surround you in His loving arms of peace and comfort. Fondly, Sheila Bray
I've known Traci since our days in junior high. She was always an incredibly sweet and dear person. She had a great smile and warm heart that always made those around her feel welcome. Consequently, she earned many warm friends and loved ones. She will be missed by all but I know the Good Lord had His reason for bringing her home. I will be praying for her dear kids who will miss her more than anyone.
06/08/2022
Cheryl Rockney
Traci was a true inspiration to many. She was my daughter's ballet teacher for many years, but was always there for her at Science Hill and beyond. I was blessed to know her! Her children are truly wonderful people. I am positive that Traci is dancing in heaven!
06/08/2022
Kristie Ledford
I would like to extend my deepest sympathy to Keaton, Kaden and Traci's parents. I knew her from Johnson Ballet. She taught my daughter, Jessica Edwards and I had the pleasure to get to know Traci. She was a great ballet teacher and worked so well with the children. Traci was very talented and very creative. We spent many years of classes, rehearsals and performances together. Very sad to hear this news. However, she knew Jesus as her Savior and I know she is in Heaven with Him and has received her new, heavenly body. I will lift the family up in prayer....God Bless you all and may He give you great comfort during this difficult time.
I have known Traci for many years, first through my sister in law, Kathy Eades, and later when Traci came to work at JC Schools as a counselor. I loved how feisty and full of life she was, and so enjoyed running into her on my days at LBMS as a system wide RN. I considered Traci my friend and I have been cheering her on these last many months of illness. I will miss her. Traci loved her twins immensely. When my own daughter was pregnant with twins she was so happy for us and encouraging, asking for all the updates. That is a kindness I will always remember. Keaton, Kaden, Jimmy and Norma… you were well loved! You will continue to be in my prayers. Linda Eades
06/07/2022
Scarlett Coapstick
Traci and I met when I started working at Constitution Jr. High in 1980. She would visit from CCS and work with our kids. When I retired from SHHS, Traci was hired in my place. We have shared a lot of laughs, cried a few tears, and shared a lot of experiences. She fought hard to overcome her illnesses but there is always a time to work, play, and rest. It is Traci's turn to rest. I am so glad we got to talk recently. My heart goes out to her parents (Worked with Jim a lot over the years), her children, her friends, and all the students who got to know her. RIP Traci.
06/07/2022
Charlene Boone
Traci was there for 2 of my grands...if it wasn't for her they would not of graduated! She loved every single student she came into contact with! Our family loves you both.. Keaton and Kaden and you both will be in our continuous prayers throughout this days to come ?
Wow, I find this so hard to believe. You are such an amazing lady, friend and mother. You lead by example and why so many love you. You always put the best interest of your kids and your students before anything else. I remember the long conversations when moving from Science Hill to Liberty Bell because you didn't want to leave the kids you had already been working with. I will always remember you as a fighter, devoted, caring, loving and Godly lady who now has her angel wings. You will surely be missed. Fly High angel, fly high!
06/07/2022
Janice Hollingshead
My heart goes out to Keaton, Kaden, Meme and Papaw. Prayers for comfort and love to each one.
06/06/2022
Brenna Frankowski
Oh where to begin…. Traci was a beloved ballet teacher to my daughter Brooke when I first met her. Since she worked with my husband and then just became a friend. Traci lived her life with the joy that most of us never achieve. She wanted desperately to live but I suppose there was needed more joy and enthusiasm in heaven. Rest In Peace dear Traci. ❤️
06/06/2022
Jennifer Honeycutt Hart
Traci you were a true fighter and I still can't believe you are gone. You are already missed by so many. Fly high girl, God speed.
My condolences to the family. Traci was certainly an beautiful inspiration!
With love and prayers for Christ's comfort and peace for precious family and friends.
Traci you are truly a Godly and wonderful woman. The memories of our talks and visits will last forever. Your children are just like you and will impact the world just like you
So proud to have known Traci. My heart goes out to her children and to Jim and Norma. Traci was an amazing and talented human and touched many lives. She will be greatly missed.