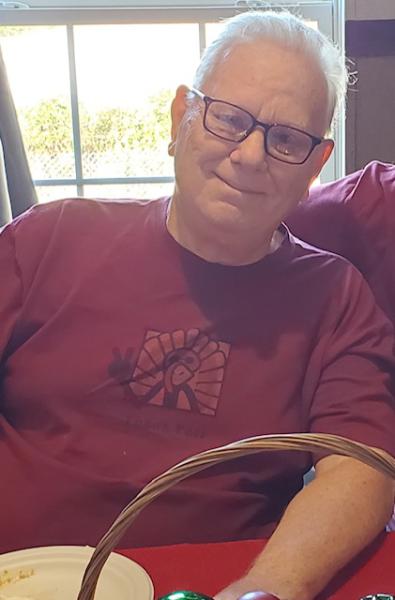 Surely goodness and mercy has followed me all the days of my life here on earth, and I am now dwelling in the house of my Lord forever...
Ronald "Ronnie" Hale, Jonesborough, entered his forever home with his Lord on June 4, 2022, after a lengthy battle with cancer. Ronnie was born on January 12, 1950, and lived his entire life in the Lamar Cherokee area where he was a lifelong active member of Cherry Grove Baptist Church, as well as Lamar Ruritan.
After graduating from Lamar High School in 1968, and Tri-Cities Barber College, he began his very busy adult life. A first and most important landmark in his life was his marriage to Joyce Little Hale, a marriage which just celebrated a 50-year anniversary. Ronnie proudly served in the US Army Reserves for six years. He worked many years at Earl's Barber Shop and continued to cut hair at his basement shop for those "select" customers until just recently. Ronnie also worked at ETSU where he could always be seen around campus. He and Joyce busied themselves as Usher Supervisors for all events at Freedom Hall for nearly 35 years. Afterwards he worked with AXIS Security as an usher at local sporting events and concerts. Ronnie also busied himself by coaching many successful women's softball teams in Johnson City over the years. A great passion of Ronnie's was that of collecting. He could often be seen at area flea markets, yard and rummage sales, auctions, and estate sales. He and Joyce busied themselves with several antique and collectible booths in Jonesborough and Johnson City, as well as on-line selling sites.
Survivors, in addition to his wife Joyce, include the following: brother-in-law, Johnny Little: sister-in-law, Cathy McMillan: nephew, Paul McMillan: niece, Anna (Bryan) Green: great-niece, Eddie Green. Other survivors that were special to his heart are wonderful friends Carroll and Bonnie Fender, Zachariah and Christian Trivette and children, Ezekiel and Eden, as well as innumerable neighbors and friends.
We would like to give special thanks to Dr. Cynthia Partain, Dr. Charles Famoyin, Dr. Sara Hammons, Dr. Grant Taylor, the staff at Quality of Life Healthcare and the doctors, nurses and staff at Franklin Wood Hospital.
Funeral Service for Ronnie will be Tuesday June 7, 2022 7:30 PM at Dillow-Taylor Funeral Home with Pastor Tommy Clark and Pastor Jeremy Dykes officiating. The family will receive family and friends from 5:30- 7:30 prior to the service.
Graveside service will be Wednesday June 8, 2022 2:00 PM at Cherry Grove Cemetery. Pallbearers will be Justin Wiseman, Bob Campbell, Mike Bucannon, Matthew McLain Gary Edwards, Zachariah Trivette, Bryan Green, Paul McMillian and Cody Rutherford. Honorary Pallbearers, Larry Hammons, Carrol Fender, Steve Green, Johnny Nolan, Teddy Nolan, Bruce Nolan, Bill Broyles, and Bobby Gray.
In lieu of flowers, Ronnie would be pleased if donations would be made to Cherry Grove Baptist Backpack Fund, Cherry Grove Baptist Food Pantry, Lamar Ruritan or the charity of your choice.
Im so sorry mrs hale you and your family are in my thoughts and prayers
I am so sorry for your loss. My deepest condolences.
06/07/2022
Homer and Regina G'Fellers
Even though we aren't there, we are praying that God will give you peace. Know that we love you both.
Pat and I are thinking and praying for Ronnie's Joyce and all his family. It will be different going to sales and ETSU basketball games without hugs from Ronnie. He always brought a smile to our faces.
Joyce, Ellen and I are sad to hear of the passing of Ronnie. We will always remember him as a kind person. May God bless.
I met Ronnie at ETSU. He always had a smile and had something funny to say. I thought a lot of him. My thoughts and prayers for the family.
I met Ronnie at ETSU. He always had a smile and had something funny to say. I thought a lot of him. My thoughts and prayers for the family.
06/07/2022
Mike & Joanna Orr
Joyce, We are sorry for your loss. I enjoyed working with Ronnie at ETSU. He always had a smile and did not know a stranger. Your family will be in our thoughts and prayers.
06/07/2022
Everett and Susan Scott
So sorry for your loss Joyce ❤️ We're sending you prayers and hugs and may God give you peace and comfort through this time of sorrow ❤️?
We both knew Ronnie we worked together at ETSU with him for many many years. Besides that we use to buy lots of collectable items and had my hair cut st his Barber shop in his basement... But most of All he was a Great Friend from the first time we met... Our Prayers are with Joyce and Family... God Bless You My Friend
I'm very sorry to hear of the passing of Ronnie. I worked with Joyce @ Westview Elementary many years ago. I hope Joyce finds comfort in the days ahead, surrounded by the love & support of family and friends.
06/06/2022
John Pilkington
Joyce I did not know Ronnie real good, but interactions between you and Roonie with Lisa and I were always pleasant. You and your family are in my thoughts.
06/06/2022
Beverly Cockrum
He was a kind gentle soul and will be missed by friends and family. Rest in Peace my old friend.