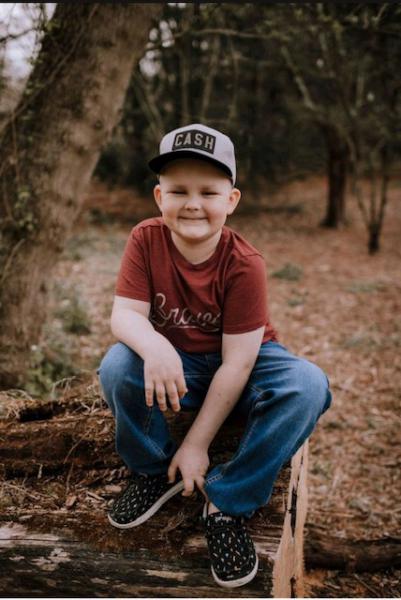 Charlie Cash Hicks, age 8, Jonesborough, passed away Monday, May 30, 2022, at his home, surrounded by the ones who loved him most.
Charlie was born May 28, 2014, in Johnson City, TN and the son of Andy & Katie Skeen Hicks, Jonesborough.
In addition to his parents, survivors include two brothers, Andy Matthew Hicks, II and Jackson Lee Hicks; grandparents, Papaw Mike and Granny Lisa Hicks, and Nana Susan Skeen; aunts and uncles, Mike Hicks II (Carrie), Brandon Hicks (Carmen) and Cody Skeen (Kyrrah); cousins, Ethan Hicks, Sydney Hicks, Allie Hicks, Beckham Skeen, Arwynn Hardy and Annalee Hardy; special family and friends, John Dereka and Kylee Dunn and Ronnie Hobbs.
He was preceded in death by his grandfather, Mime Tim Skeen.
The family would like to extend a very special thank you to St. Jude Children's Research Hospital, Washington County Sheriff's Department, Fire and EMS for their wonderful loving care. No one ever loved life more than Charlie.
Funeral services will be conducted 6:00 pm Friday, June 3, 2022, at Dillow-Taylor Funeral Home with Pastor Dustin Clawson and Pastor Jerry Carmichael officiating. The family will receive friends from 3:00-6:00 pm Friday prior to the service.
Private graveside services will be conducted at a later date.
Memorial donations may be made to St. Jude's Research Center 501 St. Jude's Place Memphis, TN 38105.
Such a hard thing to grasped going so young. Ethan your aunt Kelly and uncle Ricky are thing about you and entire family. I pray everyday the pain eases and rest assure there will be a great homecoming soon.
My heartfelt sympathy as you go through this painful time. Young Cash was special and will always be remembered by your family and friends.
06/04/2022
Ernestine Lester
I am so sorry for your loss. I cannot imagine the hurt you are going through. Cash has been in our prayers for a long time. As David said, "I can't bring him back but I can go to him." Continued prayers for the family! LY
God bless your family. My granddaughter is currently a st judes pt. My thoughts and prayers are with you all. If there's anything at all I can do for you guys please don't hesitate to let me know. 423-833-1051.
Sorry for your loss, praying for you all.
06/03/2022
Mike and Margaret Ward
We do not know the family but want to send our condolences for the loss of your precious son. Hold on to all of the special memories that were made with him in the short time you had with him. Wishing comfort and peace to all of you during this difficult time.
06/03/2022
Angelia & Kirby Gillis
Praying for you & your Family during this difficult time. Although we've never met in person, we've come to know you through our Church Family at Calvary Church. God has gained a sweet little Angel, & we are so Blessed & Gracious that you've shared his story. You have truly touched so many Lives within the Community & Afar, as we came together in Prayer for Faith, Peace, Hope & Love. That Beautiful Smile will be dearly missed! May our Gracious God Bless & Comfort you until you're together again. God Bless from the Gillis & Knight Family & Friends.
06/03/2022
Cheila Rosencrans
We met Cash at Tge Ronald McDonald House in Memphis. My daughter Zoë and I would see sweet Cash there and at the St. Jude Hospital. Cash was the kindest, sweetest, cutest and happiest little boy ? May you Rest In Peace? Prayers for your family ✝️???
I'm sorry for your loss our prayers are with you and your family
06/02/2022
Frank C Morris
I am really sorry for your loss! I, too am a father of a St. Jude son that passed away 19 years ago. I also have a daughter that is a St. Jude survivor. So, I have a pretty good ideal of what you have been through and what you are going through now. Please never quit talking about your son! You will never forget the pain, but you will learn to deal with it! God Bless and #rylanstrongnetwork
I have followed his story on Facebook. I am so very sorry for your loss. He seemed like such a wonderful child. Sending love and prayers for all of you!!! Praying God will wrap his arms around each of you during this difficult time. RIP sweet Angel!!!
I'm so sorry for your loss. I pray that God will wrap his arms around you all and give you piece and comfort that only our Lord Jesus can provide. God is closest to the broken hearted. I pray that God will use this little boys life and death to honor and praise Christ Jesus and bring those that might hear Cash's story to salvation in Jesus. The Lord is near to the brokenhearted and saves the crushed in spirit. Psalm 34:18
06/02/2022
Teresa Milhorn
So sorry for your loss of your son .you and your family are in my thoughts and prayers
06/02/2022
Everett & Susan Scott
So sorry for your loss of this sweet child. May God give you comfort in this time of sorrow. Prayers of peace and comfort sent to the family with hugs too. ❤️
06/02/2022
Allen Wilkerson,Critical Care Paramedic
May God's Grace be with the family and my they take comfort in knowing that their little man was an inspiration to so many. Cash touched so many people,including me. His example of how to live life should be the blueprint for us all. Fly High, my little buddy, my friend.You are loved,you will be missed, and you will never be forgotten. Allen D. Wilkerson, Critical
06/02/2022
Jennifer Windle
So sorry for your loss! Followed Cash's story on Facebook and prayed for him. I felt like I knew him! Prayers for your family as you go thru this difficult time!
I'm so sorry for your loss. I will keep you all in my prayers as you go through this hard time. My god give you the strength to get through the loss of Charlie
06/02/2022
SHIRLEY CUTSHALL
Please accept my deepest sympathy and prayers
06/02/2022
Dale & Carol Williams
we pray that God will strengthen you all and give you peace at this time!!!
Thank you for allowing us to on the journey with you. I am hurting for your loss, but in joy that Cash is dancing with the angels! Blessing and peace to the family and his dear friends. I will continue to pray for healing… I know how hard it is to loose a child.
My prayers are with you all!
I am so sorry for your loss, my thought and prayers are with you and your family. R.I.P
06/01/2022
Dakota B Honeycutt
I am praying God will be with you during these difficult times. Charlie Cash Hicks will be deeply missed.
06/01/2022
Melissa Williams Noble
Dear Family, we do not know one another but I had to send my condolences on the loss of this precious boy. Life is full of events that make no sense. With tears in my eyes I offer you all the Peace of Christ. Melissa
The people at 1st Church of God in Johnson City are so saddened at your loss. We are praying for you.
06/01/2022
Matthew and Theresa Gura
He was so strong and brave through it all. We love you.
06/01/2022
Christie Cooper
Prayers for you all!!!
06/01/2022
Flossie hamilton
Katie and family I can't imagine how you all are feeling just know everyone is praying very much for you love you all
I'm so sorry for the loss of sweet Cash. I'm praying for you and your family. If I can do anything for you all please don't hesitate to let me know.
06/01/2022
Randall Salts and family
We was sorry to hear about Cash we love next door to Roger and Jan Teinert. It broke our hearts when Roger called me your family will be in our thoughts and prayers during this time. Rest high on that mountain Cash we didn't know you but heard a lot about you. The Salts and Miller family
Praying for the family and friends
06/01/2022
Christine Bradish
Andy, Katie, Little Andy and Jackson- I am at a loss for words. Please accept my sincerest condolences for the passing of your precious Cash. I continue to pray for peace and comfort in the coming days, weeks and months. Hugs to you!
So sorry for the loss of your sweet little angel; gone from this world, way too soon. May God comfort you and give you peace, during this difficult time. My thoughts and prayers are with you.
I know that you don't know me but I am so sorry for the loss of your handsome son. I lost my son 2 years ago so I understand the pain and the heart break you are feeling. It is not a pain and hurt anyone should have to carry. If you ever need someone to listen or someone to talk to. You can send me a friend request on Facebook. Again I am so sorry there are no words I can say to ease your pain but I will pray for you
06/01/2022
Shirley Billings
Its hard to find the right words to say but know that my prayers will continue for the family to bring comfort to you all during this extremely difficult time.
06/01/2022
Donna M Peretti
I didn't get the opportunity to meet this sweet boy.. I became friends with his Nana Susan many years ago.. Fly High Sweetheart, you will be missed by many.. #cashstrong #withJesus #nomorepain #angelwings
06/01/2022
Bruce Logan & Beverly woods foundation
We send our deepest condolences and prayers to your family. We pray for peace and comfort in this time . He was loved by many even if we did not personally meet him. We are so sorry!
I can't imagine the pain you must be going through. I'm praying God's strength to cover you.
06/01/2022
Carolinne Champion
My Deepest Love, & Prayers go out to Everyone during this Most Difficult time. Cash was an Awesome young boy who I am HONORED to have known along with the Family!! I am So Very Sorry for your Loss as All who knew Cash share in the Pain of Loosing him with You. I know he was Greeted at the Gates of Heaven by his Battle Buddies. Rest Peacefully in Heaven Sweet Child, You will NEVER BE FORGOTTEN. Childhood Cancer Angel Cash ???✝ ?✝???
I am so very sorry for your heartbreaking loss. May God give you peace and comfort through His saving grace.