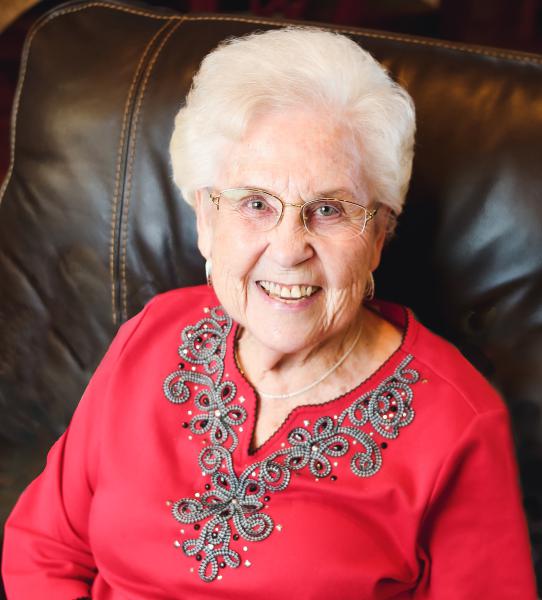 Sarah Elizabeth McAuley (Betty), age 88 of Johnson City, Tennessee, passed away at her home surrounded by her family and entered her eternal home on Tuesday, May 31, 2022.
She was born on May 26th, 1934, in Northern Ireland to the late John and Annie Curran. Betty was preceded in death by her husband of 37 years, Alfred H. McAuley.
She is survived by her brother David Curran of Newmarket, Ontario Canada and her sister Ann Richardson (John) of Lindsay, Ontario, Canada.
Betty is the mother of David McAuley of Johnson City, Tennessee, and wife Susan McAuley; Paul McAuley of Advance, North Carolina and wife Sylvia; Stephen McAuley of Elizabethton, Tennessee and wife Wendy; Crystal McAuley of Clearwater, Florida. Her grandchildren are Ryan McAuley; Matthew McAuley; Brandon McAuley (wife Meagan); Rose McAuley; David McAuley; Serina McAuley; Frank McAuley; Andrew McAuley; Rachel McAuley; Daniel McAuley; Jesse Salgado; Nelson Salgado; Sarah Salgado; and six great grandchildren: Gage; Scarlett; Autumn Rose; Sierra; Eli and Easton. She also has many nieces and nephews in Canada and Ireland who affectionately know her as "Auntie Betty".
Betty had "Four Seasons" of life: She was born in Cookstown and grew up in Portstewart, Northern Ireland from 1934 to 1955; She then lived in Newmarket, Ontario, Canada from 1955 to 1970; She then moved to St. Petersburg, Florida from 1970 to 2008; and moved to Johnson City, Tennessee in 2008.
Betty, "Mom", "Nana", loved spending time with her family, especially her grandchildren and great grandchildren. She even learned how to do Zoom and FaceTime so she could stay in touch.
Betty was a woman of strong faith and loved her Savior Jesus Christ. One of her favorite Bible passages was Psalm 91 and she would often encourage others to read it. She would quote: "I will say of the Lord, "He is my refuge and my fortress; My God, in Him I will trust."
She went to trade school to become a lab technician following grade school. She was a homemaker and volunteered at her church.
The family would like to express appreciation to the staff at Amedisys Hospice in Elizabethton and caregivers Deanna, Melanie H., Melanie O., Theresa, and granddaughter, Rachel, for the special care they gave our precious mother and grandmother in recent months.
A memorial service for Betty McAuley will be held at Dillow-Taylor Funeral Home in Jonesborough, Tennessee at 3:00 PM on Sunday June 5th. The family will receive friends between 2:00 and 3:00 PM prior to the service. Service will be live streamed via YouTube, Dillow-Taylor Funeral Home.
In lieu of flowers, donations can be made to Summit Leadership, P.O. Box 3555, Johnson City 37602 for the purchase of FCA Bibles and FCA Camp scholarships.
06/05/2022
Grace Mcclanahan
I must say she may be gone but absolutely never forgotten , she radiated such kindness and love , her shine of life and love was in every fiber of her being through Christ and her beautiful light will never dim . I am honored to have known her and my condolensces to all of the family , I am so very sorry for your loss . All my love Grace Mcc
Betty radiates Christ's love with every fiber of her being. My husband, Jake, always made his way to her and admired her greatly as we both do. Praying Christ's peace for all of you as you take her earthly suit to Florida knowing she is alrwady healed and with Jesus...and waiting for all of you. Shalom.
I met her but once. But she was instantly and forever a friend. What gives me joy at this saddest of times is that I will see her again. I am praying for her entire family but I know from where they draw their strength. Our Lord and Savior Jesus Christ. His comforting is endless. Call on Him, He is there for us all.
06/01/2022
Dave and Cathy McComiskey
We were so sorry to hear of Auntie Betty's recent illness and have been praying for her and the family over these past months. Betty was a wonderful, caring person who brought light and love into many people's lives. A highlight for Dave was visiting Uncle Alfie and Auntie Betty from a very early age. Always times of fun and laughter! Auntie Betty's gift of hospitality was evident any time the McComiskey family came to visit - she was like family to us. Her passing will felt deeply by each member of the family (and ours, as well) but it is comforting to know her pain is gone and she is with the Lord. Our thoughts and prayers surround you at this difficult time. Love Dave and Cathy
LOVED YOUR SWEET MOTHER SHE IS AT REST IN THE LOVING ARMS OF OUR LORD AND SAVIOR GOD BLESS TO ALL YOUR FRIEND JOE
06/01/2022
Lynn Caskie and family
Our most sincere condolences to the McAuley family on the passing of Aunt Betty. She will always be remembered for her smile, her laugh and her Irish accent. We are so happy to have had a visit with her here in Canada a few years ago. The McAuleys have always had a special place in our hearts. Many years of memories here and in Florida. She has now passed onto her new life and is reunited with Uncle Alf. And I can still hear his voice too. Our hearts go out to her family at this time. Xo