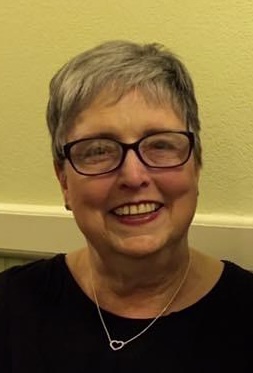 Pamela Gentry Dunn, 74, of Jonesborough, TN, passed away on May 23, 2022 after a long battle with cancer.
Pam was born on February 23, 1948 to Bruce Harrison Gentry and Pauline Williams Gentry Giebner in Richmond, VA.
Pam was a 1966 graduate of Halifax County High School, Halifax, VA, where she met her husband of 54 years, Robert Hunter Dunn, Jr (Bob). She then went on to study music education at James Madison University, earned a Stenographic Diploma from Pan American Business School, and earned an A.A.S. degree in Microcomputer Office Automation from Central Virginia Community College (CVCC). Pam worked in various business administration positions at CVCC in Lynchburg, VA where she retired as a Human Resource Analyst after 32 years of service. In retirement, she and husband, Bob settled in Jonesborough, TN to be close to their daughter, Emily Webb. It is there where she enjoyed her hobbies of knitting, spinning yarn, and the flourishing fiber arts community.
She was a member of Jonesborough Presbyterian Church.
In addition to her parents, Pam was preceded in death by her stepfather, Charles Giebner, her sister, Marilyn East and brothers, Bruce Gentry, Jr. and Paul Gentry.
She is survived by her husband, Bob Dunn and her daughter and son in law, Emily and Jonathan Webb of Jonesborough.
There will not be a service at this time but a Celebration of Life at a later date.
Memorial donations can be made to the American Cancer Society or the Washington County Animal Shelter in Johnson City, TN.
06/02/2022
Jennifer Chisam
In the short amount of time I got to spend with Pam, I loved her dearly. Bob & Emily, our hearts are with you!
I am so very sorry for your loss.
05/26/2022
Sandra Sutor Ganci
I have fond memories of Pam as we navigated high school together. May she rest in the hands of the Lord and know peace.
Pam was such a good friend. I will always remember all of the fiber adventures we took.
I will never forget Pam's beautiful smile & joyfulness. She truly lit up a room! Her light & laughter will be missed♥️
05/25/2022
Debbie Martzall
My friendship with Pam was all because of fiber and her love for it. Her smiles and positive conversations never ended. Pam will be greatly missed, such a loss of a wonderful individual.
I will truly miss my friend Pam. We met because of my desire to be with kindred spirits. I wanted to knit with people who knew more than I did and Pam surely did. If you have ever wondered what it might be like in heaven I have a thought or two concerning that. I think just about now there are many angels lined up to watch our friend Pam knit. Pam successfully mastered many things concerning fiber and knitting, one being that of lace knitting. Pam was one of my favorite friends to go to when I had a knitting problem. Pam had wonderful patients and even more wonderful encouragement. She made me feel like I could do anything with a pair of needles. Bob and Emily my prayers are with you as you walk this next mile without your wife and mom. May God comfort you and encourage you just like Pam would have.
I'm sincerely sorry to hear about your mom. Emily you and your family have my Prayers for comfort.
05/24/2022
Courtney Sinha
Pam was a wonderful woman and a cherished friend. I'm grateful for the time we had with her and her love and support through the years. It was always a delight to hear about how much she loved her daughter, Emily. So much love to her family as they navigate this great loss.
Oh, my sweet friend. There is a pink Pam-shaped hole in my heart that will never ever be filled. There are few people as genuinely supportive, loyal and kind as you.