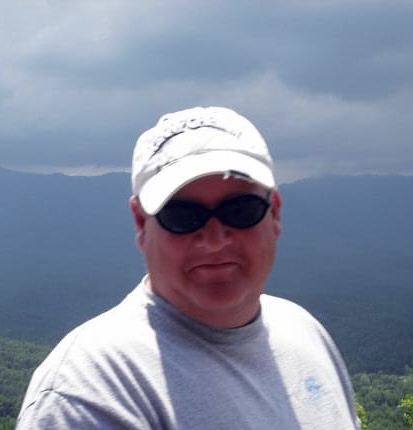 Ronald "Casey" Haskett passed after a short illness on May 9, 2022, at Johnson City Medical Center. On July 8, 1965, he was born in Brevard, NC, to Ronald R. Haskett, Sr., and Joan Crawford Haskett.
Casey was a proud graduate of Brevard High School, Class of 1983. After graduation, he briefly attended Western Carolina University. Casey was known as a "Jack of all trades"; there wasn't much he could not do. He worked as a salesman, restaurant manager, and mechanic. In 1997, Casey met his wife of twenty-three years, Presley, at a softball game. They started dating shortly after and married the following year. In March of 1999, they had a son who they called Mac. Casey and Mac were always close and were best friends.
In 2019, Casey was diagnosed with multiple sclerosis; however, he never let the disease stop him from being the man he always was. Casey never met a stranger and made friends wherever he went. He never hesitated to help a person in need. His favorite hobbies were spending time with his family and traveling to Myrtle Beach, SC, whenever he could. He was an avid UNC Tarheel fan, especially the men's basketball team. He was also very proud of his Scottish heritage. Recently, Casey attended Northeast State Community College to pursue an associate degree in computer information technology specializing in cyber defense.
Casey is predeceased by his father, Ronald Roy Haskett, Sr. He is survived by his wife Presley Vick Haskett; his son, Ronald Roy Haskett III "Mac" of Johnson City, TN; his beloved mother, Joan Haskett of Mills River, NC; his sister, Kelly Haskett Taylor and her husband Warren of Charleston, SC; and his niece Ayden Emmalyn Taylor.
The family will receive friends at 2:00 pm, Saturday, May 14, at Boylston Baptist Church, 10642 Boylston Hwy, Mills River, NC. A remembrance service will follow at 3:00 pm, with Pastor Jimmy Burress officiating.
05/17/2022
Connie Hubbard Corn
I'm so sorry to hear of Casey's passing. I have so many good memories of not only Casey, but all of you. Our lives crossed for decades at school and then the credit union. Casey was the definition of "never met a stranger" and one who could put a smile on your face even before speaking. I can imagine he and Ron sitting up there in heaven, Casey talking a mile a minute and Ron just taking him in. My prayers and thoughts are with you all.
05/15/2022
Krisztina and Richard
Dear Joan, you are in our thoughts and prayers during this sad time. We love you and miss you! Eternal rest grant unto Casey, oh Lord And may perpetual light shine upon him. May his soul, and the souls of all the faithful departed, Through the mercy of God Rest In Peace. Amen
05/14/2022
Frankie Reynolds
So very sorry to hear of Casey's death. Remembering you and lifting prayers!
I am so sorry for your loss. I worked with Casey back in the early 1990s. He was a great person, always fair, always compassionate. May God bless you all with comfort in your time of grief.
05/13/2022
Alma Dills Shuford
So sorry to hear of your son's death. May God grant you peace and comfort through these most difficult days.
05/12/2022
Donald Johnson Jr
Sorry to hear of Casey's home going. Praying for the family!
I am so saddened to hear this news. We use to live on the same street when we were growing up. We use to ride bikes together around our neighborhood by the hospital. He was so sweet. He also had a great family. His mom was my 1st grade teacher in elementary school. My goodness we just never know how long we have. Thoughts and prayers for Casey's family and friends during this difficult time.
I am so sorry to hear of Casey's passing. I always enjoyed joking around with him while Mac sat in the buggy at the Big Red K when he would come in to pick you up or take you to lunch. He was always so jovial anytime you saw him. My condolences and prayers for you and all that loved him.