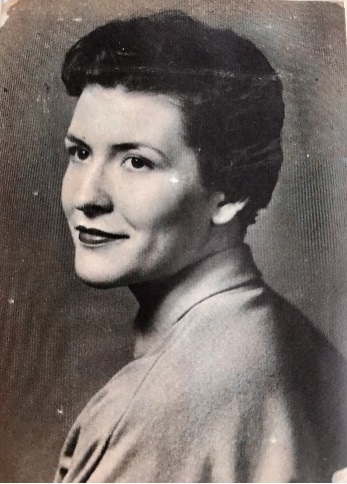 Polly Marie Osburn Love, 87, of Gray, Tennessee, passed away on March 30, 2022, at LifeCare Center of Gray following an extended battle with Alzheimer's disease.
Marie was born in Unicoi, Tennessee to Walter Hardison Osburn and Ruth Ester Osburn.
She was a graduate of Unicoi County High School where she earned salutatorian honors, participated as a cheerleader, and was crowned Unicoi County Fair Queen. Her early upbringing in a Christian home laid the foundation for a selfless life of giving and showing love to others.
From an early age, she had a love for music, sewing, and needlework hobbies. She played the piano for church services and for her father's quartet, both at their home church services and in the surrounding area churches. She had a special gift in her hands. Marie excelled in a variety of sewing and needlework hobbies; some learned from her mother, while others were self-taught. Many hours of love were sewn into her children's clothes, costumes for plays, and countless dresses for little Haitian girls. She crocheted many bookmarks, home décor items, and wearables throughout her life for her friends and family. As people came into her life, it was not uncommon for a letter to arrive in their mailbox, a card containing a handmade bookmark for their Bible. Marie's life was spent performing limitless acts of service and caring. She was an avid quilter, making and giving multiple quilts to her family. She loved her needlework. Her hands were never idle.
As a wife to her dedicated husband, Marie embodied the Proverbs 31 woman. As a young mother of school-age children, she poured love into her children, while making time to volunteer for the Girl Scouts, various school events and many church activities. Marie cherished her role as grandmother, teaching, supporting and encouraging without end. She was a wonderful cook, hosting countless family holiday dinners, and entertaining ministers and church groups.
In addition to her service to God and her tireless giving to family and friends, Marie also worked outside the home for JC Penney and Millers department stores and was retired from Sears Payment Systems.
Marie was preceded in death by her parents, her loving husband of 63 years, James Harley Love and their daughter, Beth Ann Love. She is survived by daughters Janet Richard and husband Russ of Knoxville, Melissa (Missy) Martin and husband Roger of Gray, and son James (Jimmy) Love and wife Martha of Gray; seven grandchildren: Christopher Richard, Meagan Hopson and husband Chris, Kelly Richard, Caroline Good and husband Jake Nichols, Andrew Martin and wife Abby, Annie Love, and Hayden Good; three great-grandchildren: Kenna Kyte, Emily Hopson and Hunter Hopson; sisters Betty Garland, Frances Ray and husband David, Carolyn Harris; sisters-in-law Peggy Love and Patsy Love, along with several nieces and nephews.
The family wishes to thank the staff of LifeCare Center of Gray for their outstanding and loving care of Marie during her stay there.
A celebration of life service will be held at Boones Creek Christian Church on Saturday, April 2, beginning at 5pm, with Minister David Clark officiating. The family will receive friends immediately following this service in the church fellowship hall. A graveside service will be held on Sunday, April 3, at 2pm, at Roselawn Cemetery.
Pallbearers will be grandchildren.
In lieu of flowers, the family requests donations be made to Boones Creek Christian Church Missions, Gray, Tennessee, or St. Jude Children's Research Hospital, Memphis, Tennessee.