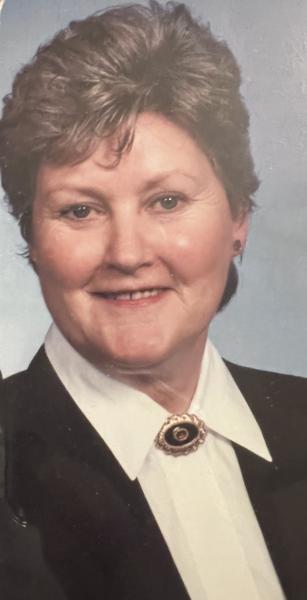 Mrs. Alta Sell, age 83, Johnson City, passed away Monday, February 14, 2022, at Franklin Woods Community Hospital.
Mrs. Sell was born July 24, 1938, in Flag Pond and the daughter of the late Leonard & Lela Tipton Lewis. She was also preceded in death by a sister, Pauline Templeton and two brothers, Alvin Lewis and Von Lewis.
She attended Knob Creek Church of the Brethren.
Mrs. Sell was a member of the Order of Eastern Star, first Lady of Jericho Shrine 2001 and enjoyed working with ceramics and crafts. Most of all, she loved spending time with her family.
Survivors include her husband of 64 years, Earl "Bud" Sell, Johnson City; children, Donna Sell, Johnson City, Debbie Sell Barefoot (Phil), Charlotte, NC, and Earl Sell III (Lisa), Johnson City; grandchildren, Morgan Sell Gayler (Ryne) Denver, CO and Gavin Sell (Kiana Rendon), Altamonte Springs, FL; great-granddaughter, Stella Rain Gayler; one brother, Blaine Lewis, Jonesborough; and several nephews and nieces.
The family will receive friends from 1:00-2:00 pm Friday, February 18, 2022, at Dillow-Taylor Funeral Home. Graveside services will follow at Fairview Cemetery
Pallbearers will be Pat Story, Phil Barefoot, Chris Lewis, Gary Greene, Ryne Gayler, Gavin Sell and Leonard Lewis.
Memorial donations may be made to American Parkinson Disease Association, 60 Bay Street, Suite 401, Staten Island, NY 10301, or Shriners Hospital, Jericho Temple, P.O. Box 5508, Kingsport, TN 37663, or St. Jude's Research Center 501 St. Jude's Place Memphis, TN 38105.
02/18/2022
Kim (Francis) Dulaney
Thinking of you today especially! My thoughts and prayers are with your family... so sorry for your loss! Love you all... Kim
Donna, I am sending thoughts and prayers for you and your family during this sorrowful times. May you be comforted by and find joy in the many special memories of your dear mother. Heartfelt condolences to you all.
02/17/2022
Kelly and Katie Austin
We're so sorry for your loss. Praying for your family.
02/16/2022
Stella Coffey turnmire-lewis
Bud Debbie and Earl am sorry for the lost of your wife and my mom my prayers r with u during this time love always Stella
02/16/2022
Karen (Pierce) Lim
I worked with Ms. Alta at Proffitt's many years ago when I was in college. She was always so kind and pleasant to work with, and I looked forward to seeing her at the store. My heart goes out to her family with love, prayers and deepest sympathy.
02/16/2022
Cindy Friday Beavers
So sorry~ Alta was so sweet. Thinking of all of you and you are in my prayers.
02/15/2022
Glen & Sissy Shipley
Our thoughts and prayers are with you.