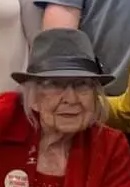 Mrs. Dolores Adele Mielnicki, age 100, Limestone, passed away Thursday, January 20, 2022, at Brookdale Assisted Living.
Mrs. Mielnicki was born in Burr Oak, Iowa, and the daughter of the late Elmer & Minnie Mallder McIntyre. She was also preceded in death by her husband, Joseph Mielnicki, son, David Mielnicki, brother, Everett (Duane) McIntyre, sister, Ruth Vierkant and a grandson, Steven.
She was a US Navy World War II Veteran.
Mrs. Mielnicki was an avid reader, very active in her church where she was living and was a serious student of the Bible.
Survivors include three children, Carol Walden (Terry), Joseph Mielnicki (Sherry) and Sandra Gutowski (James); and ten grandchildren and seventeen great-grandchildren.
The family will receive friends from 6:00-7:00 pm Thursday, January 27, 2022, at Dillow-Taylor Funeral Home.
Funeral services will be conducted 12:30 pm Friday, January 28, 2022, at Dillow-Taylor Funeral Home Chapel with Pastor Linda Rozar officiating. Graveside services will follow at Mountain Home National Cemetery.
Pallbearers will be family and friends.
The accompanying photo was taken at her 100th birthday celebration on March 8, 2021.
In lieu of flowers, memorial donations may be sent to Veterans Honor Guard DAV 39, 337 Carter Street, Bluff City, TN 37618.
01/27/2022
Nancy Smith and Charlie Edwards
Carol. We're thinking of you and your family as you celebrate your Mother Dolores "Dee" her remarkable life and the amazing person she was. She touched so many lives and will surely be missed by as many. You have Our Deepest Sympathy in your time of loss
01/27/2022
Allen D. Jackson, USAF (Ret) & Susan Blair Jackson
Carol, Our thoughts and prayers are with you and the family. It was our honor to have known Dee and to hear her tell her story. We will cherish that always. Nothing Is Ever Truly Forgotten!!! We'll Always Remember Her...
01/25/2022
Erich Vierkant
Sheila and I want to express to you our sympathy on the death of Dee. She lived a long and fruitful life. She will be missed.