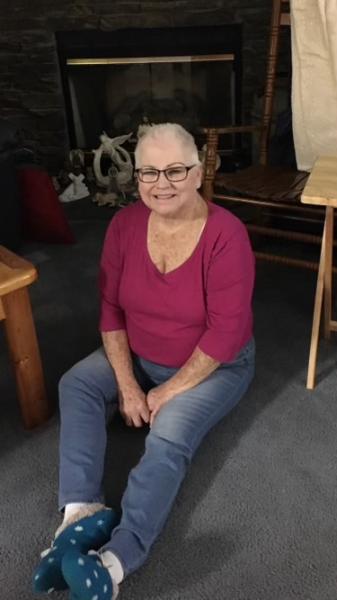 Mrs. Judy Gay Jones, age 73, Jonesborough, passed away Thursday, January 20, 2022, at Johnson City Medical Center.
Mrs. Jones was born in Washington County and the daughter of the late Cliff & Ruth Berry Ford.
She was a member of Fairview United Methodist Church.
Mrs. Jones was a nurse for 38 years. She was a devoted wife, mother, and grandmother.
Survivors include her husband, Oscar Lee Jones; children, Angela Sammons (Alan), Leslie Watson (Chris) and Joe Jones (Tracy); sisters, Carolyn White (Richard), Phyllis Shell and Brenda King; five grandchildren, Brianna Bowling, Kayla Jones, Kareena Jones, Matthew Watson and Bryson Sammons; and several nephews and nieces.
The family will receive friends at their home, Sunday, January 23, 2022, from 12:00-6:00 pm.
I enjoyed the light of Judy in choir for so many years. I loved how Judy and my mom Betty Fulkerson, would laugh together when they sang. Judy was so gracious and loving to me and to my family. She leaves a void in my heart. I shall miss her. Heaven gained a sweet soul.
01/24/2022
Alice and John Ford
So very sorry to hear about Judy. Going back 50 years, she was so much fun, we had many happy times together. We celebrated high school graduation together at Hungary Mother Park. She was bridesmaid at our wedding. So sorry we didn't keep in touch. God be with you Lee and family. RIP Judy, we loved you.
01/23/2022
Mark & Kathy Shelton
Mark & I are praying for you & your family today. We were so proud to have Judy in our Sunday School class. She ALWAYS added so much with her spiritual witness. When she spoke you could feel the loving power of the Holy Spirit. She made everyone feel special. When she gave someone a hug they knew it was from the heart. She will be and is missed terribly! We should as Christians hope for our light to shine out to others as Judy's did. Earth's loss is certainly heaven's gain.
01/22/2022
Gretchen Lucas Vondran
I will always remember working with Judy in the nursery at JCMCH. She was a talented nurse and a mentor for many of us. Judy always was smiling and laughing with her coworkers and parents of her patients. My thoughts are with her family during this time.
01/22/2022
John and Nancy Hall
Lee, Joe and Leslie, John and I were so sorry and saddened to hear about Judy passing! Will never forget her kindness to us when we were neighbors!! She especially helped me so much when I had Elizabeth! Please know you all are in our thoughts and prayers!! Love, Nancy and John
01/22/2022
Janet Harrison
I worked with Judy at the hospital. She was so sweet and caring and an excellent nurse as well. She will be loved and missed always.
Judy warmed the world with her welcoming smile and her cheery hug. Her special singing voice enhanced the Church choir. Her cooking talent was special. I am so fortunate to have known her. She is missed. Love you, Judy. Jean
01/22/2022
Chrystyl dimler
Judy was such a sweet, caring lady. Always had a smile and a loving attitude. Worked with her over 30 years ago at j c med center but I have not forgotten her. May your family find peace in all the lives Judy has touched just by knowing her.
I'm sorry for your loss of Judy. We went to church and school together growing up. She was a good woman and will be missed.
01/21/2022
Jada Jones Kavanagh
Dear Uncle Lee, Angela, Leslie and Joey, My deepest sympathies to you and your families. We mourn the loss of Aunt Judy along side you. May she Rest In Peace. Hugs from afar- Jada and Scott
With deepest sympathy...