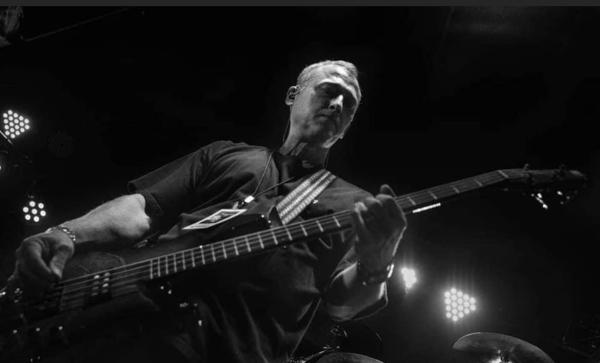 Mr. David Russell, 53, of Johnson City, passed away on Tuesday, January 18, 2022 at St.Thomas West hospital in Nashville, TN. He is the son of Eugene & Ruby McKee Russell, David was born on November 2, 1968, in Washington County, Tennessee.
David was a 1987 graduate of DCHS where he played football and wrestled. He was a licensed Realtor and worked construction with his Dad for many years. He was a perfectionist when it came to his work and was always willing to lend a helping hand to a neighbor or friend in need.
David was a loving husband and father who loved being involved with his kids. Because of his kids and
his desire to be involved in their lives, David coached wrestling, football and baseball teams in the local
area. He loved music and started playing the guitar at age 3. From then on he was an avid guitarist, having played in multiple bands as a Bass Guitarist, and was always strumming a tune at home. He had a true appreciation for all of his fellow bandmates and musicians in the area.
He is survived by his wife, Lisa, children, Gavin Russell, Chris Campbell (Taylor), Anthony Campbell
(Haley), Chelsey Ford and Peyton Ford, brothers, Steve Russell (Julie) and Jeff Cheek (Amanda), niece, Tabitha Ferguson & sons Cameron & Tyler, nephew, Cody Russell, Gavin's mom, Andi McKinney (Mike), special lifetime friends, Gene Daniels, Tod Parker, Chris Leach, Jeff Bryant and many friends in the music industry. David had several Aunts, Uncles and Cousins that he loved dearly. David loved with his whole heart and with everything that he had in him.
The Family would like to give a special "Thank You" to Blue Ridge Family Medicine, Dr, Guy Robins and Dr Ryan Bader.
The family will receive friends at Dillow-Taylor Funeral Home on Sunday, January 23, 2022, from 1:00 to
3:00 PM. The funeral service will follow at 3:00 PM. A graveside service will be held at Maple Lawn
Cemetery on Monday, January 24, 2022, at 11:00 AM.
Kenny Adkins will be officiating.
Pallbearers will be Gavin Russell, Chris Campbell, Anthony Campbell, Peyton Ford, Jeff Cheek, Gene
Daniels, Chris Leach and Tod Parker. Honorary Pallbearers will be Steve Russell, Cody Russell, Coach
Henry Marable, Jeff Bryant and Jamie Jackson.
01/23/2022
David and Malinda Gillin
Lisa we love ❤️ you and your family. Please know your in our thoughts and prayers.
01/22/2022
Jane Galloway Hughes / father Hoover Galloway
So sorry for your loss of your son David. We will keep you and all your family in our thoughts and prayers during this difficult time.
Im so sorry for your loss. You all are in my thoughts and prayers
Lisa and family, I'm so sorry for your loss. My prayers are with you.
My sincere condolences for your great loss. Woodland Village was blessed to have such wonderful neighbors. May you find peace and comfort in cherished memories of a life well lived.
01/22/2022
Norma Lawson [aunt]
What can I say, my heart hurts for all of you David has left a huge void in the life of everyone who knew him, but has filled one in our heavenly home. A wonderful man and loved by all. What a tribute to his Mom and Dad, and Lisa and his children. I love you all.
01/21/2022
Kimberly Hartley
My Thoughts & Prayers with You and Your Family Dave was a Great Guy He will be Missed by Us All
01/21/2022
Diana Gale Loyd
Ruby and Eugene, I am sorry to learn of Davids death. You and your family are in my prayers.
01/21/2022
Dianna Crussell
So sorry for your loss. Will keep you in my prayers.
01/21/2022
Fred and Sharon Stewart
Russ and Ruby,Steve, David's children and wife...our deepest sympathy for the loss of David. We know your pain is so much to bear and our hope is you remember his love for all of you and see his smile in your hearts every day. Please know we love you all.
01/20/2022
Colleen Ornduff
I am so sorry for all of your loss. He left this world way to young. Please know all of you are in my thoughts and prayers
01/20/2022
Stella Mae Coffey turnmire -lewis
Dear Lisa and the boys I am sorry for lost of David my prayers r with u everyday just remember all of the wonderful times just that we will see him again one day in heaven my love is with u everyday k
The last time I saw David was a few years ago at a Crockett basketball game. David thought I didn't remember him and I told him of course I remember you. I knew David as a competitor in school and after all these years I could see his humble heart. Prayers to the family.
01/20/2022
Lisa Payne Morley
My sincere condolences to the entire family. You all are in my thoughts and prayers.
01/20/2022
Linda and Lewis Carr
Lisa, Ruby, kids, and family, Lewis and I are sending you many prayers for comfort. It's been a tough ride for all of you for a while and although this isn't the outcome we prayed for, know that David is no longer struggling. He was loved by so many and will be missed. Hugs and prayers!