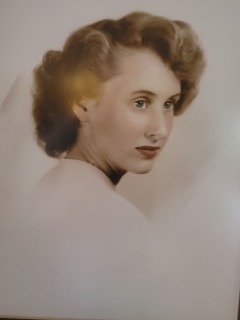 On Friday, January 14, 2022, Ruby T. Dyer, passed away at The Waters of Johnson City.
Ruby was born on May 6, 1928, to Walter Edward and Violet Maude Fontaine Talley, in Johnson City, TN. She was the youngest of four children: Reginald, Bill, and Ruth. Married at the age of twenty-one to her first husband, Roy Willis (Rod) Pope, and gave birth to her first son, Jeffery Clay at the age of twenty-three. At the age of twenty-three, she was widowed due to the tragic death of her husband, Rod. She then married William (Bill) H. Dyer, Sr. and had three children William (Biff) H., Thomas (Tom) H. and Tina Marie. She was preceded in death by her second husband Bill, in 1989.
Ruby was a graduate of Science Hill High School and supported herself and young son with employment at Clinchfield Railroad and Pet Dairy Corporation. Never idle, although her main focus became raising and nurturing a family, she had several occupations throughout the years.
Always the athlete, her sports were swimming, diving, basketball, skiing, bowling, whitewater rafting and later in life, tennis, where she played almost to age eighty.
Her passion was her religion. She was a devout Christian Scientist and would credit her survival from the many tragic events of her young life, to her faith in God and Christianity. Anyone who knew her well, knew the kindness of her heart and the depth of her love for mankind.
Left to cherish the memories are her children, Jeff (Debbie), Jeffery Clay (Butch), Lori Roxanne; great-grandchild, Cooper; Biff (Lisa) Will; Tom (Marcia), Jessica Kline, Patrick, Lauren; and Tina Ferguson; her many nieces and nephews; also her special friend, Rita Perry.
Thank you to all her caregivers that watched over her during her final days; Gloria Hall, Jody Miller; the many providers at Franklin Woods and JCMC Hospitals; and especially all the great nurses, staff, and hospice at The Waters.
The family will observe a private memorial service at a later date.
01/27/2022
Jane Talley Smith
Rest In Peace Aunt Ruby(my Dad's little sister). I loved you dearly and always looked forward to visiting you. You were so happy, kind and as beautiful on the inside as the outside. My deepest sympathies and condolences to my cousins. I will really miss your Mom.
01/24/2022
Kathleen (Talley) Kourian
We were so sorry to hear of our Father's baby sister's passing. She was the last of her generation. We spent so many wonderful vacations with her and her family. Her cheerfulness brought joy to all our family. Our deepest condolences.
Love & prayers to your family. I worked with Ruby at the "Unemployment Office" and spent many happy times on the tennis court with her. We shared the experiences of our families growing up. I have met Jeff, Tommy, and Tina and was one of Biff's very first patients. My life was enriched by her friendship.
01/21/2022
Susan rhea Wagner
Sorry Biff to hear about the loss of your mother. My thoughts and prayers are with you and your family.
I'm very sorry for your great loss. Rube was a beautiful lady.
Ruby was a lovely lady. May the Lord bless each of you during this time.
Please accept my sincere condolences in the passing of Ruby. She lived next door to me and was the first person to welcome my wife and I to the neighborhood. We loved Ruby and she became very special to us. She always had such a sweet, kind and gentle spirit. I pray that God will comfort you through this difficult time.
01/18/2022
Crystal Edwards Campbell
Biff, I am so sorry for your loss. Your Mother was such a fun and kind person. I always remember my Mom telling me about she and Ruby as roomies when you and I were born. Praying for you and your family at this difficult time. Love you.