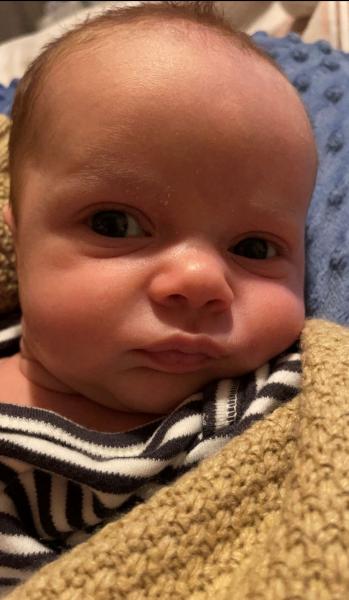 Infant Bruce Tucker Wilcox, age 1month and 2 days, Telford, passed away January 13, 2022, at his residence.
Bruce was born December 11, 2021, in Johnson City and was the son of Jacob & MecKenzie Taylor Wilcox. He was also preceded in death by his great-grandmother, Charlotte Goebel, great-grandparents, Bruce & Selma Cochran Wilcox, Carl & Marjorie Taylor, great aunt, Selina Wilcox Bartley, honorary uncle, Aaron "Frosty" Foster.
He attended Church of Christ in Erwin.
In addition to his parents, survivors include a big sister, Carter Louise Wilcox; grandparents, Larry & Michelle Taylor and Scott & Lisa Wilcox; great-grandparents, Coy & Sara Armstrong; honorary great-grandmother, Lynn Combs; uncles, Ethan Taylor, Brock Taylor and Lucas Wilcox; aunts, Mariah Taylor; great aunts and uncles, Katie Armstrong, Christina Lewis (Gary), Amy Brotherton, Michael Armstrong (Lori), Shane Armstrong and Mark Bartley (Amy); special friends, Kaitie & Josh Rodrigues; and many special family members, cousins and friends.
Funeral services will be conducted 6:00 pm, Saturday, January 15, 2022, at Dillow-Taylor Funeral Home with Minister Jeff Winters officiating. The family will receive friends from 4:00-6:00 pm Saturday prior to the service.
Prayers for you!
I know we do not know one another but God led me to you. We lost our Mylah June when I was almost 28 weeks pregnant; I gave birth to her on Dec 9. My grandmother mentioned to me she had seen another baby in the paper, when I read about Bruce and found when your services were, I realized we had passed by Dillow Taylor during your visitation. I had an overwhelming feeling to pray for you and your family, not even knowing who the service was for. I know our circumstances are different with our babies but know my heart and prayers are with you and your family. I am still grieving and trying to navigate life after losing our baby, but if you ever want/need someone to talk to, I am here; speaking to others who have been through similar loss has helped me a lot. Also, I love your baby's name, that was my grandfather's name who I was very close to. Prayers, love and hugs to you and yours.
01/16/2022
Sandy Bowman Cape
There are not many things on Earth or in Heaven of which I am certain but these things I believe are true: Bruce was born into a family of loving parents, extended family and many family friends. Although his time here was cut short, he will be loved and remembered forever. His Mother, Mec'Kenzie, is the strongest woman I have ever know and has gone through many of life's trials with grace and dignity, and with the constant support of Jacob and the rest of her family and many friends. I also believe that God, the Heavenly Father of us all, met Bruce's soul at the gates of Heaven with open arms, held him and comforted him. I believe he has joined the souls of those who have gone before him, who never met him on Earth, but who are his Heavenly family. I'm pretty sure my Daddy, Frank Bowman, is already talking to him about becoming a Boy Scout and telling him stories about his Grandfather Larry. My thoughts and prayers go out for Mec'Kenzie, Jacob and Carter Lu and for everyone whose heart is breaking over the loss of this beautiful child that they may find peace and comfort. Love to you all. Dan and Sandy
01/15/2022
Fred and Shirley
Words are inadequate to express our condolences to the entire family.
My most sincere sympathies are extended to the parents and grandparents. May the Lord comfort you all.
01/15/2022
Gary and Sheila Jonas (Alyssa's nan and papaw)
May God comfort you all. We love you all.
01/15/2022
Timothy Perhne
In times such as this I find words of comfort leave from me. All I have to offer is prayer in Jesus name. So, I pray. I pray for rain that God will let it rain, let heaven wash away your pain. Let rain, that peace will come to you in the name of love.
01/14/2022
Melissa Williams Noble
Dear Family, we do not know one another but reading the obituary of your precious baby leads me to write to you with my deepest condolences. With tears in my eyes, I offer you the Peace of Christ. Melissa
So sorry for your loss be praying
01/14/2022
The Argabrite Family
Our hearts ache for the family. Prayers and hugs from Ohio.