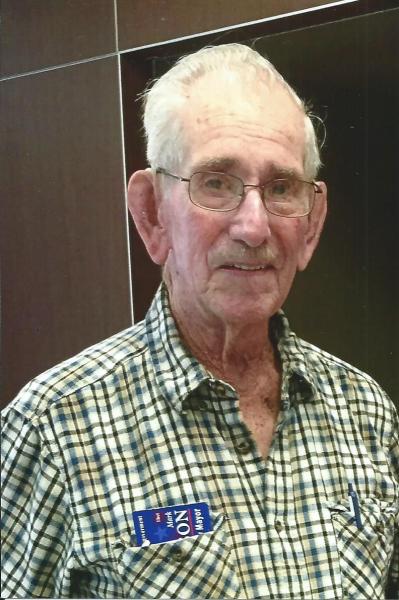 Mr. Leonard Shelton, age 93, Jonesborough, passed away Friday, December 31, 2021, at his residence.
Mr. Shelton was born June 25, 1928, to Oscar & Violet Chapman Shelton in Marshall, NC and lived on Shelton Laurel, NC until the age of fifteen when his parents moved to the Jonesborough area.
Leonard retired from the Glass Plant in Kingsport, TN.
He enjoyed NASCAR racing, flying small aircraft, visiting with friends at Whites Auto Parts and Crockett Corner.
In addition to his parents, Leonard was preceded in death by his first wife, Carrie C. Shelton on December 31, 1965, and his second wife, Agnes Collins Shelton, niece, Alice Shelton and special friend, John Crawford.
Survivors include a daughter and son-in-law, Linda & Jerry Loyd; two grandchildren, Carrie Loyd Hardin and Richard D. Loyd (Charlene); four great-grandchildren, Andrew Loyd (Alicen), Lucy Loyd, Olivia Hardin, and Noah Loyd; two brothers, Harry Shelton (Bobbie) and Alan Shelton (Judy); nephew, Dean Shelton (Rebecca); and two nieces, Beth Sedam (Charlie) and Sally Johnson (Tom).
Graveside services will be conducted 12, Noon, Tuesday, January 4, 2022, at Monte Vista Burial Park Pastor Jeremy Dykes officiating.
Pallbearers will be family and friends.
Please observe all CDC Guidelines due to Covid.
02/26/2022
Diane Cline Wilson
Linda, my father passed away in 1974 at the age of 57, and he was an invalid for 18 years prior. Your father was such a good friend to my Dad! He visited him often! He was a good man! I'm so sorry to hear of his passing! Praying for you and your family!
01/09/2022
Janice Archer Weaver,
I remember you dad from Marvin's Chapel. So sorry for your loss.
01/04/2022
Kimberly Dyals
My condolences to his family. I am Dudley Tilson's granddaughter, he lived with "Deacon" and Agnes for many years, they were thick as thieves. He was a very kind man, always smiling and cutting up. He sure did love kids, loved his family and all his grandkids from both wives. So sorry to hear about his passing.
Linda, I was sorry to hear about the passing of your father. We will keep you and your family in our prayers.
01/02/2022
Stella Mae Coffey turnmire-lewis
Alan Judy and Sally I am loss of your brother and Uncle my prayers r with u guys during this time just remembered the happy times with each other love always Stella Mae Coffey turnmire-lewis
Linda, I was sorry to hear about your daddy. Your love for him was evident by the way you cared for him.
01/01/2022
Debbie Shelton Corn
So very sorry to hear about Leonard. He was a great person. My Dad (the late Winfred Shelton) thought the world of him. My condolences and prayers to the family!