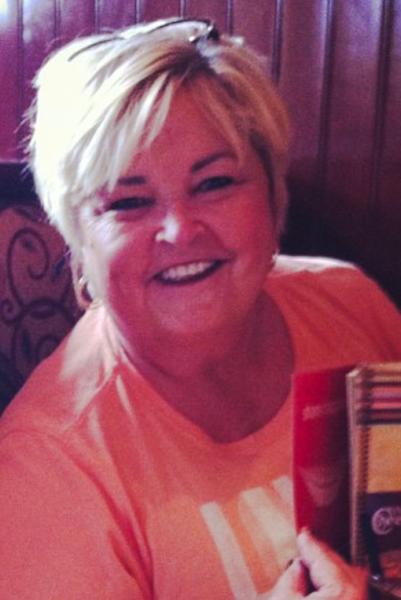 Mrs. Sandra Jarrett Clouse, age 64, Jonesborough, passed away unexpectedly Wednesday, December 29, 2021, at her residence.
Mrs. Clouse was born August 18, 1957, in Washington County and the daughter of the late Evert & Alma Ruth Cloyd Jarrett.
She was a member of Mt. Wesley United Methodist Church.
Mrs. Clouse was employed by Washington County Sheriff's Department and took early retirement to take care of her mother full time.
Survivors include her husband, Ricky Clouse; her children, Chasity Hendrix (Scott), and Dusty Clouse; grandchildren, whom she loved so much, Gabriel, Connor and Brady Hendrix and Zaydee Clouse; brothers and sisters, Kathy Dillow (Brian), Karen Collins (Rod), Penny Hensley (Jackie), Allen Jarrett (Debbie), and Johnny Jarrett; several nephews, nieces, special aunt & cousin, Louise & Jackie Jarrett.
Due to Covid, CDC Guidelines will be followed, graveside services will be conducted 1:00 PM, Saturday, January 1, 2022, at Mt. Wesley Cemetery with Pastor Jeremy Dykes and grandson, Connor Hendrix officiating. Special music will be provided by Trey Hensley.
01/13/2022
Sandra Crawford
So very sorry to hear of Sandra's passing. May God Bless you all and bring you peace.
01/09/2022
Janice Archer Weaver
Ricky, So sorry about Sharon. I was recovering from Omicron. Your are in my prayers.
01/05/2022
Kimberly Hamilton Clouse
Praying for your sweet family. Sandra was a very special lady and she brought me so much comfort during the hardest time of my life. She was a blessing to anyone that knew her. Ricky, Chasity, and Dusty you are all in my prayers.
hear if Sandras passing. We shared the same great grandmother. She was one of the sweeyest
01/02/2022
Ruby Russell. So sad to hear
She was a sweet person. Coached her son Dusty and loved the whole family. She will be missed.
01/01/2022
Rickey Deakins
Ricky, I wanted you to know how sorry I am. I am praying for your family.
Karen told me several months prior to their Mom passing away, that Sandra deserved a pair of wings for taking such good care of her Mom. She finally got those wings and now she is with her precious Jesus.
My prayers are with the family of Sandra. She was such a sweet and caring person. She always had a smile regardless of the day she was having. She will be missed by all.
Shocked to hear this sad news. Sandra was a wonderful lady. RIP Sandra. My condolences to Ricky Chasity Dusty & her brothers & sisters.
Ricky I am so sorry about Sandra. You and Sandra have been together along time . I'm sure she will be missed tremendously. You will always have your memories of her in your heart. My heart goes out too and your family and Sandra brothers and sisters also . I am truly sorry !!!
12/31/2021
Susan Phillips
My sweet friend, I know how you feel and are praying for you and your family. Sending love to you.
12/31/2021
Terry & Karen Hensley
To the Clouse/Jarrett families : We so shocked to hear about Sandra's passing . She was a special to to everyone ! Never seen her without a smile ! She will be missed dearly !! Thankful to have known her !! Sending out prayers of comfort and healing !!! Much love from Terry and Karen Hensley & family !!
12/31/2021
Wassan Broyles
It's a sad day when when we loose a member of our community we are lucky to be living in. Sandra was a life long member and will be missed by everyone that she has touched along the way. Our condolences go out to the friends and families of Sandra, Wassan & Vickie Broyles and family.
12/31/2021
Lynn and Beth Keys
So sorry to hear of your loved one, thoughts and prayers for you and family.
12/31/2021
Sonia Powell Hicklin
Ricky,Chasity,And Dustin ,I worked with your wife and mother at the sheriff's office .I can say she loved her family unconditionally .She always spoke of all 3 plus her grandbabies ,Alma and Everett .She was full of life and always smiling and or laughing .I love stopping by on night shift just to talk with her .I will be sending prayers for comfort .This lady will surely be missed by many .She was a good woman.
12/30/2021
Larry and Vickie Privette
So so sorry for your loss! Ricky, you and your family are in our thoughts and prayers…
12/30/2021
Barbara West Wall
My heart is sad for each of you dealing with this loss. You are in my prayers for peace, strength, and love.
12/30/2021
David and Sandra Holt
Please accept our heartfelt sympathy.
Sorry for your loss Johnny !
12/30/2021
Vince and Angie Walters
So sorry for your loss❤️ Your family will in our prayers
chasity and dustin so sorry to hear of your moms passing i worked with her at the jail she was a sweet kady and cherished you both and them grandkids rip sandra until we see her again thoughts and prayers for all of you during this time
12/30/2021
Donna McInturff
We are so sorry for your loss.Sending prayers.
12/30/2021
Daniels family
The loss of someone dear to us is never easy. We hope all the cherished memories that you have of Sandra brings you some light during this dark time. Our deepest condolences to you and your family. Please know that we are keeping you and yours in our thoughts and prayers.
12/30/2021
James&Tina&TJ McCracken( Tina Bennett)
I am so sorry for your loss . She would always talk to where ever you was in a store or ballgame . She will be truly missed . You all are in our thoughts and prayers . Just remember the good times you all had . Praying for you all .
12/30/2021
tammy greene surcey
chasity dustin and ricky sorry to hear of sandras passing i loved her to death i worked with her at the sheriff d eptgreat lady and she talked of you kids all the time and worshiped the grandkids alot rip until we see you again